"Zvaigžņotā Debess" ir populārzinātnisks žurnāls par astronomiju. Žurnālā sniegta informācija par astronomijas un kosmonautikas sasniegumiem, tas piedāvā jaunākās ziņas par Saules sistēmu un citplanētām, zvaigznēm, galaktikām un Visuma uzbūvi, kā arī stāsta par orbitālajiem un virszemes teleskopiem un kosmiskajiem aparātiem. Atbilstoši gadalaikam žurnālā sniegtas ziņas par zvaigžņotās debess izskatu un astronomiskajām parādībām. Izdevums iznāk četras reizes gadā kopš 1958. gada rudens. Dibinātājs: Latvijas Zinātņu akadēmijas Astrofizikas laboratorija.
Redakcijas kolēģija:
galvenais redaktors Dr. paed. Ilgonis Vilks
galvenā redaktora vietnieks Dr. sc. comp. Mārtiņš Gills
Anna Gintere, Dr. sc. ing. Jānis Kaminskis, Mg. sc. comp. Raitis Misa, PhD Artūrs Vrubļevskis, Mg. paed. Ieva Zarāne, Vents Zvaigzne.
Izdevējs: Latvijas Universitāte
Žurnālu sagatavo Latvijas Universitātes Akadēmiskais apgāds
Redakcijas e-pasts: zvd@lu.lv
---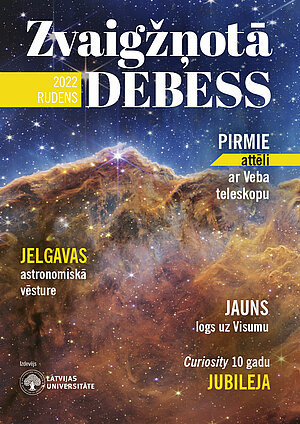 AKTUĀLI
Jaunumi īsumā. Ilgonis Vilks
VISUMA IZPĒTE
Snaudošs melnais caurums ārpus mūsu Galaktikas. Mārtiņš Gills
Gravitācijas viļņi. Jauns logs uz Visumu. Ilgonis Vilks
TELESKOPI
Džeimsa Veba kosmiskā teleskopa pirmie attēli. Raitis Misa
SAULES SISTĒMA
Curiosity 10 gadi uz Marsa. Anna Gintere
OLIMPISKAIS IZAICINĀJUMS
Galaktiku izpēte. Sagatavojis Māris Krastiņš
AMATIERU ASTRONOMIJA
HDR paplašina iespējas. Ilgonis Vilks
FOTOSTĀSTS
Ieskatāmies Sirdī. Sergejs Klimanskis
MOBILĀ LIETOTNE
Kad jānosaka īstais leņķis. Mārtiņš Gills
ASTROVIETA
Virgo, Eiropas gravitācijas viļņu observatorija. Dainis Draviņš
INTERESANTI
Zvaigžņotā Debess atver lasītājiem digitālo arhīvu. Vents Zvaigzne
ATSKATS VĒSTURĒ
Satelītu fotogrāfiskie novērojumi Rīgā. Ilgonis Vilks
Jelgavas observatorija un Jelgavas astronomi. Aldis Barševskis
DEBESS APSKATS
Debess spīdekļi 2022. gada rudenī. Juris Kauliņš
Kur var iegādāties "Zvaigžņoto Debesi"?
• Latvijas Universitātes galvenās ēkas (Rīgā, Raiņa bulvārī 19) vestibilā – Informācijas centrā; vai Studentu servisā (pirmajā stāvā pa labi, 125. telpā) var lūgt kādam darbiniekam to pārdot. Darba laiks 8.30–18.00.
• Lielākajos grāmatu veikalu tīklos ("Jānis Roze", "Latvijas Grāmata", "Valters un Rapa", Karšu veikalā "Jāņa sēta").
• LU Akadēmiskā apgāda telpās (Aspazijas bulv. 5, sētas mājā, 132. telpā) darba dienās no 8.30 līdz 17.00, iepriekš piezvanot pa tālruni 29333919.
Bet visērtāk un lētāk – ABONĒT!

Kā var abonēt "Zvaigžņoto Debesi"?
Latvijas Pasta nodaļās, žurnāla indekss 2214, vai internetā: www.pasts.lv
Abonēšanas cena gadam – tikai 9 EUR.
Žurnāla veidotāji vēlas uzzināt lasītāju viedokli. Aizpildi šo aptaujas anketu, ja vēlies dalīties iespaidos, ir komentārs par kādu rakstu, vēlies ko ierosināt vai domā ar mums sadarboties.
THE STARRY SKY
Zvaigznota Debess (The Starry Sky) is the oldest popular science magazine in Latvia, published since autumn 1958 and founded by the Astrophysical Laboratory of Latvian Academy of Sciences. It covers the achievements of modern astronomy and space exploration, provides actual news about Solar System and exoplanets, stars, galaxies and the Universe, telescopes and space probes. According to the season magazine gives the information about the starry sky and astronomical phenomena. Previous Editors-in-chief: Jānis Ikaunieks (1958–1969), Arturs Balklavs (1969–2005), Agnis Andžāns (2005–2018).
Editorial Board: Dr. paed. Ilgonis Vilks (Editor-in-chief), Dr. sc. comp. Mārtiņš Gills (Deputy editor-in-chief), Anna Gintere, Dr. sc. ing. Jānis Kaminskis, Mg. sc. comp. Raitis Misa, PhD Artūrs Vrubļevskis, Mg. paed. Ieva Zarāne, Vents Zvaigzne.
Publisher: University of Latvia. Editorial Office: Raiņa bulv. 19, Riga, LV-1586, LATVIA. E-mail: zvd@lu.lv
Contents: