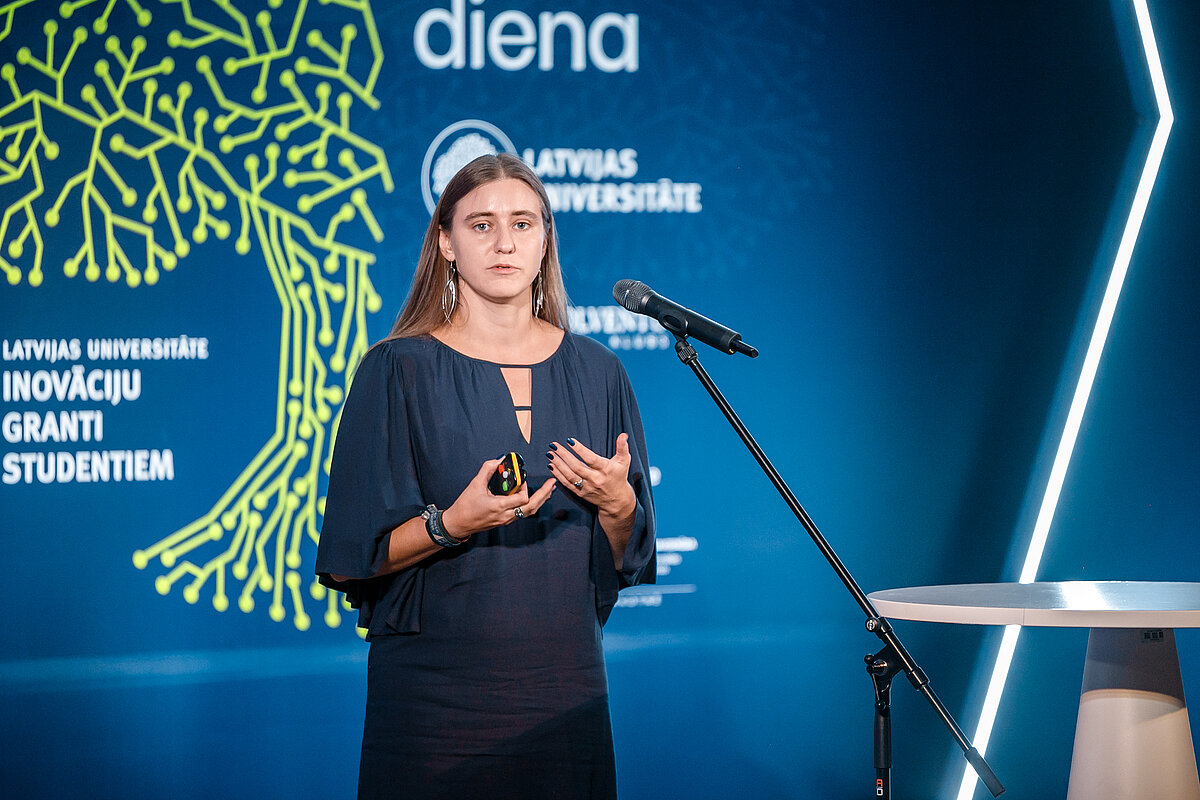 "No bioķīmiskā viedokļa apgalvojums "tu esi tas, ko tu ēd" nav nepatiess. Mūsu organisms veido mūsu šūnas un audus, par izejvielām izmantojot uzņemtās vielas no pārtikas. Mīkstajos audos vielmaiņa notiek diezgan ātri. Arī kaulos notiek vielmaiņa, bet tā notiek ilgi un lēni. Līdz ar to skelets ir labi pierakstīts bioķīmiskais "arhīvs"," tā LU Jauno tehnoloģiju un inovāciju dienas "Zināšanu agorā" stāsta D. Legzdiņa, skaidrojot, ka bioarheoloģija pievēršas pašu cilvēku pētīšanai, tostarp cilvēku kaulu paraugu izpētei. "
Līdz šim lielākoties zinātnē pastāvēja vienkāršota izpratne par zobu dentīna slāņu veidošanos. "Runājot par zobu dentīna mikrogriezumiem, saskaņā ar jaunāko metodi punkcijas veic, sekojot dentīna augšanas slāņiem. Iegūto paraugu analīžu sekvence uzrāda uztura izmaiņas dažu mēnešu robežās," skaidro vēsturniece, kas pievērsusies senā uztura pētniecībai ar bioarheoloģijas metožu palīdzību, kuras apguvusi Oksfordā, Lielbritānijā, pašlaik strādājot ar jaunapgūto metodi Latvijā.
Senais uzturs ir nesaraujami saistīts ar visiem lielajiem cilvēces pavērsieniem aizvēsturē, tai skaitā ar tādu tēmu, ko dēvē par neolītisko revolūciju jeb lēno un ilgo pāreju no savācējsabiedrības uz ražotājsabiedrību. Savukārt šī pāreja ir saistīta ar demogrāfiskām pārmaiņām, kurās arī svarīga loma ir uzturam, un par ar sievietes lomu sabiedrībā.
Zobi ir vienīgās skeleta daļas, kur pēc izaugšanas vairs nenotiek vielmaiņa. Turklāt pirmais dzeroklis cilvēkam sāk veidoties jau ap dzimšanas laiku, līdz ar to tas kalpo par savdabīgu "arhīva ierakstu" personas dzīvesgājumā no dzimšanas līdz sešu līdz astoņu gadu vecumam. "Kad zobi ir izauguši, tajos vairs nenotiek vielmaiņa. Tie ir ierakstījuši sevī un saglabājuši visu informāciju, kas tajos nonākusi to augšanas laikā," uzsver pētniece.
Ar mikrogriezumu metodi, kas precīzi seko dentīna augšanas slāņiem visos trīs dzerokļos, iespējams izsekot cilvēka uztura pārmaiņām laika posmā no dzimšanas līdz aptuveni 18 līdz 20 gadiem, veidojot cilvēka dzīves vēsturi. Savukārt jaunapgūtā metode nākotnē ir daudzveidīgi pielietojama ne tikai zobu dentīna izpētē, bet arī plašākos bioarheoloģijas pētījumos vai pat plašāk arī ārpus bioarheoloģijas lauka, piemēram, tiesu medicīnā, tiecoties noskaidrot pagātnes notikumus, balstoties uz skeleta materiālu.
---
25. septembra pēcpusdienā LU telpās jau otro gadu pēc kārtas norisinājās atklājumu un inovāciju pasākums "LU Jauno tehnoloģiju un inovāciju diena", kur vienuviet satikās gan mundrākie pētnieku prāti, gan inovatīvāko ideju autori. Ievērojami liels LU pētnieku skaits piedalījās "Zināšanu agorā", kas bija viena no nozīmīgākajām pasākuma daļām.
"Zināšanu agora" bija iespēja pētniekiem 6 minūšu laikā iepazīstināt un ieinteresēt plašāku sabiedrības loku ar nesen veiktu vai jau sāktu inovatīvu pētījumu tehnoloģiju, dažādu procesu un dzīves kvalitātes uzlabošanas jomā.
Šogad "Zināšanu agorā" izskanēja teju 60 dažādi pētījumi, kas aktualizēja jautājumus par mikroorganismu kolekcijas attīstību, Saules sistēmu, nanomateriāliem, bioekonomiku, magnētiskiem paātrinātājiem, materiālu atmiņu, gēnu datiem, kā arī par risinājumiem demogrāfijas, dažāda veida izglītības, ekosistēmas un medicīnas jomās.