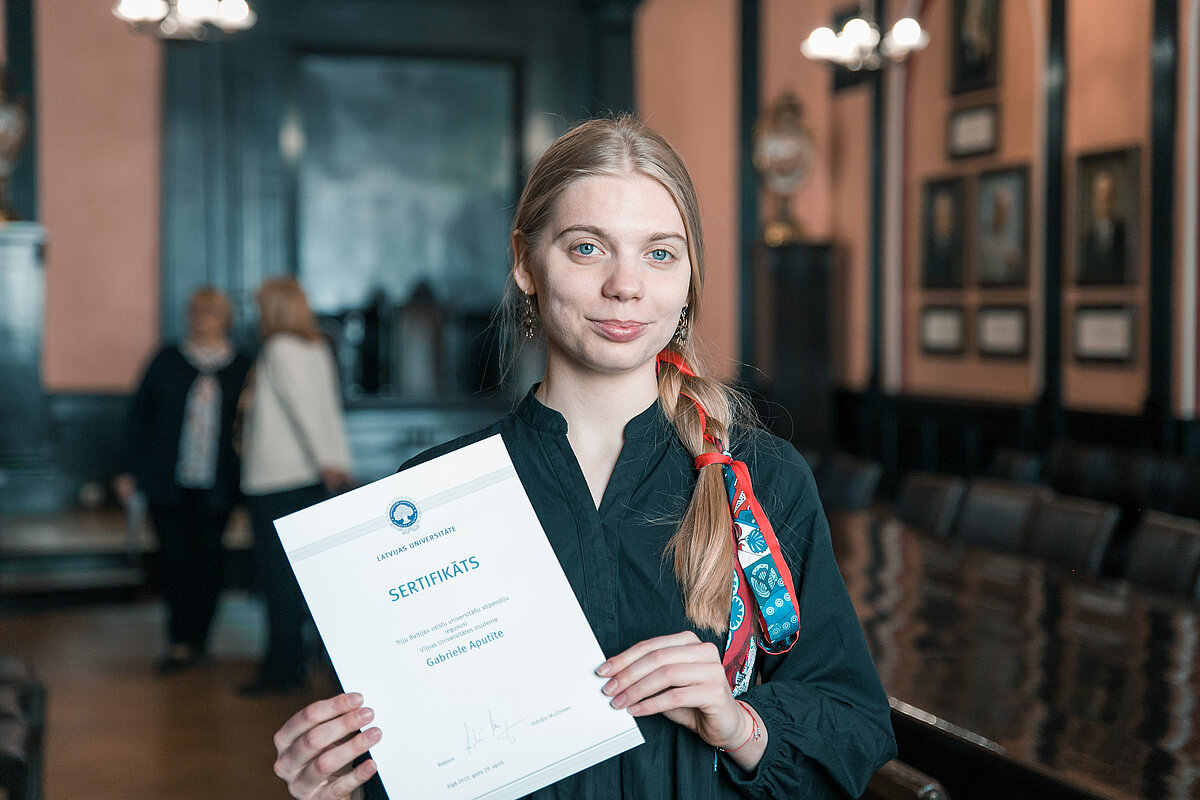 Stipendijas mērķis ir attīstīt pārrobežu sadarbību starp trim Baltijas valstīm un to vadošo universitāšu sadarbību akadēmiskajos jautājumos, piemēram, veicinot valodu un kultūras pētījumus. Konkursā var piedalīties visu specialitāšu studenti, tādēļ noteicošo lomu pieteikumos nespēlē tikai valodas gramatiskie aspekti. Svarīgs ir valodas lietojums kontekstā, prasme izteikties.
Pirmajā kārtā konkursa dalībniekam vajadzēja iepazīstināt ar sevi un uzrakstīt īsu eseju par kādu noteiktu tematu trīs Baltijas valstu valodās. Savukārt pēdējā kārtā tika izvirzīti labākie kandidāti no katras universitātes, lai prezentētu sevi un savu piemērotību stipendijas iegūšanai. No Tartu Universitātes tika izvirzīti divi kandidāti: Elmars Gams un Vasilisa Kovkin, un no Viļņas Universitātes – Gabriela Aputīte. Šogad no Latvijas Universitātes nebija izvirzīts kandidāts.
Komisija sēdē, kas notika 28. aprīlī, kandidāti demonstrēja savas Baltijas valstu valodu prasmes. Konkursā pārliecinoši uzvarēja Gabriela Aputīte.
Latvijas Universitātes rektors profesors Indriķis Muižnieks, tiekoties ar stipendijas konkursa dalībniekiem, uzsvēra šīs stipendijas nozīmi triju Baltijas valstu universitāšu sekmīgai sadarbībai un Baltijas valstu vienotībai.
Latvijas Universitātes, Tartu Universitātes, un Viļņas Universitātes rektori 2017. gada novembrī parakstīja sadarbības līgumu par jaunas stipendijas izveidi. To atlases kārtībā piešķir studentiem, kuri pārzina vai apgūst visu Baltijas valstu oficiālās valodas. Galvenais priekšnoteikums studentam, lai šādu stipendiju iegūtu, ir zināt vienu no trim oficiālajām valstu valodām C1 līmenī, bet abas pārējās – A2 līmenī. Stipendiju students var izmantot studijām citā universitātē vai arī kādu citu ar studijām saistītu mērķu sasniegšanai. Pieteikties stipendijai var visu studiju līmeņu studenti, piedaloties atklātā konkursā. Stipendiju piešķir vienu reizi gadā. No 2018. gada stipendiju piešķir secīgi viena no trim universitātēm.