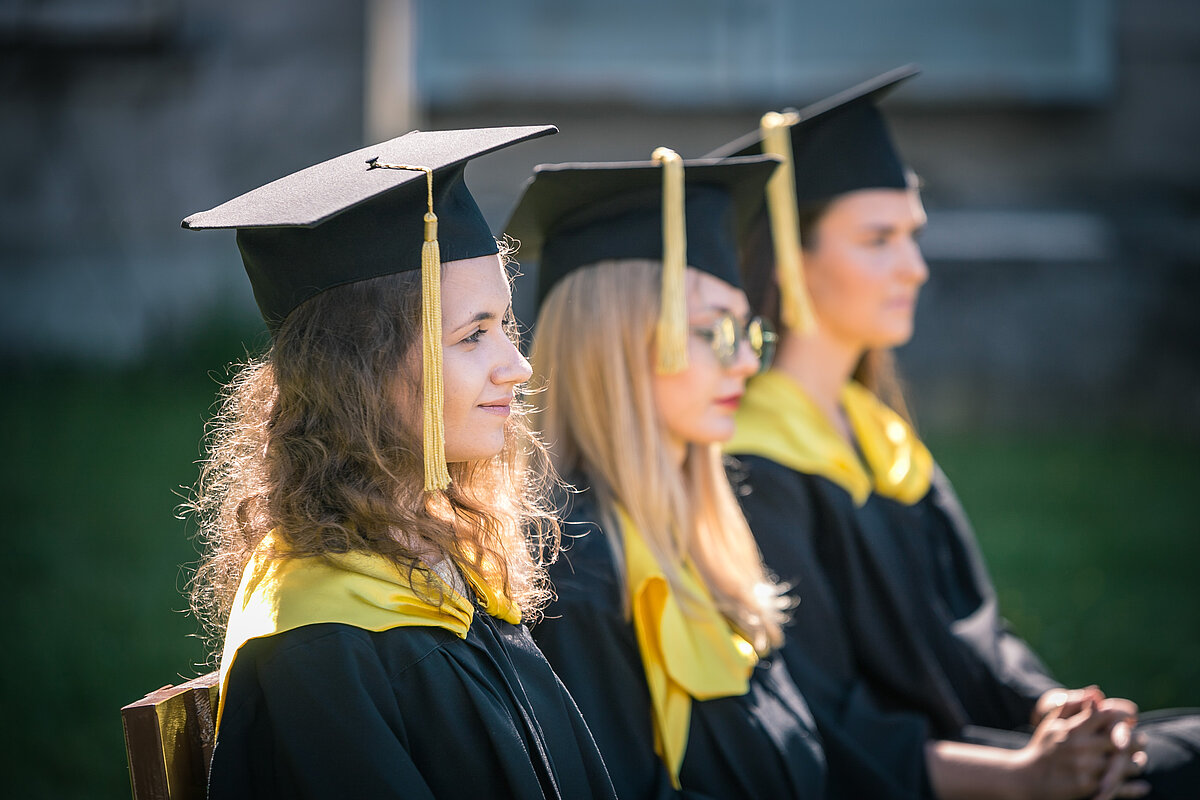 The study programme "English, European Languages and Business Studies" is a blend of language, literature, culture and applied language use in the business context. It welcomes students who are interested in Anglophone or Scandinavian literature, passionate about culture, European languages and business.
Going to university is a life-changing experience. To assist you in this choice, we offer three sub-programmes.
English Language programme is suitable for those students who are interested to develop advanced English language proficiency, study Anglophone literature and intercultural communication and speak one more foreign language.
English- Scandinavian Languages programme is meant for those who along with English studies would like to immerse in Swedish or Norwegian literature and culture.
European Languages and Business Studies programme is aimed at the students who would like to advance their English language knowledge, study one or two other European languages, intercultural communication, basics of business, economics and entrepreneurship.
Studying languages and culture opens a lot of doors. Starting with the second semester, the students are invited to participate in the Erasmus+ exchange for one or two semesters in partner universities across Europe, where they enjoy versatile learning experiences, know no boundaries in using languages and absorb the vibrant culture.
International students from the USA, India, Mexico, China, Russia, Ukraine, Belarus and other countries and exchange students from all over the world have chosen to study in our programmes, making your student environment unique.
Take a look at our students' experience
3rd Year Student Chris Paul Thattil Nadakalan's Story (India)
For the past three years, I have been studying English Philology, English Language sub-programme at the Faculty of Humanities. The University of Latvia opened me a doorway to this programme back in 2018.
I had an apprehension when I first came to Latvia, as it was a completely new country for me in terms of culture and people. The initial fear concerning the studies and the university environment was all gone on the very first day, as I felt overwhelmingly positive when I got to know the professors and the way of teaching applied at the faculty. I happened to make a lot of friends on the first day, and I was properly set for the studies. I come from India, the country where education is regarded as strict, and way of learning can be exceedingly difficult and exhausting. "English Language" programme in contrast happens to be a programme which offers the opposite experience concerning my previous studies. The workload and the hours of study are manageable and the method of teaching has made the complex topics much easier for me to percieve. The professors and lecturers at the faculty are very friendly, eliminating teacher-student formality, which in quite a number of ways has helped to advance in my studies.
The faculty is located in a close proximity where it is convenient to reach and gives a sense of vibrant feeling when you are inside the building. The faculty is filled with people from many foreign nations, and cultural exchange occurs every day when befriending people from other countries and attending lectures with them.
The jovial nature of the studies came to a halt when the Covid-19 pandemic hit all around the world. This made the studies go online. The initial stage was a little confusing, as it was a new way of learning, but quickly adjusted and soon came to the right track. The pandemic never affected the studies in any way, as the professors and the classmates have been highly optimistic and supportive. The professors indeed made the online lectures fascinating and never got deviated because of the difficulties caused by the pandemic. In a way, the online classes opened up new possibilities in studies where different applications can be applied in order to garner greater outcomes in studies. I am currently going through the sixth semester of my studies, and I wish I could go back to the faculty before I graduate as I miss the face to face classes and the lively nature that the study environment gives at the faculty to every student who comes to attend the lecture.
3rd Year Student Anabel Anastasiia Smirnova's Erasmus Experience (Russia)
I come from Russia, and it is my third-year at the University of Latvia. I applied for the Erasmus exchange program for the spring semester of 2021. Currently, I am studying at the University of Valencia, Spain. When I return, these course credits will be transferred to my programme.
It is an excellent opportunity for me to complement my education at the University of Latvia, as my second language that I study in my programme is Spanish. During my exchange, the University of Valencia has provided me with the contact of students who could help me if I had any questions. Moreover, there are a lot of Erasmus communities that provide activities and excursions of all types.
Due to the Covid restrictions, all studies during February were online. University uses BBCollab platform which is very easy and comfortable to use. Since March students were divided into two groups; during the one week group A goes to the university and group B participates in the lectures online, then we change. Professors are very qualified, lectures are well-structured, students have access to all the materials. The amount of work is huge, but the materials for each course are very involving. There is a wide array of elective courses you can apply for.
The only difficulty I have faced studying in Valencia this term was the language. In the region of Valencia, people use the Valencian language which is quite different from Spanish. It confused me a little bit at first, however, it is great to see how versatile languages and cultures are. It has been 3 months since I came to Spain, enjoying my studies, the city and the vibrant atmosphere. I have met a lot of new people from different countries and their culture and introduced them with the country and the University of Latvia. So, if you want to make new friends, improve your language skills, and try studying in another country, you should definitely apply for the Erasmus exchange program and broaden your horizons.
1st Year Student Zainab Shikari's Story (India)
I joined English Language sub-programme as a transfer student and as such I expected there to be lectures and a few tests per semester. However, to my surprise, I found that each class is engaging in a way that every student is given the opportunity to participate. The professors and lecturers deliver concepts in a comprehensible and concise manner. There is also a large amount of practical assignments that are completed. This seemed very overwhelming at first (sometimes, it still can be), however, it has been of great help in understanding and applying the theory that is discussed in class. Each course also comes with a plethora of resources which are very helpful in developing the learning experience. I also appreciate the addition of a second language, as it is one of the main reasons I picked this programme and is a definite enhancement to the programme as such.
All in all, I am very pleased with my experience studying at the Faculty of Humanities. It has made me appreciate the nuances and intricacies of not only the English language, but others that I am learning as well. The professors are also very open when it comes to hearing various opinions and engaging in a discussion, which makes the classes a lot more interesting. It has also reignited my love for language learning, which makes the inclusion of a second languager. My experience, however, has been limited to online studies, and I can't say much about learning on-site because I joined the programme when the pandemic had started. While I hope that this will change in the near future, so far I have been quite happy with my experience and I can sincerely say that I made the right choice.
This programme is perfect for anyone who wants to improve their English language skills and take on the complexities of the language as while starting to learn one more foreign from scratch. This being said, I'm looking forward to seeing what else this programme has to offer me in future.
Join our programme and choose excellence in education!
More about the study programme "English, European Languages and Business Studies".