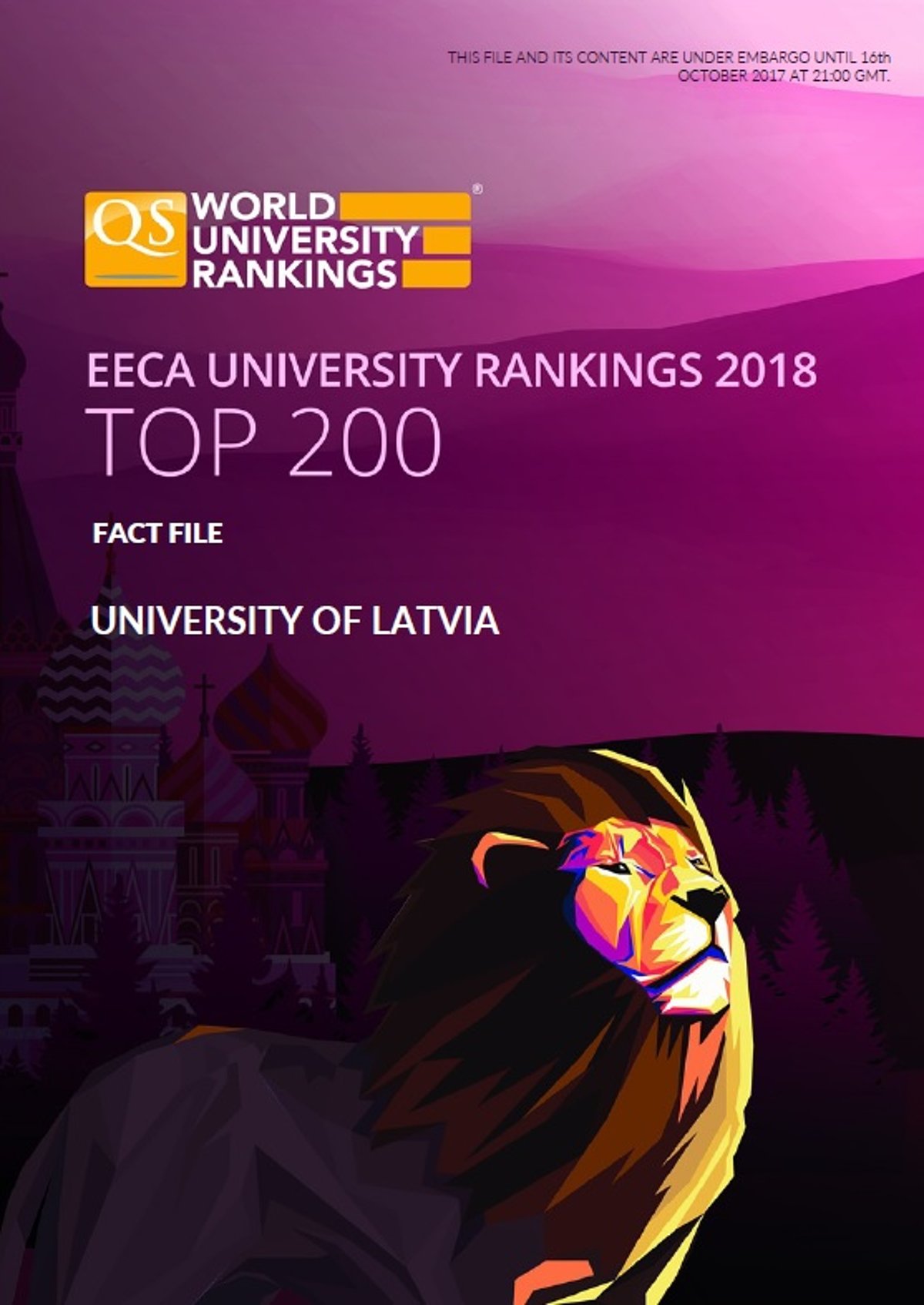 "The QS University Rankings is one of the leading internationally recognised rankings. By attaining the rank among the top 1.5 % universities in EECA region, UL has shown truly outstanding performance. The results also show the aspects that require particular attention, a greater emphasis should be placed upon creation of the globally cited publications and engagement of international lecturers," asserts the Rector of the UL Indriķis Muižnieks.
The global ranking is based on different indicators, the key ones being the Academic Reputation and Employer Reputation, and 2938 universities have been evaluated.
The University improved on its 2016/17 performance, rising by 3 places. The result is a successful outcome of the UL reforms, resulting in higher number of foreign lecturers, academic staff with doctorate degree, and better academic and employer reputation.
"We are glad to see the UL's continuous development and improving performance which are rewarded, ifs I may say, with a recognition affirmed by entry into these rankings. . The UL has received not only national but also international evaluation. Most importantly, the University must carry on with this accomplishment and continue to improve the study process and quality, invest in its students, and develop scientific research. We believe in our capacity to continue our progress and attain even higher position in the rank, and we, the students, are ready to work in order to reach this goal," says the Chairperson of the UL Student Council Signe Skutele.
Universities from 18 regional countries are among the TOP 100 in the ranking. The 55th place in the ranking goes to the Rīga Technical University, whereas Rīga Stradiņš University has attained the 108th place, while Latvia University of Agriculture ranks as 139th.
Overall, the universities of Russia prevail in this ranking. The 1st place for the third consecutive year goes to the Mikhail Lomonosov Moscow State University, the 2nd – to the Novosibirsk State University, but the 3rd is taken by the University of Tartu (Estonia), rising by two places since the last year.
More information about the QS University Rankings – EECA rating results can be found here.
The assessment within the current ranking was given to universities of Armenia, Azerbaijan, Belarus, Bosnia and Hercegovina, Bulgaria, Croatia, Czech Republic, Estonia, Hungary, Kazakhstan, Kyrgyzstan, Latvia, Lithuania, Poland, Romania, Russia, Serbia, Slovakia, Slovenia, Turkey, and Ukraine.