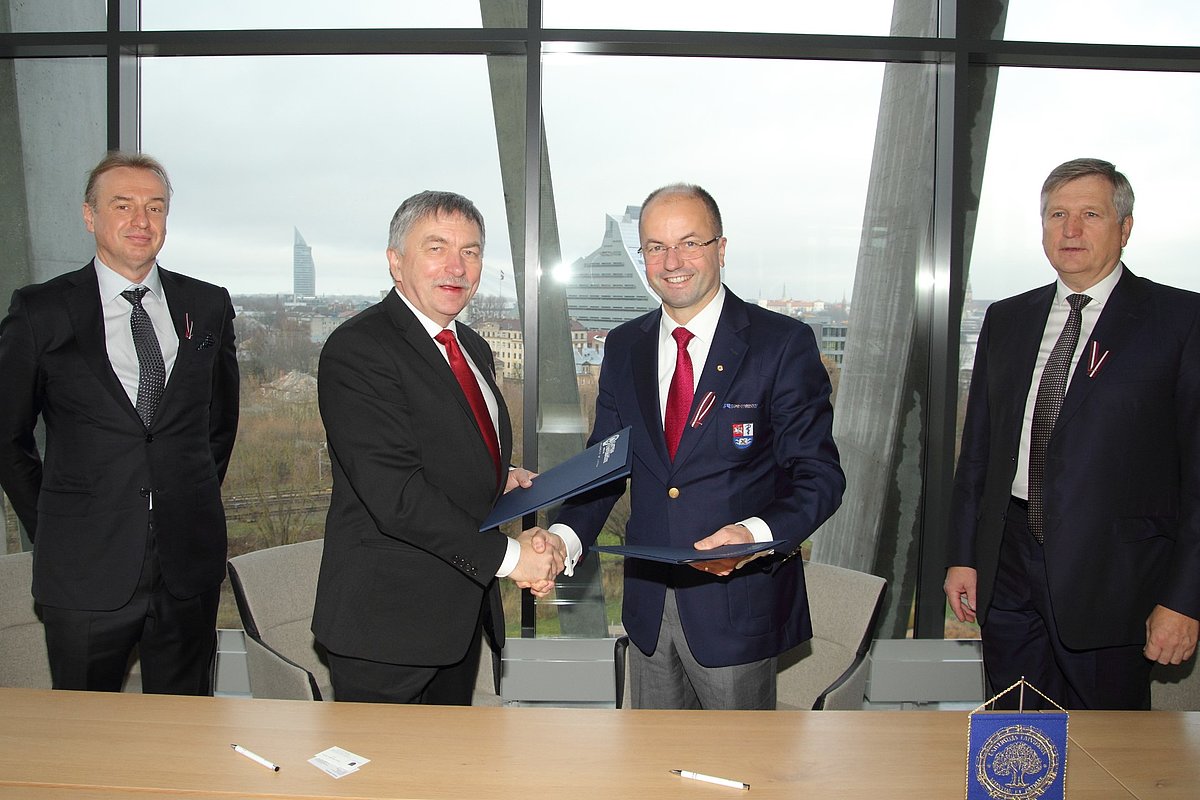 The Director of the LSMU Institute of Cardiology, Head of the Department of Cardiac, Thoracic and Vascular Surgery, Chairman of the LSMU Senate Rimantas Benetis and LSMU Rector R. Žaliūnas for more than 20 years cooperate with the Chairman of the UL Strategic Council Andrejs Ērglis in the sphere of cardiology. On November 10, this collaboration was attested by the memorandum. Signature of the document was preceded by an operation, performed by R. Benetis and A. Ērglis together on the evening before.
With their signatures, both universities agree to advance the scientific partnership – provide the exchange of lecturers, researchers and students, as well as participate in common research projects and lectures.
After the conclusion of the memorandum, the UL Rector I. Muižnieks noted that the main partners of the University come from the neighbouring countries. "This is a turning point of our partnership, and it will also progress to expand in other fields of studies," emphasized the UL Rector.
LSMU is the largest biomedical science university in Lithuania, and has been created by consolidation of two academies – the Medical Academy and Veterinary Academy, seven faculties, and four research institutes. The University has its own hospital and, for the last three years, – a high school.
"We are the leaders of medicine in Lithuania," emphasized the Rector of LSMU. The Lithuanian University has 8 000 students and 12 000 members of academic staff. 20% of its students come from abroad, and a half of these 20% are from Europe. The greatest number of students have arrived from Israel.
R. Žaliūnas specified that the particular specialities of LSMU include the fields of heart and circulatory system, neuroscience, ophthalmology. In the near future, the University has scheduled the visits of new guest lecturers.
The UL and LSMU could jointly create a Department of Cardiology and Heart Surgery in the Faculty of Medicine – in the talks succeeding the signature of memorandum said A. Ērglis. Both universities have agreed to discuss partnership to implement research in the field of genetics.
The UL Rector I. Muižnieks and Chairman of the Strategic Council A. Ērglis introduced the plans of the UL campus development and the newly built Nature House, which has been successfully used for the last years.
Lithuanian colleagues also invited a delegation of the UL representatives to visit the LSMU.