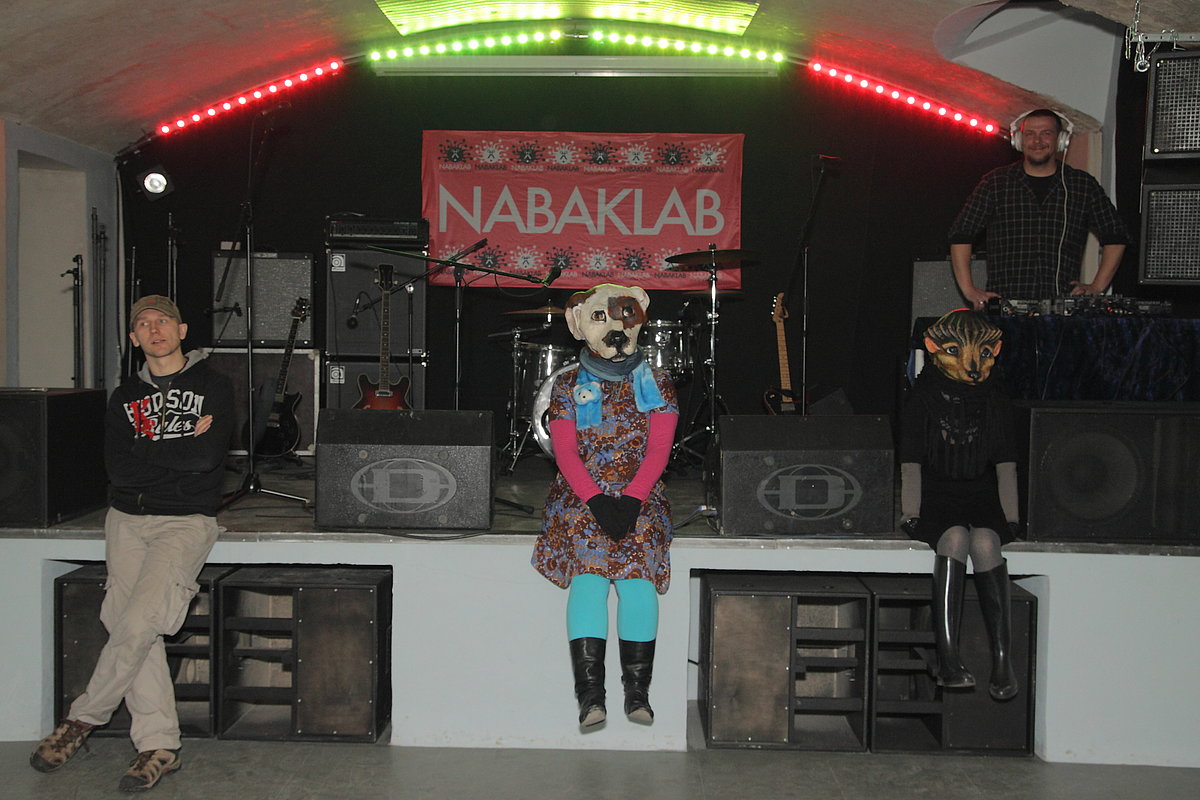 Club's cherished birth
A bright, red sign NABAKLAB defiantly glimmering opposite to the Bastion Hill was waiting for an official opening night since early 2009, when "Radio NABA" and the popular café "Bufete Gauja" agreed upon cooperation.
"I remember once "Gauja" was a hive of activities and we were forced to limit them so that surrounding inhabitants could sleep peacefully in the early mornings. Living across the street, sometimes I woke up at night by "Brainstorm" song and about 50 joyful people having fun on Terbatas Street," said Janis Kuplis, one of "Gauja's" co-owners, confirming that currently everything has been regulated by the rules. Although, the café is only open till 23:00, all who want to continue a party are welcome to the newly opened NABAKLAB. Moreover, the club's patron is Professor Marcis Auzins, Rector of the University of Latvia.
"Together with Janis Vitols, who unfortunately had passed away too early, we had an aim to open a music club. Some years ago, rent was very high as well as there were many other clubs. The crisis came opening new opportunities. NABAKLAB is the result of three years' efforts. We had nearly signed the rent agreement, but at the last moment realized that we needed another place. We liked this particular place - semi-basement with huge overhead cover and thick walls. Finally, we got down to work," explained Janis. "There is always a possibility to create something new or use the existing one. We did not want to look for something new, so we used the already known brands in the club concept."
Janis is fully convinced that in combining these two leading brands there is no conflict; the brands do not compete but rather complement to each other, so the benefits are mutual. The name NABAKLAB formed quite naturally, but the final version came from the artist Andris Grandbergs, who suggested the name based on the play on words – the English club is pronounced as the Latvian klab (in English – to clack). It was clear that the club's name should be associated with the radio. Eventually, a very serious and well-considered visual and ideological concept was formed.
From time to time "Radio NABA" received various offers for cooperation. There was an idea to merge with some of the existing clubs.
"Obviously, we needed these seven years to find a suitable place for the club. Moreover, it has a direct link to the University and "Radio NABA", because it belonged to Kristaps Morbergs, the Great Maecenas of UL. The radio studio is close as well. When a group performs there, it is possible to take an interview or make an online connection," explains Madars Stramdiers, "Radio NABA" program director. "Last year we met with Janis Vitols, the creator of the club's stylistic concept and the café "Gauja" co-owner, to discuss possible future cooperation. These rooms had been unused for about ten years. There were stores, a flower shop, a hip-hop club, an Armenian bar. As a result, two basements were completely dismantled and a new place formed.
According to the club's founders, non-commercial music club NABAKLAB like "Radio NABA" is intended for people looking for more than the standard commercial product in both music and other art. For this reason, NABAKLAB offers high quality sound, light, and cultural programmes. Spirit of students, as well as creative and intellectual potential underlie the club's existence and future activities such as various events, including concerts, exhibitions, performances, lectures, readings, music live broadcasting, music records and clothing for sale and other.
Place for like-minded
"I believe the club has its own NABAKLAB's audience. I would call them underground intellectuals who up to now had not been hiding but rather had fun by themselves," said Ivo Laursons, barman at the club and the "Radio NABA" voice. There is no rivalry among clubs for their frequent visitors. People come here to enjoy themselves and the performers remain in the backstage. The public come here due to NABA's name and to listen to NABA's DJs."
Radio NABA's favourite personalities – the radio DJs, program managers and radio voices are what visitors will hear arriving in the club. NABAKLAB is a new place, other music, excellent sound, though some programme elements are covered with a few other clubs. So, visitors have to choose where to go; some may go to all clubs or choose more spacious premises.
The club's program manager Edgars Abolins, who has worked for "Radio NABA" for years, admits that the club has a couple of competitors, but the place where you are not waiting for opening time in the evenings, where you can relax during the day, drink coffee and meet up with friends is rare. The opportunity to go to a favourite place in the afternoon is important for people. So, visitors stick to their favourite places more and more.
Radio NABA serves a certain quality standard for the club. The music that is not played at "Radio NABA" probably does not claim to be performed at NABAKLAB (with few exceptions). Although many people misbelieve that the broadcast content of Radio NABA is for codgers, the music diversity on "Radio NABA" is approaching different audience. People converge. Music in the halls differs.
"No radio station in our region plays such a wide range of music. Actually, commercial radio stations are limited in their choices. The choice of music in "Radio NABA" is based on a mix of various content-formats: from experimental to reggae and even industrial. It is much more complicated than to be guided by formal tops and music applications thus creating a radio content," said Madars.
The choice where to go depends on the person. NABAKLAB differs from others with its conception, lofty aims, and also music trying to say something to its audience; the club is not just a cash machine.
"The programme's intensity at NABAKLAB differs. There are regular live music nights with several groups and foreign groups as well. In this respect, we are real leaders, because every week some foreign artists perform here," explains Madars. "We have radio acquaintances, corporate liabilities with music publishers, cooperation with the club "Fontaine" in Liepaja and "Fonoclub" in Cesis, as well as with Estonian and Lithuanian clubs. It also refers to the conditions of cooperation with foreign performers, because it is possible to create mini – tours for groups around the Baltic States."
"Radio NABA" has never been just a set of musical programmes. "Radio NABA" offers broadcast programmes on theatre, music, football, poetry, and even fishing.
Since a 600 m2 area of the club allows, the creators of the club bearing in mind spiritual and intellectual aims go beyond the music frames and offer their visitors theatre, lecture series and literary events.
"We do not claim to be an art gallery. But we provide a place for artists to exhibit their works," remarks Madars. "Some known artists have already expressed their interest. We can create an atmosphere. Here is a stage, space, light, sound. We provide an access to art which otherwise remains incomprehensible for most people. People go to a concert, a café, a shop, but at the same time, do not pass by visual art.
Radio capacity as an added value provides the club's activities and programmes.
Is NABAKLAB ready?
It has been a conscious choice to host the "Retro Spectro" shop of vintage clothing and accessories within the club. The concept of the shop is one more alternative for visitors to spend time in talks, trying on original clothes or buying records of the group currently appearing on the stage.
"There was no doubt that the club needs a shop. Moreover, the club should be a place which provides music records for sale. There were a number of options, but Janis Vitols found "Retro Spectro" making online sales," Madars continues, "Actually, we are unique because no other club in Riga has a night shop where you can buy clothes, music records, brooches, vinyl records and even footwear."
At the moment, NABAKLAB is a place for UL students. The authors of NABAKLAB programmes work in cooperation with the students self-governments. The club is open for faculties and their creative activities. Moreover, UL students enjoy entrance discounts.
"All we commit ourselves to, we carry out professionally, with honour," adds Madars, explaining why each idea needs to appear at the right moment.
"Initially we planned one or two foreign groups' performances a month, but in the first month of our activity, in April, ten guest artists performed at NABAKLAB," said Edgars. "We invite particular music groups. Foreign guests must be interesting and we must see some reasons why the Latvian public should see performances by foreign guests."
Creators of NABAKLAB could not discuss a question how non-commercial radio station manages business. The club will continue its work to gain in scope and ensure its own survival.
The term non-commercial implies the quality standard we want. We will not invite DJs preferred by teenagers who like to break chairs; because cheap price often comes up with problems. Our music and, consequently, audience is intelligent," says Edgars.
"There are some interesting impressions. I am pleased to be here, take care of everything and look forward to implementing ideas. I feel needed. We will work and develop further," emphasizes Janis, adding that NABAKLAB just like Riga is never going to be quite accomplished, the idea of building should be developed further while developing the club's spirit.
The club's potential is actually very high. It is only a matter of time until synergy between art, music and leisure occurs at the house of the Great Maecenas Kristaps Morbergs. But, in the meantime, everyone can keep up with current events on the website: www.nabaklab.lv.
Long live NABAKLAB!


Translated by students of the professional study programme Translator of the University of Latvia.