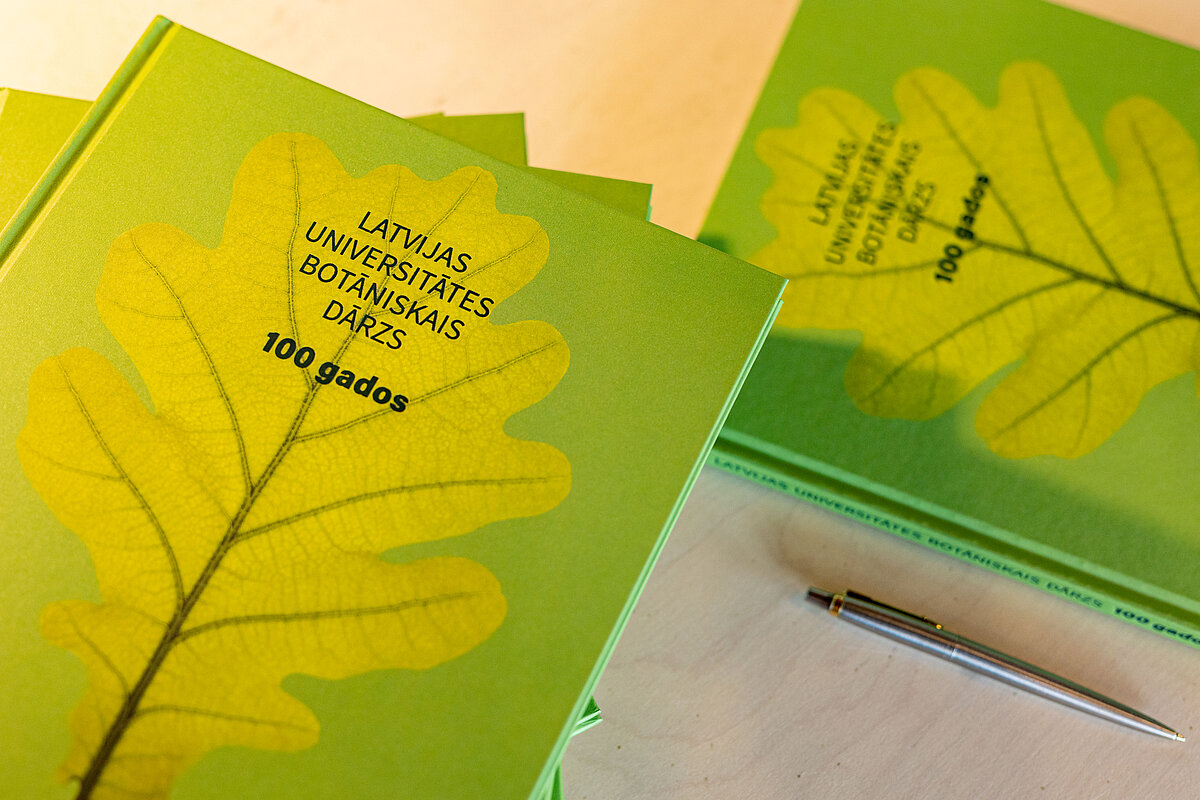 Jau pagājušajā nedēļā svinīgi tika prezentēta grāmata "Latvijas Universitātes Botāniskais dārzs 100 gados", ko izdevis LU Akadēmiskais apgāds. Tajā ir iemūžinātas visas LU Botāniskajā dārzā pašlaik esošās augu kolekcijas. Izdevumā ir lasāma arī līdz šim pilnīgākā informācija par dārza tapšanu pirms 100 gadiem. Māksliniece Baiba Lazdiņa kopā ar fotogrāfu Uldi Muzikantu ir izveidojuši dārza vēsturē bagātīgāk ilustrēto izdevumu. Fotogrāfijas ir tapušas visu 2021. gadu, fiksējot gan ainavu, gan atsevišķus kolekcijas eksemplārus, gan ļaujot ieskatīties dārza apmeklētājiem neredzamajās ikdienas norisēs, piemēram, Krusa Viktorijas sēklu sēšanā tropu augu siltumnīcas baseinā vai sugu identificēšanā u.c. Grāmata jau iegādājama LU Akadēmiskajā apgādā, kā arī drīzumā būs pieejama Botāniskā dārza kasē.
Filatēlijas cienītāji gaidīti Botāniskajā dārzā ceturtdien, 2. jūnijā, no plkst.10.00 līdz 16.00, kur notiks Botāniskā dārza 100. jubilejai veltītās pastmarkas un īpašās aploksnes pirmās dienas zīmogošana. Pastmarkas tirāža sasniedz 100 000 eksemplāru, speciālās aploksnes tirāža – 800 eksemplāri. Pastmarka būs iegādājama arī lielāko pilsētu pasta nodaļās un Latvijas Pasta e-veikalā.
Lai godinātu Botāniskā dārza mecenātus un draugus, ceturtdien dārzā notiks arī Latvijas Universitātes rektora profesora Indriķa Muižnieka pieņemšana, uz kuru ielūgti vairāk nekā 100 Botāniskā dārza draugi un cienītāji.
Savukārt nākamnedēļ 9. -10. jūnijā ikviens interesents aicināts piedalīties konferencē "Augu kolekcijas 21. gadsimtā". Konference ir veltīta augu kolekcijām – to mērķiem, rezultātiem un problēmām. Konferences mērķis ir sniegt iespēju dalīties ar informāciju par kolekcijām, lai veicinātu to efektivitāti bioloģiskās daudzveidības saglabāšanā, izpētē un sabiedrības izpratnes vairošanā. Vairāk par konferenci – Botāniskā dārza tīmekļa vietnē.
Protams, Botāniskais dārzs arvien gaida apmeklētājus katru dienu no plkst.10.00 līdz 21.00. Informācija par biļešu cenām pieejama ŠEIT.
LU Botāniskais dārzs ir vecākais botāniskais dārzs Latvijā, un tā svarīgākie darbības virzieni ir pētniecība un studiju procesa nodrošināšana, kā arī sabiedrības vides apziņas veidošana, lai sekmētu bioloģiskās daudzveidības saglabāšanu. Dārza aptuveni 15 hektāru lielā brīvdabas teritorija un siltumnīcas nodrošina mājvietu ap 5600 augu taksoniem, bet apmeklētājiem piedāvā skaistu pastaigu un kulturālas atpūtas vietu, kā arī iespēju iepazīt augu valsts daudzveidību.