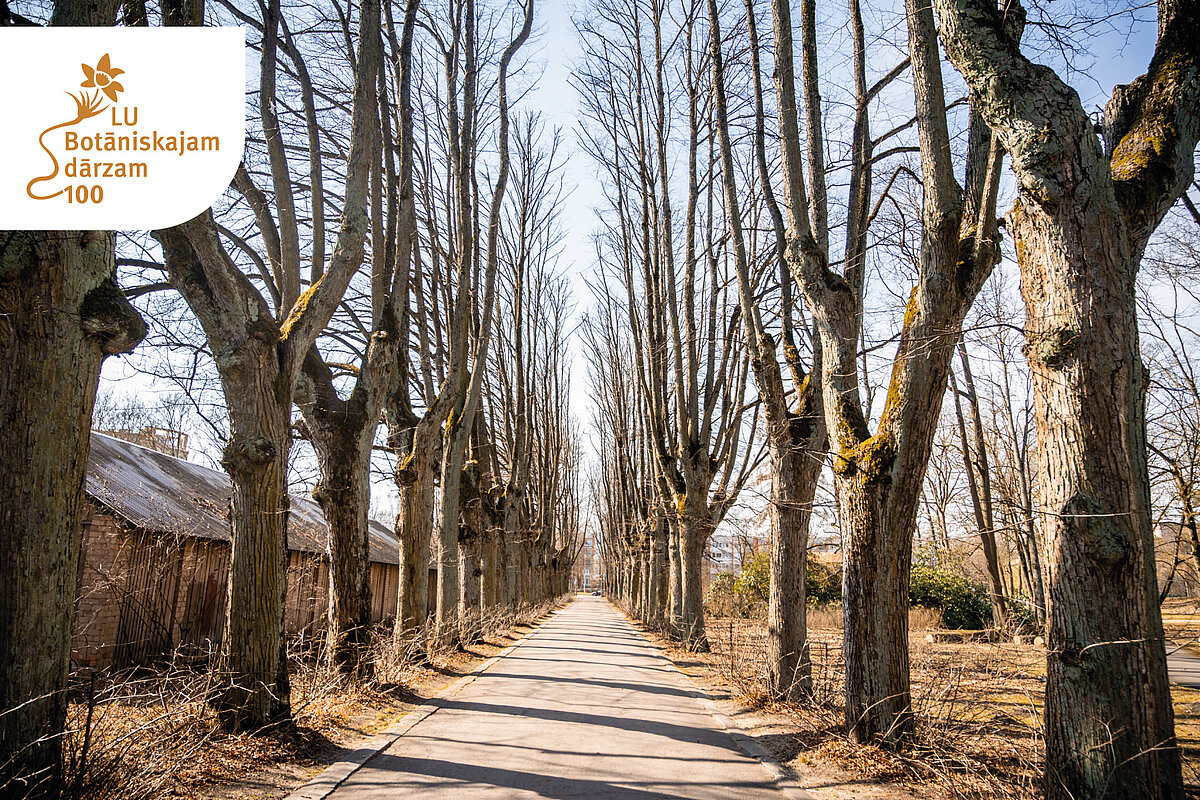 Botāniskajā dārzā Holandes liepu aleja ir nozīmīgs kultūras, vēstures un dabas mantojums. Tā ir saglabājusies no Volfšmita muižiņas laikiem un alejas koku vecums tuvojas 200 gadiem. Alejas garums ir aptuveni 125 metri un to veido 65 Holandes liepas, kuras sasniegušas apmēram 20 metru augstumu. Koki pirms daudziem gadiem ir galotņoti apmēram piecu metru augstumā un šobrīd to pamatstumbri ir iztrupējuši.
Lai saglabātu koku dzīvotspēju un palielinātu to stabilitāti, bija nepieciešama koku sakopšana. Eksperti gadu gaitā bija snieguši rekomendācijas vairākiem iespējamiem koku kopšanas variantiem – no ļoti radikāliem līdz ļoti saudzīgiem. Pēc atkārtoti veiktā stāvokļa novērtējuma tika realizēts kokiem visdraudzīgākais variants – arboristi saglabāja koku dabisko vainagu, galotnes daļā samazināja koku augstumu par apmēram vienu metru, saīsināja garos sānzarus, atslogojot stumbru nestspēju, izretināja vainagus galotnes zonā, izzāģēja sausos un bīstamos zarus, kā arī uzstādīja kokiem dinamiskās vainaga drošības sistēmas. Pēc veiktajiem darbiem aleja ir saglabājusi savu līdzšinējo vizuālo veidolu, un ir, cik vien iespējams, uzlabots drošības līmenis atrodoties zem koku vainagiem.
Nozīmīga loma ir arī blakus alejai augošajiem kokiem, jo tie aizsargā alejas kokus no bojājumiem spēcīga vēja laikā. Pateicoties ziedotājiem, bija iespēja sakopt 13 alejas ziemeļu pusi "sargājošos" kokus – Biksbija riekstkoku, Ailantlapu riekstkoku, divus Mandžūrijas riekstkokus, divus sirdsveida riekstkokus, Eiropas lapegli, relikto metasekvoju, āra bērzu, divus parastos ozolus, divas parastās kļavas.
Holandes liepu alejas un tai blakus augošo koku esošā stāvokļa novērtējuma un rekomendāciju turpmākai rīcībai sagatavošana un vainagu kopšanas darbi varēja notikt pateicoties AS "MADARA Cosmetics" ziedojumam, ko Botāniskais dārzs saņēma 2021. gada izskaņā (ziedojumu administrē Latvijas Universitātes fonds) un AS "Balticovo" ziedojumam (ziedojumu administrē Latvijas Universitātes Absolventu klubs), ko Botāniskais dārzs saņēma 2021. gada rudenī.
Darba izpildītājs ir SIA "Labie koki".
Ziedojumu vākšanas kampaņa Botāniskā dārza koku uzturēšanai un kopšanai turpināsies visa gada garumā un ikviens var sniegt savu artavu, lai palīdzētu saglabāt un uzturēt vērtīgus kolekciju kokus, dižkokus un citus kokus, kuriem ir būtiska loma Botāniskā dārza un pilsētas ainavā, klimata veidošanā un bioloģiskās daudzveidības saglabāšanā.
Ikviens ziedojums ir svarīgs! Iespēja ziedot.