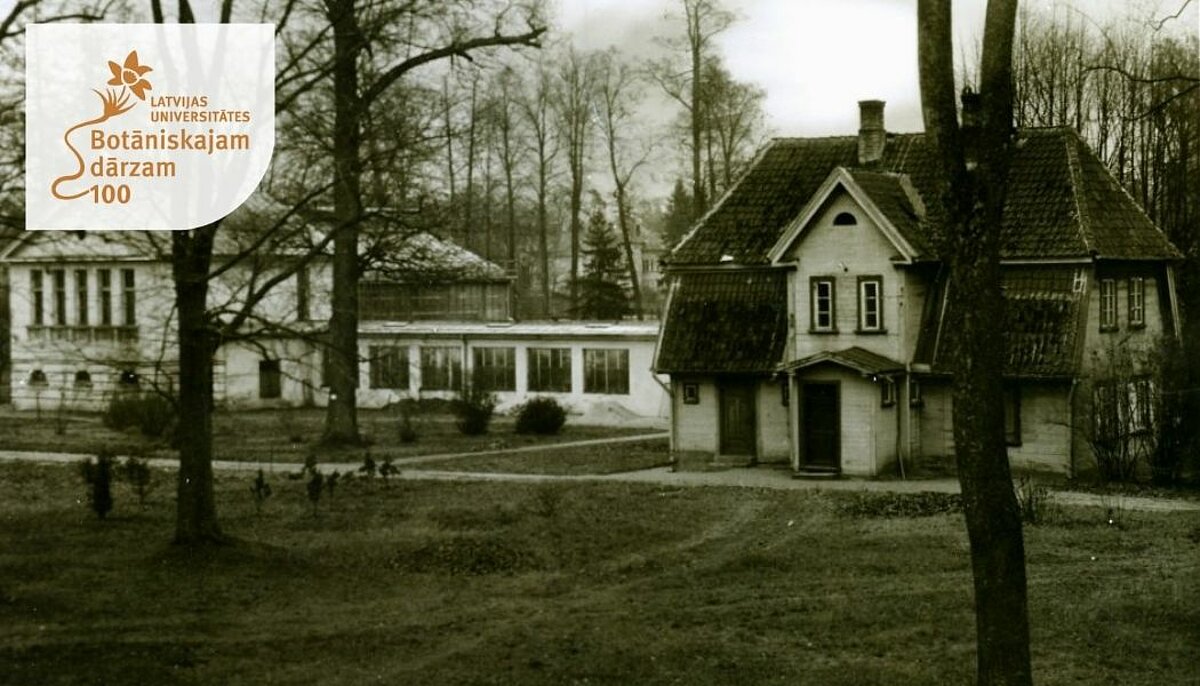 LU Botāniskajā dārzā atrodas 4 celtnes, kam piemērots Valsts nozīmes arhitektūras pieminekļu statuss – dzīvojamā māja, oranžērija, kalpu māja un vešerienes namiņš. Senāk muižiņas teritorijā atradušās vairāk ēkas, taču tās līdz mūsdienām nav saglabājušās. Starp ēkām, kas līdz mūsdienām nav saglabājušās, ir arī pati baroka stilā celtā Volfšmita muižiņa (Kungu māja) (attēlā) - tā nojaukta 1921.gadā, pamatojoties uz ēkas slikto stāvokli. 30.gados Kungu mājas vietā uzbūvēta Palmu māja.
Uzskata, ka trīs mūsdienās saglabājušās muižiņu ēkas pieder senajam Zasu muižas (Sassenhof) centra apbūves kompleksam. Par Zasu muižas centru nereti uzskatīta arī teritorija uz Daugavgrīvas un Buļļu ielas stūra, kas ir daļa no Zasu muižas īpašumiem, kur 18. gadsimtā latviešu uzņēmējs Jānis Šteinhauers uzcēla mazāku muižiņu.
Muižiņai laika gaitā vairākkārt mainījušies īpašnieki un līdz ar to – arī nosaukumi. Nosaukumu "Volfšmita muižiņa" tā ieguva 19.gadsimta beigās, kad tā piederēja alkoholisko dzērienu ražotājam Albertam Volfšmitam.
Senākais pieejamais plāns par Volfšmita muižiņu datējams ar 1796.gadu, kad īpašums atradās pie Rīgas-Zolitūdes ceļa, no kura to atdalīja teritorijai piegulošs priežu mežs. Pašreizējās īpašuma robežas muižiņas teritorija iegūst ap 1823.gadu.
1880.-1883.gada kartes parāda, ka teritorijā būtiski tiek izmainīts celiņu plānojums, kas liecina, ka šai laikā teritorijā varētu būt notikuši parka pārveidošanas un labiekārtošanas darbi. Šajā laikā muižiņā saimnieko Hillu ģimene. Saglabājušās ziņas, ka šai laikā muižas dārzs bijis atvērts publikai. Interesanti, ka Anna Aleksandra Hilla (dz. Vērmane) piederējusi dzimtai, kas Rīgai dāvinājusi arī Vērmanes dārzu un Arkādijas parku.
Latvijas Universitātes īpašumā muižiņa un tai piegulošā teritorija nonāca 1926.gadā, kad Volfšmita mantinieki to par 18 100 latiem pārdeva valstij, kas tālāk īpašumu nodeva LU Botāniskā dārza lietošanā. Īpašuma nonākšana LU īpašumā to pasargāja no vēsturisko ēku iznīcināšanas un blīvās apbūves veidošanas, kas vēlāk skāra teritorijas ap botānisko dārzu - mikrorajonu veidošanas procesā tika iznīcinātas daudzas Pārdaugavas vēsturiskās vērtības.
Trīs gadus vēlāk, 1929.gadā, tiek izstrādāts Palmu mājas projekts, ko paredzēts īstenot bijušās Kungu mājas vietā (nojaukta 1921.gadā).
Oranžērija
Ēka būvēta 19.gadsimta pirmajā pusē, taču laika gaitā piedzīvojusi vairākkārtējas pārmaiņas.
20.gadsimta vidū oranžērijas ēkā darbojies Latvijas Universitātes Zooloģijas institūts, kas tajā ierīkojis eksperimentālo zooloģijas staciju. Ēkā bija ierīkoti dažādi akvāriji, terāriji, tika audzētas žurkas un jūrascūciņas zinātniskajiem eksperimentiem. Vēl joprojām darbinieku vidū kādreizējā oranžērijas ēkā tiek dēvēta par "Žurku māju".
Šobrīd oranžērijas ēkā atrodas Augu audu kultūru laboratorija.
Kalpu māja
Ēka būvēta ap 1760.gadu. Otrajā stāvā savulaik bija dzīvoklis, taču pašlaik ēka tiek izmantota dārza vajadzībām, piemēram, pirmajā stāvā atrodas darbinieku kabinets. Ēkā notikusi arī filmēšana Latvijas simtgadei veltītajiem kinodarbiem.
Dzīvojamā māja
Ēka būvēta ap 19.gadsimta vidu. Ēku pašreiz veido vairākas daļas – centrālo daļu veido divstāvu korpuss, kam abos galos piebūvēti vienstāvīgas, simetriskas, izstieptas piebūves. Šobrīd ēkā atrodas LU Botāniskā dārza darbinieku telpas, lektorijs, kā arī dzīvoklis.
Vešerienes namiņš
Izmēra ziņā mazākā vēsturiskā ēka LU Botāniskajā dārzā. Tā celta 19.gadsimta beigās. Tautā saglabājies nosaukums "Vešerienes namiņš", kas varētu liecināt, ka ēkā bijusi veļas mazgātuve, tomēr dokumenti, kas apstiprinātu ēkas bijušo funkciju, nav atrodami. Šobrīd ēkā darbojas purvu izpētes projekts.