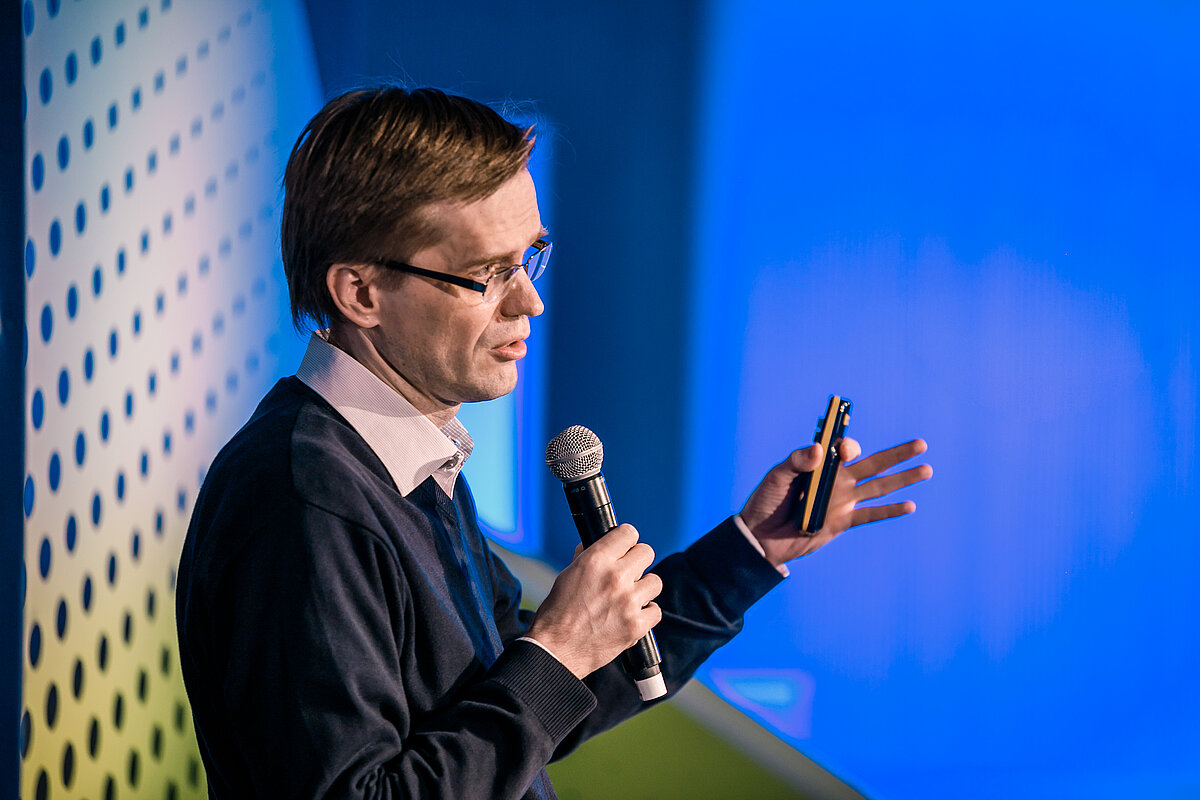 Smaržas mūsdienās ir salīdzinoši maz izpētītas tādēļ, ka zinātnē pastāvējis aizspriedums, ka oža cilvēkam ir vāji attīstīta, salīdzinot ar citiem zīdītājiem. Jaunāki pētījumi tomēr liecina, ka cilvēkam ir jaudīgi ožas maņu orgāni un smaržas uztveres sistēma.
J. Šķilters prezentācijas sākumā klausītājus iepazīstināja ar smaržu īpašo nozīmi cilvēka uztverē. "Viena no svarīgākajām lietām ir emociju un smaržu uztveres saistījums – nevienai citai maņai nav tik īss ceļš pa taisno uz mūsu emocijām. Tas tāpēc, ka smaržas un emocijas tiek apstrādātas vienā smadzeņu reģionā," skaidro profesors. Otra interesantā lieta, kas saistīta ar smaržām (un citām maņām tā nav) – tās ir ļoti labi integrētas cilvēka atmiņā. Tas nozīmē, ka labi varam atcerēties 20 vai 30 gadus vecus notikumus, pat ļoti unikālus un retus, tikai pēc smaržas vien. J. Šķilters min, ka pētnieki ir aizdomājušies ar smaržas palīdzību nākotnē palīdzēt cilvēkiem rekonstruēt aizmirstas lietas un atmiņu. Taču šajā pētījumā ir arī dažas problēmas, par kurām min profesors: "Atšķirībā no citām maņām smaržas ir grūti ietērpt valodā. Ir maz valodisko kategoriju, kas var aprakstīt smaržu, neskatoties uz to, ka mūsu smaržu uztvere ir ļoti niansēta un precīza."
Uztveres un kognitīvo sistēmu laboratorijā veiktajā pētījumā aplūkota krāsu un smaržu mijiedarbība. Būtisks jautājums, kas tika apskatīts, skan sekojoši – vai krāsu ietekme uz smaržām darbojas tikpat lielā mērā kā smaržas ietekme uz krāsām. Tika veikti divi eksperimenti, kuros novērots, kādas smaržu asociācijas rodas krāsu gadījumā un otrādi. "Tika atklāti interesanti rezultāti, piemēram, garšvielu smaržas cilvēkiem visbiežāk saistījās ar zaļu vai melnu krāsu, bet otrā virzienā šādas asociācijas neradās. Savukārt violetu un rozā krāsu salīdzinoši bieži saistīja ar augļu smaržu, kas nav tipiski otrā virzienā," skaidro profesors.
Interesanti, ka krāsas salīdzinoši maz tiek saistītas ar riebīgām smaržām, piemēram, sviedru un puvuma smaku. Ļoti bieži smaržas tiek saistītas ar tādu krāsu, kādā ir konkrētais objekts. Profesors min, ka šiem un vēl daudziem secinājumiem, kas tika izdarīti pētījuma gaitā, ir plašs pielietojumu spektrs – produktu dizainā, pārtikas tehnoloģijās, medicīnā, virtuālās realitātes modelēšanā un pat mākslā.
Pētījumi veikti ar Andreja Eglītes kunga, Roberta Blumberga un labdarības organizācijas "Friends of the University of Latvia", kā arī Latvijas Universitātes fonda atbalstu; pētījumi veikti Jāņa Eglītes piemiņai.
---
23. un 24. septembrī LU norisinājās atklājumu un inovāciju pasākums "LU Jauno tehnoloģiju un inovāciju diena", kur vienuviet satikās gan mundrākie pētnieku prāti, gan inovatīvāko ideju autori. Ievērojami liels LU pētnieku skaits piedalījās "Zināšanu agorā", kas bija viena no nozīmīgākajām pasākuma daļām.
"Zināšanu agora" bija iespēja pētniekiem iepazīstināt un ieinteresēt plašāku sabiedrības loku ar nesen veiktu vai jau sāktu inovatīvu pētījumu tehnoloģiju, dažādu procesu un dzīves kvalitātes uzlabošanas jomā.
Šogad "Zināšanu agorā" izskanēja vairāk nekā 50 pētījumi, kas aktualizēja dažādas tēmas, izaicinājumus un inovatīvus risinājumus vairākās jomās.