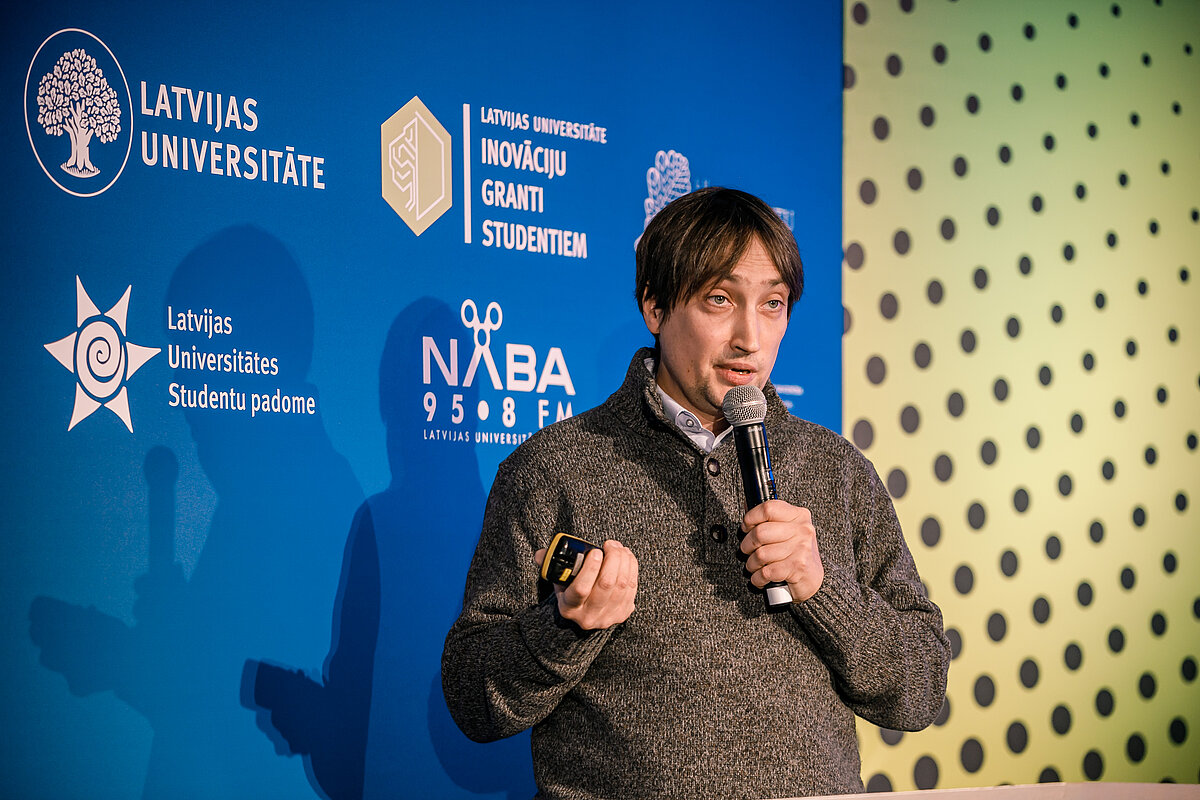 Kā ieraudzīt lietas, kuras bieži ir neredzamas un kāpēc vispār to vajag darīt? Jautā LU Mikrobioloģijas un biotehnoloģijas institūta vadošais pētnieks Dr. biol. Jānis Liepiņš. Mirkoorganismu šūnas ir sīkas – ar neapbruņotu aci tās neieraudzīt, taču augot un vairojoties, tās var veidot vizuāli pamanāmus pleķus – kolonijas, sauktas arī par "koloniju veidojošām vienībām". Šīs koloniju veidojošās vienības ir ļoti svarīgas, jo katra koloniju veidojošā vienība nozīmē, ka sākumā bija viena vairoties spējīga šūna, kas vairāku stundu laikā izauga un kļuva redzama, skaidro pētnieks.
Augšanas testos tradicionāli veic baktēriju audzēšanu un koloniju veidojošo vienību uzskaiti, kas tad arī liecina par mikrobiālā piesārņojuma klātbūtni paraugā. Taču no parauga iegūšanas līdz testa gala rezultātam var paiet pat 48 stundas vai vairāk. Ja tiek pārbaudīts mikrobiālais piesārņojums pārtikas vai vides paraugos – to apstrādes ātrumam ir nozīme, lai operatīvi iegūtu informāciju par potenciālo kaitīgumu veselībai. Piemēram, būtu svarīgi pēc iespējas ātrāk noskaidrot vai konkrētajā peldvietā ir vai nav bīstami peldēties, vai produkts ir vai nav bīstams veselībai utt..
Lai paātrinātu informācijas iegūšanas procesu, LU un Rīgas Tehniskās universitātes pētnieki ERAF projektā attīsta uz lāzera spekliem balstītu optisku sistēmu, lai varētu veikt mikroorganismu uzskaiti ātrāk nekā tas iespējams ar neapbruņotu aci.
Lāzera gaismai atstarojoties no mikroorganisma kolonijas veidojas laikā mainīgs spīdums – spekls. Tā parādīšanās korelē ar šūnu daudzumu kolonijās – jo vairāk šūnu kolonijā, jo ātrāk tās sāk mirdzēt. Turklāt ar šo metodi iespējams noteikt kolonijas veidošanos ātrāk nekā kolonijas kļuvusi redzama ar neapbruņotu aci – speklu mirdzēšana ir novērojama jau agrīnos kolonijas augšanas etapos.
Pētnieki arī secināja, ka speklu mirdzēšana baktēriju kolonijā nav vienmērīga – sākuma tā novērojama centrā, bet vēlāk pāriet uz malām, līdz tā izsīkst pavisam. "Mēs domājam, ka spekla tehnoloģijas sniegtās iespējas koloniju vizualizēšanā ir unikālas, mēs varam ne tikai ieraudzīt kolonijas to agrīnā augšanas laikā, bet arī raksturot baktēriju aktivitāti dažādās kolonijas daļās, kas līdz šim ar vienkāršām metodēm nav bijis iespējams" skaidro pētnieks.
Šī projekta mērķis ir attīstīt tehnoloģiju, kas samazinātu mikroorganismu augšanas testu izpildes laiku, kā arī izveidot prototipu, kas palīdzētu veikt šīs analīzes autonomi ar testa platītēm. Paraugu mikrobioloģiskā testēšana nepieciešama ūdens, pārtikas un lopbarības tīrības noteikšanā.
Pētījumu finansē: Eiropas Reģionālās attīstības fonda projekts Nr.1.1.1.1/19/A/147 "Ātra un rentabla, uz mašīnmācīšanos balstīta sistēma mikroorganismu augšanas analīzei" īstenošanu".
---
23. un 24. septembrī LU norisinājās atklājumu un inovāciju pasākums "LU Jauno tehnoloģiju un inovāciju diena", kur vienuviet satikās gan mundrākie pētnieku prāti, gan inovatīvāko ideju autori. Ievērojami liels LU pētnieku skaits piedalījās "Zināšanu agorā", kas bija viena no nozīmīgākajām pasākuma daļām.
"Zināšanu agora" bija iespēja pētniekiem iepazīstināt un ieinteresēt plašāku sabiedrības loku ar nesen veiktu vai jau sāktu inovatīvu pētījumu tehnoloģiju, dažādu procesu un dzīves kvalitātes uzlabošanas jomā.
Šogad "Zināšanu agorā" izskanēja vairāk nekā 50 pētījumi, kas aktualizēja dažādas tēmas, izaicinājumus un inovatīvus risinājumus vairākās jomās.