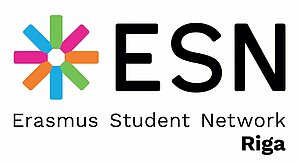 "ESN Riga" has been a section of the Erasmus Student Network (ESN) since 2003, which is connected and mainly cooperates with the University of Latvia, as well as the Student Council of the University of Latvia. As an association, "ESN Riga" represents the interests of international exchange students and the organization Erasmus Student Network in Riga, whose motto is Students Helping Students. The Erasmus Student Network is one of the largest student associations in Europe and was created to support and develop student exchanges.
"ESN Riga" is a non-profit organization with around 40 volunteers, mostly students and young adults. "ESN Riga" organizes about 40 events every semester with the aim of promoting the social and cultural integration of foreign students in Latvia, creating conditions for a better understanding of other cultures among students of different nationalities, using informal methods of education. "ESN Riga" helps exchange students by answering their questions, as well as by providing them with the necessary information. The office of "ESN Riga" is located at the University of Latvia, Raiņa bulvāris 19, room 177,and information about its working hours is announced via "ESN Riga" social media channels.
"ESN Riga" is a great organization to join for local students who have returned from the Erasmus+ exchange, as well as for those Latvian students who would like to be part of a multicultural environment. It is an opportunity to get the feeling of Erasmus, being right here in Latvia. "ESN Riga" always invites active and purposeful local and international students and young people who want to develop their skills and ideas in a multicultural and safe environment, cooperating with each other.
The board of "ESN Riga" has positions such as president, vice president, treasurer, event and trip coordinators, buddy coordinator, communication and partnership managers, webmaster, as well as section representative. Volunteers of the association are involved in the activity of the section as active and new members.
In 2018, "ESN Riga" hosted the international event "Council of National Representatives" at the University of Latvia, where representatives of national level sections of ESN from all over Europe met to discuss strategic issues of ESN and represent the interests of their national sections.
"ESN Riga" can be reached via various social networks channels: https://linktr.ee/esnriga