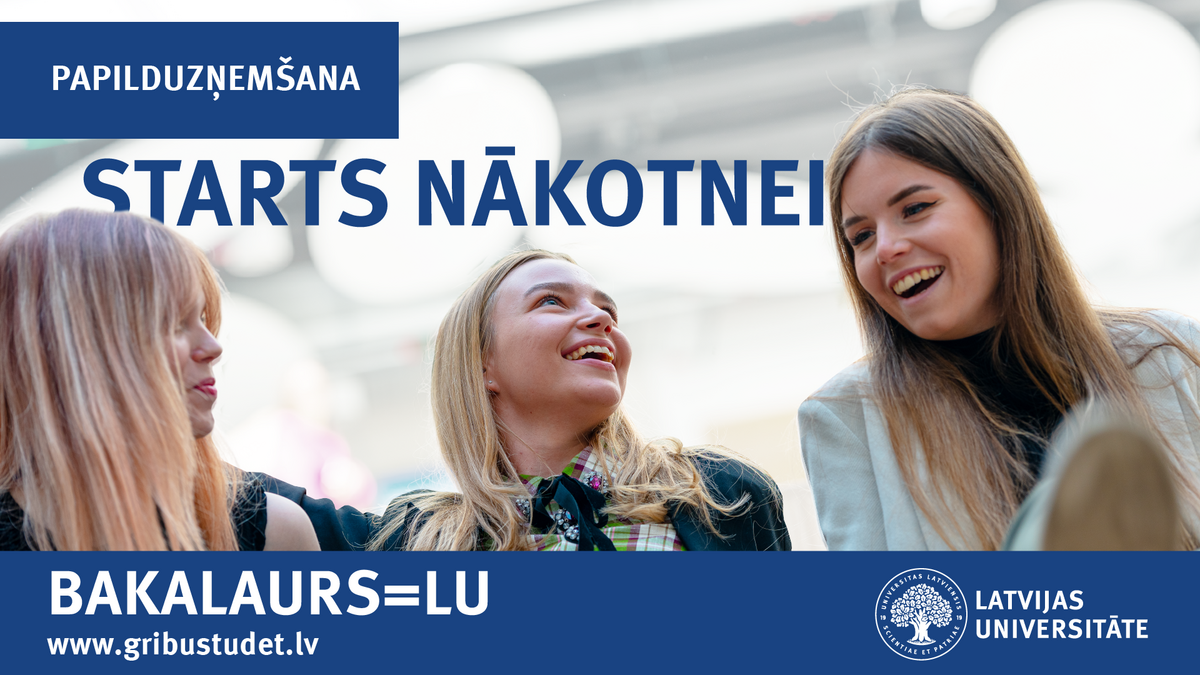 Uzņemšana LU studiju programmās turpinās, sākot no 8. augusta. Katra fakultāte un filiāle pati nosaka studiju pieteikumu pieņemšanas grafiku, aicinām sekot tiem līdzi, lai nenokavētu.
Sāc studēt datorzinātnes, ekonomiku, biznesa vadību, vides zinātnes, Āzijas studijas, farmāciju, zobārstniecību vai kļūsti par pedagogu. Kopumā pieteikumus studijām LU ir iespējams iesniegt 32 koledžas un bakalaura līmeņa studiju programmās, savukārt filiālēs – četrās pamatlīmeņa studiju programmās.
Atsevišķās LU fakultātēs vēl ir pieejamas arī budžeta vietas pilna laika klātienes studijām, piemēram, bakalaura studiju programmās "Māszinības", "Pirmstiesas izmeklēšana", "Fizika", "Matemātika", "Optometrija", "Informācijas pārvaldība" un "Sociālais darbs", "Ģeoloģija" un "Ģeogrāfija", kā arī programmās "Ķīmija", "Teoloģija un reliģiju zinātne", "Filoloģija" (klasiskā, vācu, somugru studijas) un vairākās studiju programmas "Skolotājs" apakšprogrammās.
Izjūti pasaules daudzveidību, iepazīsti sabiedrību, atklāj pasaules noslēpumus un studē drosmīgi – sāc jaudīgu izrāvienu humanitārās, sociālās un dabaszinātnēs, kā arī veselības aprūpes studijās!
Pieteikumu iesniegšana pamatstudiju programmās notiek fakultātēs un filiālēs klātienē to norādītajos laikos pēc pievienotā grafika, kā arī elektroniski – aizpildot veidlapu un augšupielādējot norādītos dokumentus. Elektroniskā veidlapa pieejama no 9. augusta līdz katras fakultātes un filiāles norādītajam termiņam.
Pirms pieteikšanās studijām aicinām sagatavot nepieciešamos dokumentus (dokumentus elektroniski ielādēt PDF formātā), iepazīties ar papilduzņemšanas kārtību un dokumentu iesniegšanas grafiku koledžas un bakalaura līmeņa studijās.
Vienotajā uzņemšanā LU saņēma vislielāko pieteikumu skaitu, kas bija apstiprināti ar pirmo prioritāti. TOP3 LU studiju programmas pēc saņemto pieteikumu skaita šogad ir "Ārstniecība", "Psiholoģija" un "Tiesību zinātne". Tāpat šogad būtiski pieaugusi ārvalstu jauniešu interese par LU un dubultojies to topošo studentu pieteikumu skaits, kas atbilst uzņemšanas nosacījumiem.
Izmanto iespēju un pievienojies LU studentu saimei!