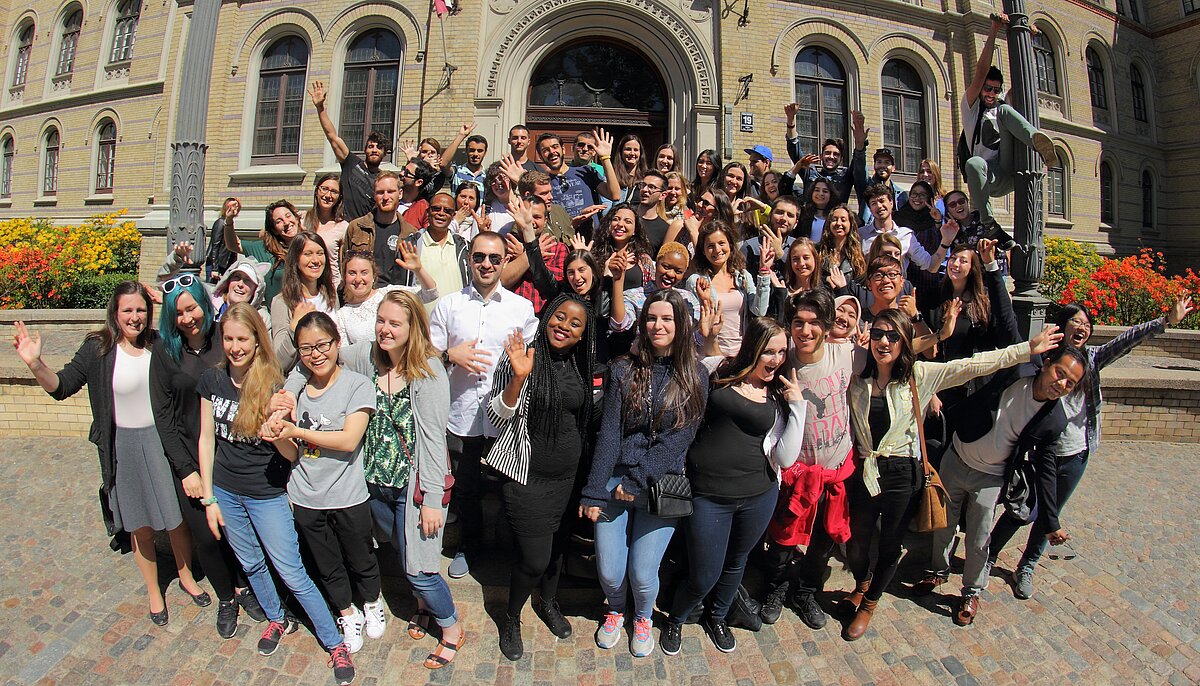 The University of Latvia offers fifteen bachelor's study programmes and thirteen master's study programmes. Responding to current global challenges, several study programmes in topical and in interdisciplinary fields have been developed in last years, such as biotechnology, epidemiology, geoinformatics, languages and business studies, as well as intercultural studies*.
There are bachelor's degree programmes "Biotechnology and Bioengineering", "East-West Intercultural Studies", "English, European Languages and Business Studies", "Philology (French, Russian or German)" and professional study programme "Geoinformatics", while master's programmes are "Epidemiology and Medical Statistics", "English Studies", "Linguistics, Literature and Regional Culture Studies (Romance Studies, Germanic Studies, Russian and Slavic Studies or Baltic Sea Region Studies)" and this year also master's programme "Physics".
Doctoral studies present a choice among fifteen study programmes in a variety of fields representing all the classic disciplines, including "History and Archaeology", "Computer Science and Mathematics", "Natural Sciences", "Social Sciences", "Language and Culture Studies", "Theology and Religious Studies". Newly created doctoral study programme opened for admission this year is "Human Factors, Occupational Safety and Health".
Currently there are more than 800 foreign students studying at University of Latvia. To complete admission successfully, one has to pay attention to application deadlines, which can vary depending on the country of residence.
For bachelor's, master's and doctoral study programmes, the citizens of non-EU/EEA countries and citizens of visa-free countries must to apply until 27.06.2022, however, if you are an EU and EEA citizen, your application must be submitted until 25.07.2023. Citizens of the countries with additional assessment must submit their applications until 30.05.2023.
The University of Latvia also provides two professional study programmes – "Dentistry" and "Medicine". Those interested in acquiring one of these programmes, are welcome to submit their applications until 15.06.2023 (citizens of non-EU/EEA countries and citizens of visa-free countries), or until 01.07.2023 (EU and EEA citizens). Citizens of the countries with additional assessment must apply until 24.04.2023.
"Choosing University of Latvia for my studies and pursuing my dreams has indeed been an unregrettable choice as I have been able to develop my academic knowledge and personal qualities at a higher level. The program director and doctors of the Dentistry department have been remarkable at their responsibilities and making sure that the program is not missing anything and is comparable with the most up-to-date findings, techniques and instrument in Dental world. From a social aspect, international students at University of Latvia are having benefits of being part of an extremely welcoming atmosphere where we see each other as future colleagues and do our best for every single student to be taken care of as much as we can," pointed out Rayyan Rezaeitazangi from Norway, student of programme "Dentistry".
Information and all the requirements on admission for studies at the University of Latvia are available on the website.
If you have additional questions about admission procedure, you are welcome to inquire via e-mail studies@lu.lv or telephone (+371) 67034408 or (+371) 25456011.
The University of Latvia consistently retains the position of the national, leading and most influential higher education institution in Latvia. In terms of the total number of students, the University of Latvia is also the largest university in the country. It is the largest comprehensive university in Latvia, extensively contributing both to the development of the entire education system and to the overall growth of the country's economy.
The University of Latvia is a modern centre of academic and professional studies, which, along with research in natural sciences, humanities, social sciences, technical sciences and medicine provides opportunities to acquire various types and levels of higher education programmes to the residents of Latvia and other countries. UL has a crucial role in the development of society's academic traditions, national economy, education, environment and health protection, Latvian language and culture.
*Programmes have been developed within the framework of the project "Design of Internationally Competitive Study Programmes Promoting the Development of the National Economy of Latvia at the University of Latvia" (project No. 8.2.1.0 / 18 / A / 015). Eight faculties of the University of Latvia are participating in the project and seventeen new study programmes are being developed. The cooperation partners of the project are University of Daugavpils, Riga Stradiņš University, Riga Technical University, Art Academy of Latvia, University of Tartu. The elaboration of all the new study programmes, their licensing, approbation and accreditation is planned to be completed in the period until November 2023.