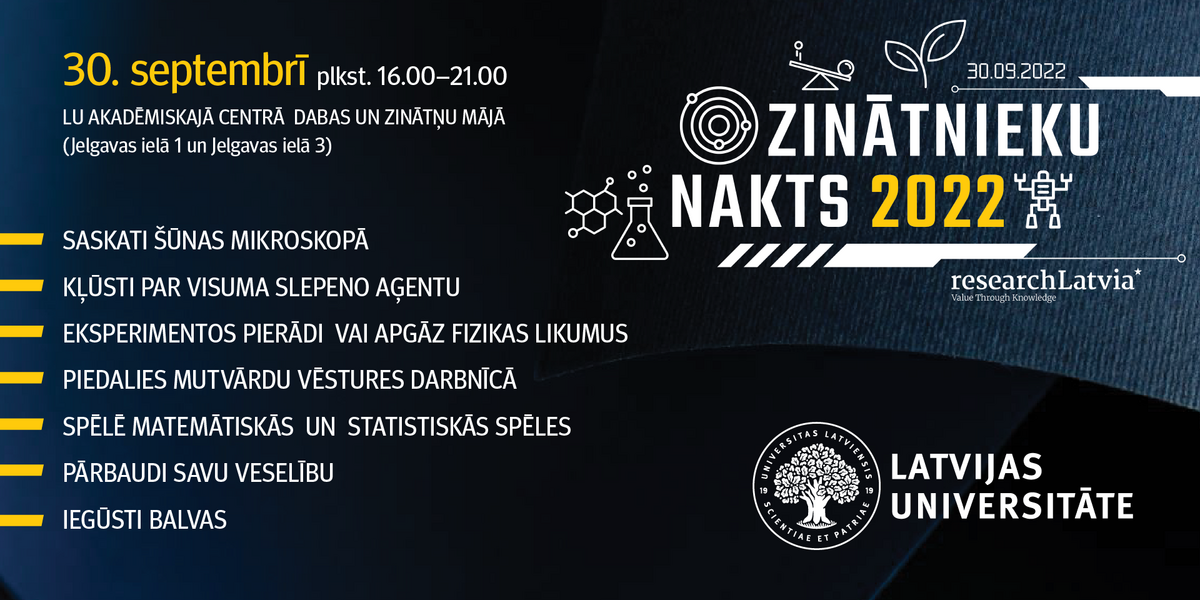 Dažas Zinātnieku nakts aktivitātes sāksies jau plkst. 16.00, bet aicinām apmeklētājus ierasties no plkst. 17.00, kad Zinātnieku nakts būs tā pa īstam ieskrējusies!
LU zinātnieki būs parūpējušies par daudzveidīgu programmu, lai ikviens atrastu sev ko interesantu, vēl nezināmu un noderīgu. Šajā vakarā zinātnieki ļaus ieskatīties savās laboratorijās un auditorijās, lai parādītu, ka zinātnei ir dažādas šķautnes – to var ieraudzīt eksperimentos un mikroskopos, sadzirdēt diskusijās, izzināt spēlēs un darbnīcās un sajust, pašam visu izmēģinot.
Zinātnieku nakts būs tikpat dažāda, cik LU zinātnieki – no Saules vētrām kosmosā līdz pat putekšņa sīkākajai daļiņai mikroskopā.
Fiziķi aicinās eksperimentos pierādīt vai apgāzt fizikas likumus un meklēt atbildes uz jautājumiem: vai var atvēsināties bez dzesēšanas? vai stikls tiešām ir caurspīdīgs? kā siltums kļūst redzams?
Dabas pētnieki ļaus ielūkoties mikroskopā un izpētīt putekšņu daudzveidību. Ģeodēzijas un ģeoinformātikas zinātniekus varēs sastapt uz Zinātņu mājas jumta, kur notiks kosmisko objektu optiskās novērošanas sistēmas demonstrācija, bet ģeologi aicinās ielūkoties Zemes dzīlēs – apskatīt fosīlijas, kas atrastas smilšakmens slāņos, doties 3D ceļojumā iekšledāja tunelī un pašam nomērīt seismiskās svārstības.
Biologi parādīs, kā veco nomaina jaunais – apmeklētājiem būs unikāla iespēja aplūkot pirmo Sarkanās grāmatas eksemplāru, kā arī uzzināt vairāk par jauno topošo Sarkano grāmatu.
Medicīnas zinātņu pētnieki atgādinās par cilvēka lielāko dārgumu – veselību – un piedāvās izmērīt ķermeņa temperatūru, asinsspiedienu, skābekļa līmeni asinīs un pulsu arī no attāluma, izmantojot bezkontakta optisko metodi. Pie optometristiem būs iespēja saskrūvēt briļļu ietvarus, noteikt optisko lēcu stiprumus, izmantojot dažādas metodes un papildināt zināšanas par acu veselību.
Populārzinātniskā lekcijā kosmosā aizvedīs Ilgonis Vilks, pastāstot, kā Saules vētras atbalsojas uz Zemes. Vēsturnieki aicinās iejusties zinātnieku ādā, izmantojot viņu ikdienā tik bieži izmantoto instrumentu – interpretāciju – un piedalīties kādā antīkās pasaules notikumā.
Par performatīvu diskusiju "Arbūzs kubā" būs parūpējusies radio NABA un aicinās uz audiovizuālām sarunām par zinātnes un varas attiecībām, zinātni autoritāros režīmos, reāliem, vēsturiskiem un fantastiskiem zinātnes projektiem diktatūrās. Uzzināt par mutvārdu vēstures metodi un kā tas var palīdzēt, piefiksējot ģimenes locekļu atmiņas, aicinās socioloģijas pētnieki. Savukārt bibliotēkas eksperti pastāstīs, ka nemaz nav jābūt zinātniekam, lai piedalītos pētījumos, un to var darīt ikviens!
Zinātnieku naktī uz savu ēku Rūpniecības ielā 10 gaidīs arī Akadēmiskā bibliotēka, Atomfizikas, atmosfēras fizikas un fotoķīmijas laboratorija – Šķūņu ielā 4, bet ārpus Rīgas gleznainajā Dienvidkurzemes novadā Papē gaidīs Bioloģijas institūta Ornitoloģijas laboratorija.
Zinātnieku naktī būs iespējams piedalīties īpašā loterijā un laimēt balvas no plašā LU suvenīru klāsta.
Pie Akadēmiskā centra būs iespējams novietot automašīnu, taču aicinām uz pasākumu doties ar sabiedrisko transportu vai velosipēdu.
Tiekamies Zinātnieku naktī 30. septembrī plkst. 16.00–21.00 LU Akadēmiskajā centrā Torņakalnā!
Vairāk informācijas par Zinātnieku nakti meklē https://www.zinatniekunakts2022.lv/