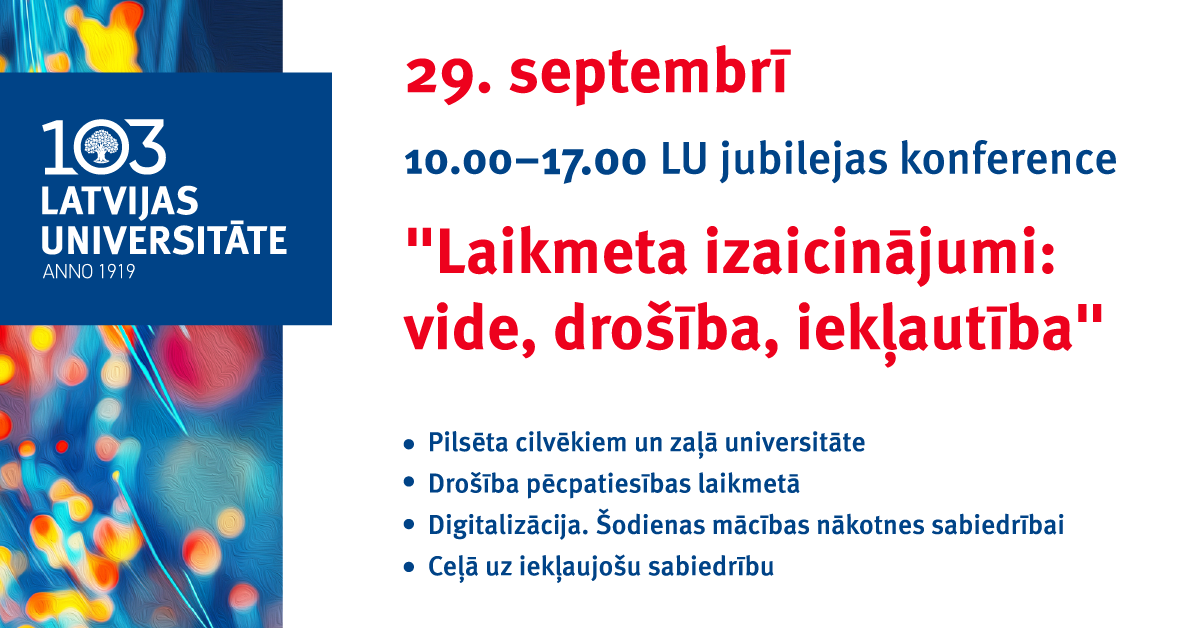 Latvijas Universitātes jubilejas konference "Laikmeta izaicinājumi: vide, drošība, iekļautība", kur Latvijas Universitātes pārstāvji – mācībspēki, pētnieki, studenti – un nozaru eksperti dalīsies viedokļos par aktuālajiem ilgtspējas, drošības, digitalizācijas un iekļautības izaicinājumiem un par universitātes lomu tajos.
Konferences norise - tiešsaistē.
KONFERENCES PROGRAMMA
Datums: 2022. gada 29. septembrī
Laiks: no plkst. 10.00 līdz plkst. 17.10
Formāts: tiešsaistē www.lu.lv
Darba valoda: latviešu, angļu
Moderators: Uģis Joksts
Laikmetu, kurā dzīvojam, raksturo dziļas pārmaiņas, kuras skar teju ikvienu mūsu dzīves jomu un sabiedrības daļu. Latvijas Universitāte neapšaubāmi ir tā platforma, kur mūsdienu izaicinājumi tiek apspriesti, analizēti, izvērtēti un kur tiek meklēti inovatīvi risinājumi problēmām, ar kurām mūsu sabiedrībai šodien ir jāsaskaras. Līdz ar to savas 103. jubilejas laikā Latvijas Universitāte aicina ikvienu aizdomāties un aktīvi diskutēt par vairākiem mums visiem būtiskiem jautājumiem. Kā pēcpatiesības laikmeta realitāte ietekmē sabiedrības drošību? Kādu lomu universitāte spēlē zaļas un ilgtspējīgas pilsētas veidošanā? Kādi ir digitalizācijas procesa attīstības virzieni nākotnē? Kā universitāte var veicināt iekļaujošas sabiedrības nodrošināšanu?
10:00 – 10:30
Konferences atklāšana
Prof. Indriķis Muižnieks, Latvijas Universitātes rektors ­
Prof. Ivars Kalviņš, Latvijas Universitātes padomes priekšsēdētājs
Prof. Zanda Rubene, Latvijas Universitātes Pedagoģijas, psiholoģijas un mākslas fakultātes prodekāne
Prof. Signe Bāliņa, Latvijas Universitātes rektora vietniece digitālās sabiedrības jautājumos, Latvijas Informācijas un komunikācijas tehnoloģijas asociācijas prezidente
Renārs Kairis, LU Studentu padomes Sociālā virziena vadītājs, LU Ekopadomes priekšsēdētājs
10:30 – 12:00
1. sesija: Pilsēta cilvēkiem un zaļā universitāte
10:30 – 10:50 Ieva Zībārte, Latvijas Arhitektu savienības valdes locekle, Jaunā Eiropas Bauhaus Latvijas kontaktpunkta vadītāja, Jaunais Eiropas Bauhaus pilsētai un cilvēkiem
10:50 – 11:10 Miķelis Grīviņš, Dr. sc. soc.,"Baltic Studies Centre" vadošais pētnieks, Kā veidot jauniešu veicinātu un zinātnē balstītu pāreju uz ilgtspējīgām praksēm?
11:10 – 11:30 Prof. Tālis Tīsenkopfs, Latvijas Universitātes Sociālo zinātņu fakultātes profesors, Darja Trizna, Latvijas Universitātes sociālās antropoloģijas nodaļas studente, Kristaps Briška, videooperators, Pētniecības un studentu iesaiste ilgtspējīgā vietradē pilsētā (videoreferāts)
11:30 – 11:50 Uģis Šēnbergs, arhitekts, SIA "A4D", 1984.-2084. gads: Latvijas Universitāte Torņakalnā
11:50 – 12:00 Kafijas pauze
12:00 – 14:00
2. sesija: Drošība pēcpatiesības laikmetā
12:00 – 12:20 Uldis Lībietis, "Tet" IT drošības pārvaldnieks, Lai kiberdroši!
12:20 – 13:00 Prof. Stefans Levandovskis (Stephan Lewandowsky), Bristoles Universitāte, Technology, Democracy, and Cognition: Pressure Points and Global Challenges*
13:00 – 13:20 Kārlis Podiņš, Informācijas tehnoloģiju drošības incidentu novēršanas institūcijas CERT.LV pētnieks, Kibertelpas (ļ|j)aunumi
13:20 – 13:40 Sigita Struberga, Latvijas Transatlantiskās organizācijas ģenerālsekretāre, politikas pētniece, Patiesība kā drošības jautājums postpatiesības un viltus ziņu laikmetā – kāda loma zinātnei?
13:40 – 14:00 Luiss Vierenga (Louis Wierenga), Baltijas Aizsardzības koledžas lektors starptautiskajās attiecībās, The Weaponization of Truth and Artificial Intelligence in the 21st Century*
14:00 – 14.30 Pusdienu pauze
14:30 – 15:50
3. sesija: Digitalizācija. Šodienas mācības nākotnes sabiedrībai
14:30 – 14:50 Elīna Lidere, Riga Tech Girls līdzradītāja, LMT Inovāciju ekosistēmas daļas vadītāja, Stereotipi par digitālajām prasmēm un iekļaujošas mācību vides loma tehnoloģiju apgūšanā
14:50 – 15:10 Prof. Linda Daniela, Latvijas Universitātes Pedagoģijas, psiholoģijas un mākslas fakultātes dekāne, Elektrība neradās no nepārtrauktas sveču pilnveides! Jeb ko izglītībai dod digitalizācija?
15:10 – 15:30 Hasans Selčuks (Hasan Selçuk), PhD, Latvijas Universitātes Pedagoģijas, psiholoģijas un mākslas fakultātes docētājs, Solutions to Overcoming Technophobia among Academic Staff of the University of Latvia*
15:30 – 15:50 Inguna Skadiņa, Dr. sc. comp., Latvijas Universitātes Matemātikas un informātikas institūta vadošā pētniece, Latvijas Universitātes Datorikas fakultātes profesora vietas izpildītāja, Latviešu valoda digitālajā laikmetā
15:50 – 17:10
4. sesija: Ceļā uz iekļaujošu sabiedrību
15:50 – 16:10 Asoc. prof. Ivars Ijabs, Latvijas Universitātes docētājs, Eiropas Parlamenta deputāts, Iekļaujošs internets? Platformu regulācija un demokrātijas izaicinājumi
16:10 – 16:30 Natālija Gīrtsa (Natalie Geerdts), Latvijas Universitātes Starptautisko studentu kolēģijas vadītāja, Latvijas Universitātes Medicīnas fakultātes studente, An Immigrant's Experience: Moving to Latvia from Africa*
16:30 – 16:50 Deniss Ševeļovs, Rīgas Stradiņa universitātes doktorants un pētnieks, "Collex" influenceru aģentūras biznesa attīstības direktors, Dažādība un iekļaušana kā sociālās ilgtspējas pamats: sociālie tīkli
16:50 – 17:10 Daina Podziņa, Apvienības "Apeirons" starptautiskā eksperte, Invaliditāte Latvijā – izaicinājums sabiedrībai un ne tikai
Noslēgums
*Priekšlasījums notiks angļu valodā.