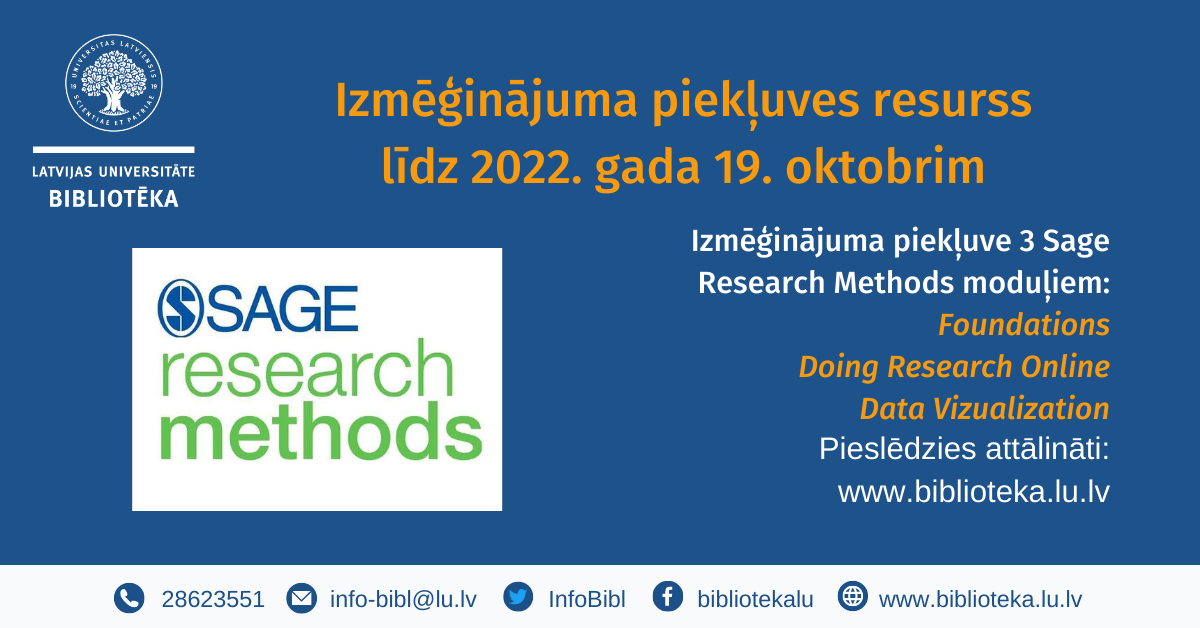 LU Bibliotēka līdz 2022. gada 19. oktobrim nodrošina izmēģinājuma piekļuvi trijiem datubāzes Sage Research Methods moduļiem – Data Visualization, Doing Research Online un Foundations.
Data Visualization ir rīks, kas ļauj pētniekiem iepazīties ar dažādiem paņēmieniem, kā uzlabot savu datu un rezultātu vizualizāciju. Pētnieki bieži iegūst ļoti daudz datu, kurus ir svarīgi pasniegt saprotami. Ko vēlas parādīt? Kāda ir mērķauditorija? Kā to visveiksmīgāk pasniegt? Data Visualization pamācības ir pasniegtas 5 formātos – Videos, Chart, Expert insights, Tools Directory un Datasets. Dažādie pamācību formāti ļauj labāk saprast, kāda diagramma vai tabula vislabāk atspoguļo iegūtos datus.
Doing Research Online ir īpaši domāts pētniekiem, kuri veic pētniecību tiešsaistē. Šis modulis piedāvā dažādus formātus, kuri māca par tādām tēmām kā tiešsaistes aptauja, digitālā etnogrāfija, intervijas, sociālie mediji u.c. Būtiskas tēmas, piemēram, interneta privātums tiek pasniegtas dažādos formātos kā pamācoši video un dažādu veidu datu kopas, kurām tiek piedāvāts kā vispiemērotāk tās analizēt. Modulis ir sadalīts 4 sadaļās – Cases, Videos, Data sets un How-to guides.
Foundations sniedz īsu ievadu metodēs un pētniecības terminos tiem, kas ir iesācēji pētniecībā kopumā vai konkrētajā pētniecības metodē. Metodes un pētniecības termini ir sakārtoti alfabēta secībā un katrā ierakstā ir pieejams konspekts par terminu, kā arī padziļināta informācija. Katrs ieraksts sniegs lietotājam vispārīgu izpratni par tēmu un nepieciešamības gadījumā palīdzēs tam koncentrēties uz papildu satura meklēšanu.
Piekļuve šiem 3 moduļiem ir nodrošināta līdz 2022. gada 19. oktobrim.
Piekļuve datubāzei Sage Research Methods pieejama šeit.
Aicinām Jūs izmēģināt resursu un izteikt viedokli par to šeit vai sūtot uz e-pastu info-bibl@lu.lv! Atsauksmes būs noderīgas, lai novērtētu šī resursa nepieciešamību jūsu studijām un pētījumiem.
Informācijai:
LU Bibliotēka pastāvīgi abonē divus datubāzes Sage Research Methods moduļus – SAGE Research Methods Books and Reference un SAGE Research Methods Cases.