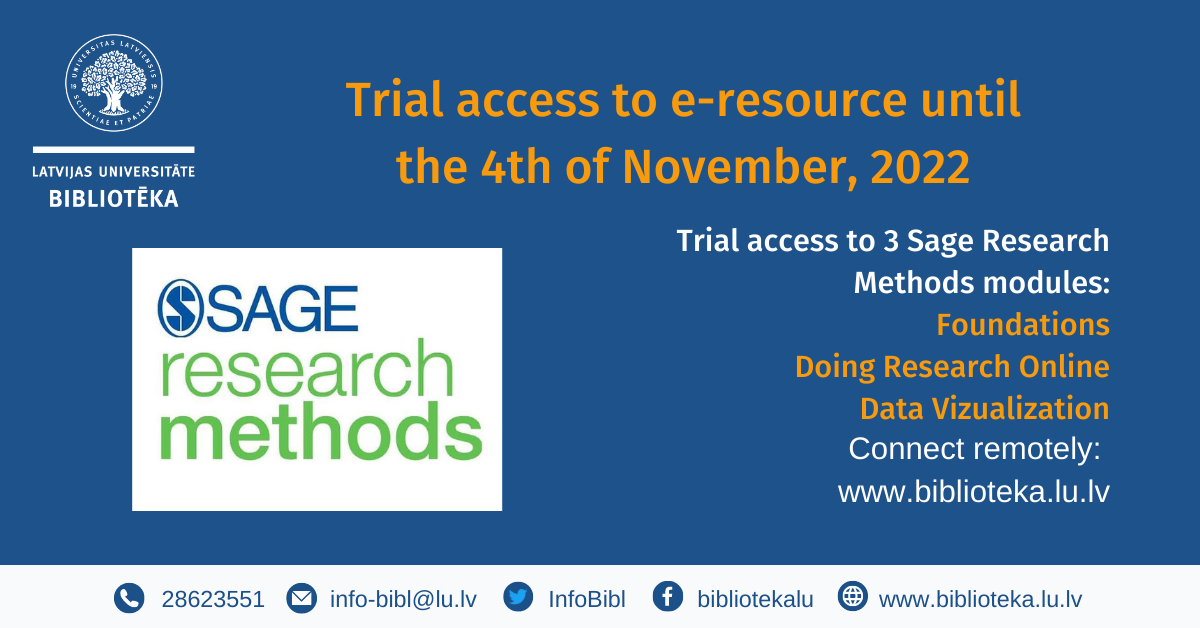 The UL Library has provided 1-month trial access to 3 Sage Research Methods modules - Data Visualization, Doing Research Online and Foundations until November 4th, 2022.
Data Visualization is a tool that allows researchers to familiarize themselves with various techniques to improve the visualization of their data and results. Researchers often acquire an large amount of data, which is important to be presented in an easily understandable way. What do you want to show? What is the target audience? How to best present it? Data Visualization tutorials are presented in 5 types of content – Videos, Chart, Expert insights, Tools Directory and Datasets. This variety of presentation formats helps to understand which chart or table would be most suitable for each types of data.
Doing Research Online is a multimedia collection, that has been designed to support novice or experienced social science researchers who are conducting research online. This module offers a variety of formats that teach topics such as online surveys, digital ethnography, interviews, social media, and more. Important topics such as privacy and other ethical issues are presented in a variety of formats, including instructional videos and different types of data sets that are best suited for analysis. The module is divided into 4 sections – Cases, Videos, Data sets and How-to guides.
Foundations provides a concise introduction to research methods and terms for those new to research in general or to a specific research method. Methods and research terms are arranged alphabetically, and each entry provides a summary of the term as well as more in-depth information. Each entry will give the reader a general understanding of the topic and help them focus on finding additional content if they want to dive deeper.
Access to these 3 modules is provided until the 4th of November, 2022.
Access to the database Sage Research Methods available here.
Please take a chance to try the Sage Research Methods trial databases and let us know your opinion!
Your feedback would be useful to evaluate the necessity of this resource for your study and research. Please send your feedback to info-bibl@lu.lv or pass it here.
Information
The UL Library is already subscribed to 2 Sage Research Methods modules - SAGE Research Methods Books and Reference and SAGE Research Methods Cases.