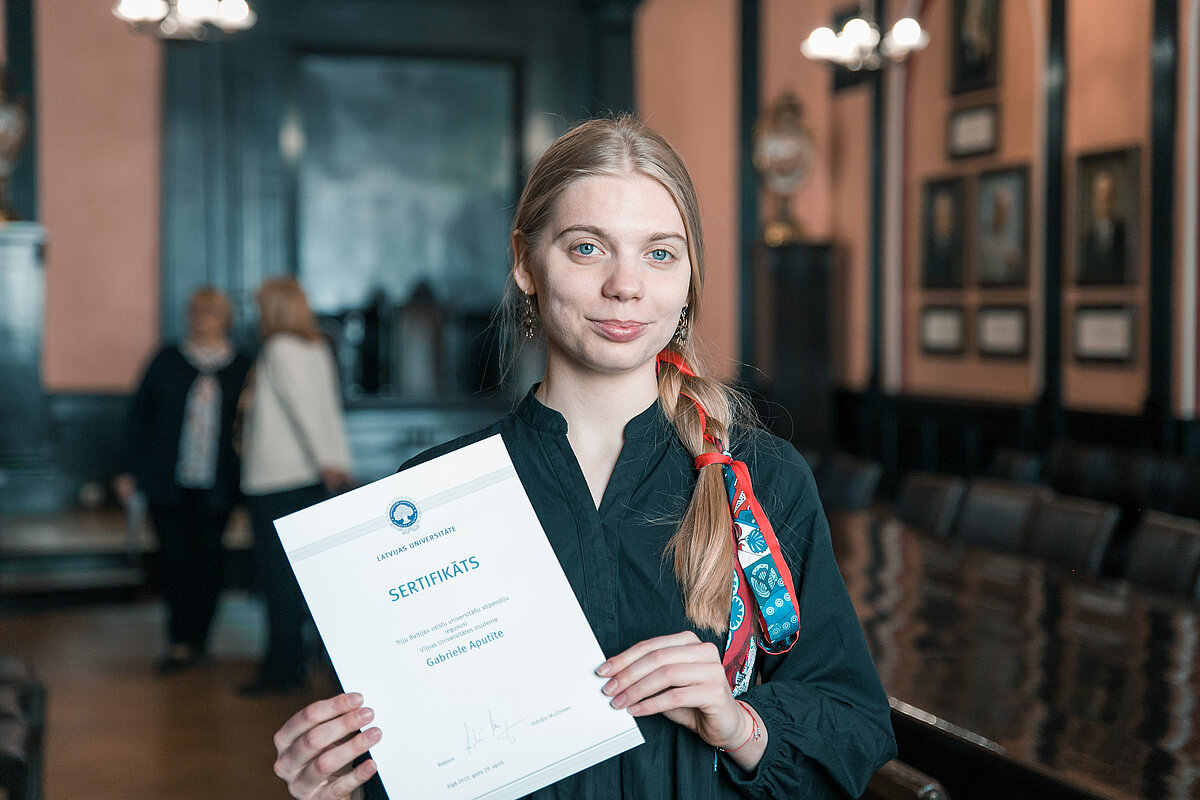 The aim of the scholarship is to facilitate cross-border cooperation between the Baltic states and their leading universities in academic matters, for example, by promoting linguistic and culture research. The competition is open to students of all specialities; grammar alone does not determine the evaluation of the applications: context-appropriate language usage, the ability to express oneself and to prove one's point is just as important.
The candidates are chosen in a three-round process. The first two rounds (written and oral) are local rounds, held in each individual university, whereas the third and final round is hosted by the university awarding the scholarship. The best candidates from each university are nominated for the final round, where they are to present themselves and their eligibility for the scholarship. This year, the University of Tartu had two nominees – Elmar Gams and Vasilisa Kovkin –, whereas Vilnius University had one nominee, Gabrielė Aputytė; unfortunately, no students from the University of Latvia had been nominated.
This year's winner Gabrielė Aputytė is a third-year student in the Lithuanian Philology and Latvian Language Programme at the Vilnius University, currently on her Erasmus+ exchange programme studies at the UL Faculty of Humanities. Gabrielė started learning Estonian in her second year of studies and attended the Livonian Summer University held by the UL Livonian Institute and the University of Tartu in 2021. Gabrielė is interested in languages and history, especially archaeology and folklore; in addition, she is a member of the Vilnius University folk ensemble "Ratilio". Gabrielė is delighted that her studies are gradually opening the door to the cultures of the other Baltic states.
Upon meeting the nominees, professor Indriķis Muižnieks, rector of the University of Latvia, emphasised the importance of this scholarship in successful cooperation among the universities of the three Baltic states, as well as in affirming the unity of the Baltic states. The winner Gabrielė Aputytė was awarded a certificate by the UL.
In November 2017, rectors of the University of Latvia, University of Tartu and Vilnius University signed a cooperation agreement concerning the establishment of a new scholarship to be awarded to students who know or are learning all three official languages of the Baltic states. The most important prerequisite of the scholarship is knowledge of one of the languages at C1 and of the other two – at A2. The student may use the scholarship for studies at a different university or to fulfil another academic goal. Students of all study levels may apply for the scholarship by participating in an open competition.