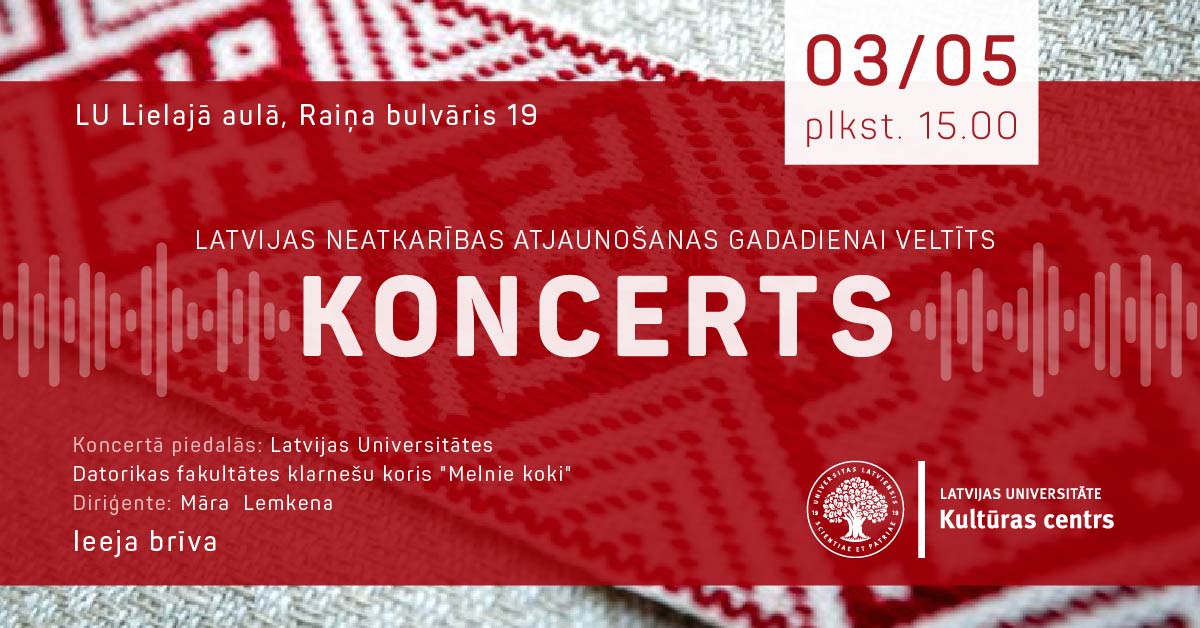 Ar skaistu svētku programmu klausītājus priecēs LU Datorikas fakultātes (DF) klarnešu koris "Melnie koki". Diriģente Māra Lemkena. Ieeja koncertā bez maksas.
Koncertā skanēs E. Dārziņa, J. Vītola, R. Paula, J. Svendsena, B. Karletona un citu komponistu skaņdarbi klarnešu korim sagatavotā aranžējumā.
Klarnešu koris kā mūziķu sastāva formāts Ziemeļeiropā ir salīdzinoši rets veidojums, jo tā darbībai nepieciešams paplašināts instrumentu sastāvs (piccolo klarnete, alta klarnete, basa klarnete, kontrabasa klarnete), kas pieļauj instrumentālā skanējuma daudzveidību un dod iespēju atskaņot orķestrāli skanīgu repertuāru.
"Melno koku" repertuārā ir gan klasiskas kompozīcijas, gan populāras mūzikas kaverversijas. Koris aktīvi koncertē un piedalās dažādos starptautiskos konkursos.
Latvi, lai kurā zemes daļā tu nonāktu – Piemini Latviju!
Nekad un nekur savā mūžā tu nedzirdēsi skaistāka vārda par šo vārdu; tāpēc nemities to daudzināt, nebeidz slavēt šo valsti, kas šo vārdu nes. Ja esi tēvs, paud to saviem bērniem, ja esi māte, dziedi par viņu pie savu bērnu un mazbērnu šūpuļiem, bet ja esi bērns, kas dzimis trimdā – nerimsti taujāt par šo zemi savus vecākus. Latvija lai tavās domās un iedomās ir kā tāla, brīnišķīga sala pasaules jūrās, uz kuru vienmēr jāstāv vērstam tavas dzīves laivas priekšgalam.
Diena vai nakts, vakars vai rīts, piemini viņu, iemīli arvien dedzīgāk.
Gada laikiem nākot un ejot – piemini Latviju!
Ar šiem vārdiem sasveicinies, ar tiem atvadies, tiekoties ar tautiešiem jebkurā pasaules daļā.
Turi Latviju dziļi ieslēgtu savā sirdī. Turi to kā lielāko dārgumu, ko nedrīkst pazaudēt. Jo, zaudējis Latviju, tu zudīsi pats.
Piemini Latviju!
(Jānis Jaunsudrabiņš)
Tiekamies koncertā!