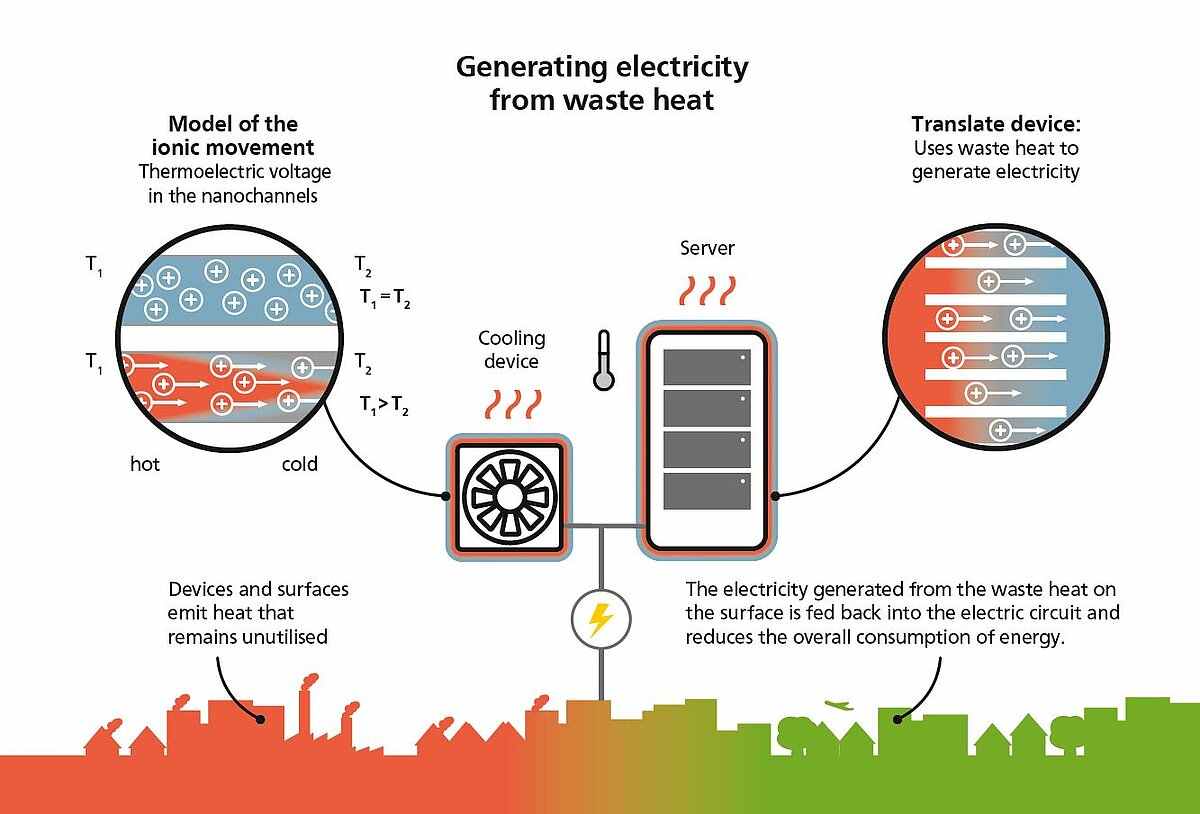 Pētniecības un inovāciju darbs noritēs starptautiskā projektā "Siltuma zudumu pārstrāde, lietojot nanofluidikas kanālus: progress termālās enerģijas pārvēršanā elektriskajā – TRANSLATE". Projekts tiek īstenots programmā "Apvārsnis 2020 FET Open".
Pieaugošais enerģijas patēriņš, izsīkstošie dabas resursi, klimata pārmaiņas un gaisa kvalitātes pasliktināšanās – tās ir vienas no lielākajām ekonomiskajām un sociālajām cilvēces problēmām, kas jārisina mūsdienās. Tajā pašā laikā siltuma zudumi veido līdz pat 70% no kopējā saražotā enerģijas apjoma.
"Joprojām ir nepieciešamība pēc jauna, inovatīva un videi draudzīga risinājuma nelietderīgi saražotā siltuma pārveidei elektriskajā enerģijā, ko varētu izmantot, piemēram, mobilo ierīču darbināšanai vai bateriju uzlādēšanai," atklāj projekta TRANSLATE Latvijas grupas vadītājs profesors Donāts Erts.
Inovatīvus risinājumus šai problēmai meklēs projekta TRANSLATE dalībnieku apvienība jeb konsorcijs – Korkas Universitātes koledža no Īrijas (projekta koordinators), LU, Darmštates Tehniskā universitāte no Vācijas un partneruzņēmums "Cidete Ingenieros Sociedad" no Spānijas, stāsta D.Erts. Projekta Latvijas grupas vadītājs skaidro, ka projekta sagatavošanā un realizācijā ĶFI cieši sadarbojas ar LU Cietvielu fizikas institūtu (LU CFI), un galvenais dzinējspēks šajā projektā ir jaunie zinātnieki – fizikas doktori Raimonds Meija, Jana Andžāne (LU ĶFI) un Gints Kučinskis (LU CFI).
"Mēs, LU pētnieki, esam priecīgi sākt darbu pie metožu un ierīču izveides zaļākai un efektīvākai enerģijas uzkrāšanai sadarbībā ar mūsu partneriem no Īrijas, Vācijas un Spānijas. Tieši sadarbība ar mūsu izcilajiem partneriem palīdzēs rast risinājumu šai izaicinošajai problēmai," pārliecināts ir projekta TRANSLATE dalībnieks Raimonds Meija.
Šobrīd divas no perspektīvākajām tehnoloģijām, kas ļauj pārveidot siltuma zudumus lietderīgā elektroenerģijā, ir cietvielu termoelektriskie ģeneratori un šķidro elektrolītu termo-elektroķīmiskās šūnas, kurās elektriskais spriegums rodas temperatūras starpības dēļ. Diemžēl, neraugoties uz pastāvīgu zinātnieku darbu pie šādu ierīču pilnveidošanas, to lietderības koeficients joprojām ir pārāk zems, bet aktīvās vielas pārāk dārgas un videi kaitīgas, lai šādas ierīces tiktu plaši pielietotas siltuma zudumu samazināšanai vai novēršanai.
Galvenā TRANSLATE ideja balstās uz Darmštates Tehniskās universitātes teorētisko pētījumu, kurš parādīja, ka elektrolīta jonu kustība kanālos, kuru šķērsgriezums ir daži nanometri un starp kuru galiem ir temperatūras starpība (tā saucamā nanofluidika), ir daudz efektīvāka par jebkuru no eksistējošajām termoelektriskām ierīcēm.
Projekta konsorcijs ir apņēmies eksperimentāli pārbaudīt šo teoriju un izstrādāt principiāli jaunu nanofluidikas ierīci, kurā elektrolītu jonu plūsma caur nanokanāliem, izveidotiem no plaši pieejamiem un videi draudzīgiem materiāliem (piemēram, silīcija vai alumīnija oksīda), ģenerētu stabilu un pietiekami jaudīgu elektrisku strāvu, kuru var uzkrāt bateriju tipa šūnās pat tad, kad temperatūru starpība ir daži grādi.
Termoelektriskās ierīces ražo elektrisko enerģiju, bet tās uzkrāšana ir atsevišķs uzdevums, tāpēc augsta riska projekta TRANSLATE realizācijas gadījumā tiks radīta unikāla ierīce, kura vienlaicīgi gan ražos elektrisko enerģiju, gan to uzkrās. Šīs abas īpašības – elektriskās enerģijas ražošana un uzkrāšana – ļautu šīm ierīcēm kļūt par barošanas avotiem autonomām iekārtām, piemēram, mikrosensoriem.
LU ĶFI projektā veidos nanofluidikas šūnas ar dažādu kanālu garumiem, diametriem un virsmu īpašībām, lai, sadarbībā ar pārējiem partneriem, varētu atrast efektīvāko kanālu ģeometrijas un elektrolīta ķīmijas kombināciju. Tāpat arī LU ĶFI pētīs izveidoto nanofluidikas šūnu termoelektriskās īpašības, kā arī sadarbībā ar LU CFI testēs tās ar elektrodiem, kas ļautu savākto siltuma enerģiju uzkrāt uzlādējamā Nātrija jonu baterijā.
Vairāk par projektu TRANSLATE:
Twitter: @TranslateEnergy