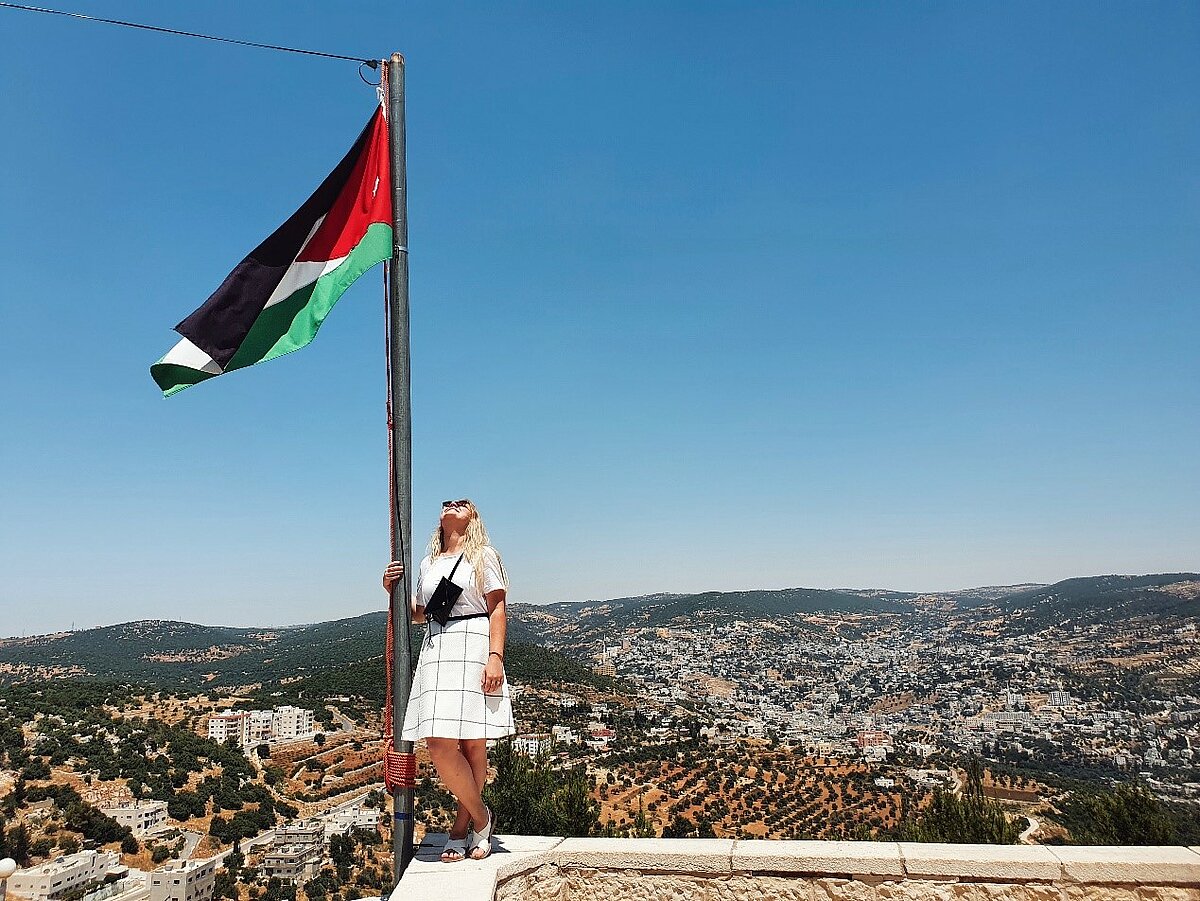 Amanda Krauja, a student at the University of Latvia, went to the University of Jordan in a five-month Erasmus + mobility project. Her choice of the region was due to her studies in Latvia: "I read Asian studies at the University of Latvia in the Middle East sub-programme and my studies are mainly related to the culture of the specified region and mastering Arabic language. I consider the opportunity to study in the region that interests me a great addition to the study programme," says Amanda. According to the student herself, Erasmus + is a great opportunity to supplement, strengthen and validate the knowledge acquired at the university, and this is the main reason why Amanda applied for one semester of studies abroad.
Throughout the mobility project, as well as before and after it, Amanda had to work closely with both the University of Latvia and the host university. "The experience of communicating with the University of Jordan was a bit unusual due to the communication norms adopted in Middle Eastern culture. During my mobility, the spread of the Covid-19 virus increased worldwide and also affected my study process, which was a bit unfortunate. Such non-standard situations are also a great test for us all. I am extremely grateful to Sintija Maculeviča, the University of Latvia Head of the Mobility Department of the Student Services Department for the support provided during this time of uncertainty. I appreciate it that the University of Latvia takes care of all its students," says Amanda.
Studying abroad is definitely a prized asset for professional and personal development. Amanda mentioned that it was very interesting to study in a different education system and in a completely different environment. It is a great benefit to experience and see in real life those things that have been taught in the university classroom in Latvia. "The Erasmus experience has allowed me to clearly define my future plans, which were a bit vague before. This was an opportunity of learning – to teach oneself and others. I can say with certainty that this has been the best life experience so far," says the student. During her mobility in Jordan, Amanda learned to accept everything new and even to strive for it. Now the world appears broader, her self-confidence and courage bigger, her fear has subsided, her thoughts and goals soar, and her heart has opened wider.
Considering that Jordan with its culture, people, nature and pretty much in every other aspect differs from Latvia, Amanda had a lot of striking impressions, experienced interesting and curious events. "In addition to getting to know a new culture, gaining new knowledge and contacts, the time of mobility also gave me a chance to travel. The most vivid memories are of the newly made acquaintances and the irresistible nature of Jordan. I look back on the last day in Jordan with great pleasure and now I know it was definitely not the final."
Amanda advises that one of the most important points when deciding to go on an Erasmus mobility is to understand yourself – whether you will be able to live away from home and the routine for this definite period of time, and whether you will be able to study independently, if necessary, and adapt to life in a new environment? "It is not easy, but not impossible, to start almost a new life in another country. It is also very important not to be afraid, to be ready and open to everything new. This new environment gives you immense freedom to be who you want to be, but it is also important not to get lost in all this, remembering your purpose for participating in the programme. This brings me to another suggestion: set a goal. Sounds pretty general, but you can best achieve what you have clearly defined. And wherever your paths may lead, walk them with an open mind!"
Amanda Krauja
20 years old
University of origin – University of Latvia
Host university – Middle East University, Jordan
Duration of mobility period – 5 months