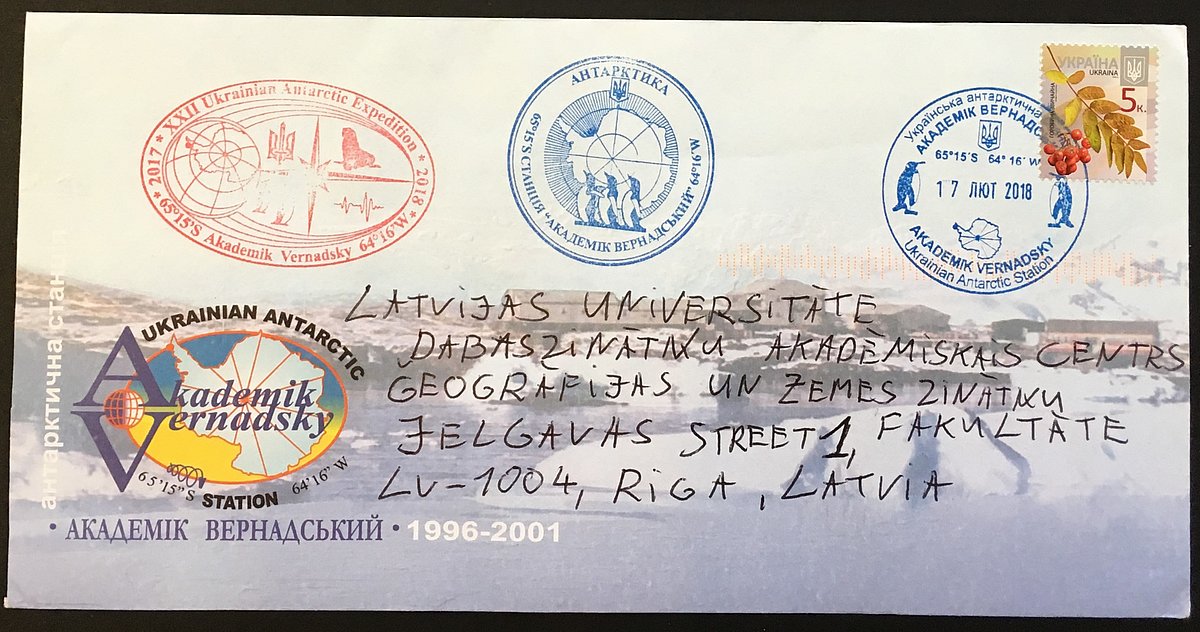 Šī vēstule sūtīta no Akadēmiķa Vernadska polārās stacijas, kur apmetās Latvijas polārpētnieki, un tā adresēta LU ĢZZF. Uz tās rakstīts: "Ar sveicieniem Latvijas ģeologu pirmās ekspedīcijas uz Antarktiku dalībnieki! Kristaps Lamsters, Māris Krievāns, Jānis Karušs. 18.02.2018."
2018. gada februārī LU ĢZZF ģeologi Kristaps Lamsters (dr.geol., vadošais pētnieks), Māris Krievāns (dr.geol., docents) un Jānis Karušs (dr.geol., docents) devās divus mēnešus ilgā ekspedīcijā uz Antarktīdu ar mērķi veikt Antarktīdas pussalas un apkārtējo astoņu salu ledāju biezuma un to iekšējās struktūras mērījumus, kā arī lai izveidotu 3D modeļus turpmākai šī reģiona izpētei. Ortofoto kartes un ģeoradara dati ļauj pētniekiem izstrādāt pussalas un salu zemledāja virsmas reljefa modeļus. Ģeologi akcentē, ka iegūtie dati palīdzēs izprast, kā ledāji attīstījušies, un veikt interpretācijas par to tālāku attīstību.
Ekspedīcijas laikā tika ievākti arī dažādi paraugi no apkārtējās vides – augsnes, nogulumu, sniega, ledus un arī ūdens. Paraugos esošos mikroorganismus pētīs Latvijas Universitātes biomedicīnas pētījumu un studiju centrs. Pētnieki koncentrēsies tieši uz augsnē esošo mikroorganismu un bakteriofāgu (vīrusi, kuri vairojas baktērijas šūnā) identificēšanu un izpēti.
Polārpētnieki atzīmē, ka viņu izstrādātās kartes ar laiku būs pieejamas jebkuram pētniekam, savukārt iegūtie dati tiks izmantoti ne vien pašu pētījumiem, bet gan arī sūtīti uz Akadēmiķa Vernadska polāro staciju. Pētnieki cer, ka tuvāko gadu laikā Latvija ne vien iestāsies Antarktikas Līgumu Sistēmā, bet arī izveidos savu polāro staciju šajā kontinentā.
Jāatzīmē, ka Latvijā bijuši arī citi polārpētnieki. Piemēram, Ivars Sīlis (dz. 1940), kurš bijis ekspedīcijā uz Grenlandi, un Leonīds Slaucītājs (1899-1971), kurš vadījis vairākas Argentīnas ekspedīcijas uz Antarktīdu. Sīkāku informāciju par L. Slaucītāju iespējams uzzināt LU Muzeja Ģeoloģijas kolekcijā, Kronvalda bulvārī 4.
Sīkāka informācija par mūsu ģeologu ekspedīciju Antarktīdā un gūtajiem iespaidiem pieejama šeit:
LTV1 dokumentālā filma: "Antarktīdas vilinājums".
Neatkarīgā Rīta avīze: "Pētnieki no Latvijas pastāsta, kā viņiem gājis Antarktīdā".
LTV Ziņu dienesta korespondente Judīte Čunka: "Antarktīdas ekspedīcijas dalībnieki atgriezušies Latvijā".
Sekojiet mūsu polārpētniekiem sociālo tīklu vietnē facebook.