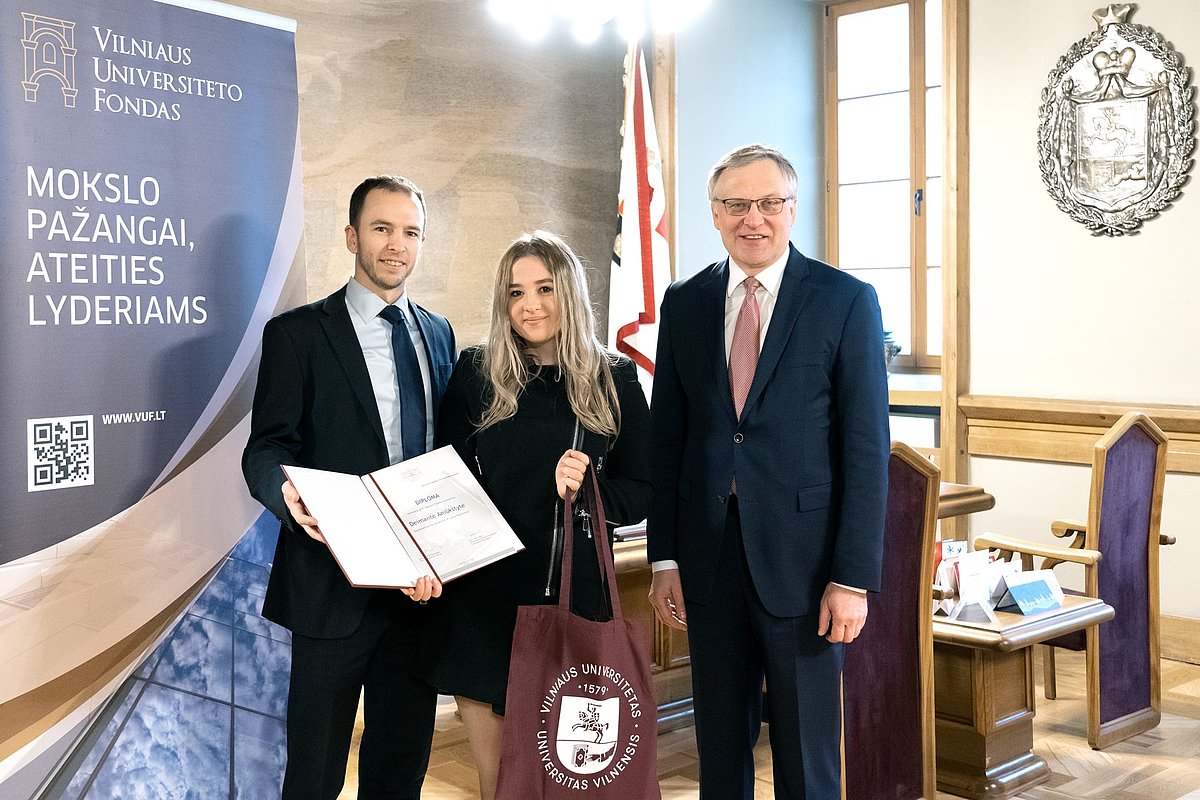 Peter Alunan's family scholarship was founded in 2001 in cooperation with the UL Foundation. It aims to support young people facing difficulties in life. When P. Alunans with his father Alexander Alunans decided to donate to Latvia's growth, it was clear that the aim will be youth education. The man must be educated, then the rest of his life will come easier – were the words of A. Alunans. This year, the patron expanded the scale of charity.
Parents of P. Alunans are Latvians. He was born in the Second World War refugee camp in Germany, and in 1950 the Alunans family entered the United States. Family education is a matter of honor, Alunans has a master's degree in biology and German philology, and he is also a professional photographer.
"This collaboration between the University of Latvia Foundation and the Vilnius University Endowment marks a promising beginning of a new chapter in the Baltics, as we adopt the well-established practice of having academic endowments that encourage the progress of our communities and have a great positive impact beyond them. I am also thankful to the Alunans family for this scholarship opportunity, as I believe this will set a good example for others to invest in the field where potential value is the highest – our education and those who seek it," emphasizes Professor Arturas Zukauskas, emeritus of VU.
Amount of the scholarship is EUR 2 500 for academic year. It is received by Deimante Aniukstyte, a VU student, who started studies in political science this year. "This year I received Peter Alunan's family scholarship, which rewarded my hard work in high school and encourages me to maintain that work ethic while studying at the Vilnius University. The scholarship committee recognized achievements I had done during the years in high school, and that made me feel very proud of all the work done. This scholarship made me feel like everything I was working towards my future is finally within reach," D. Aniukstyte shares her feelings.
"I couldn't be happier about the cooperation which has started between the University of Latvia Foundation and the Vilnius University Endowment. Philanthropy culture in the Baltics is still in its infancy phase and such collaboration will surely contribute to bringing it to the next level. I would like to truly thank the team of the University of Latvia Foundation and its patron Peter Alunans for the opportunity for the Vilnius University students to participate in "Alunans Family Scholarship" programme. I am looking forward for more mutual projects in the nearest future and close cooperation between the funds in various other means," adds Justinas Noreika, executive director of the VU Endowment.
Thanks to P.Alunan's family scholarship, seven students have been educated and two UL students continue to receive this scholarship at present time. Students receive support during the entire period of their studies, and their tuition fees are also covered if necessary.