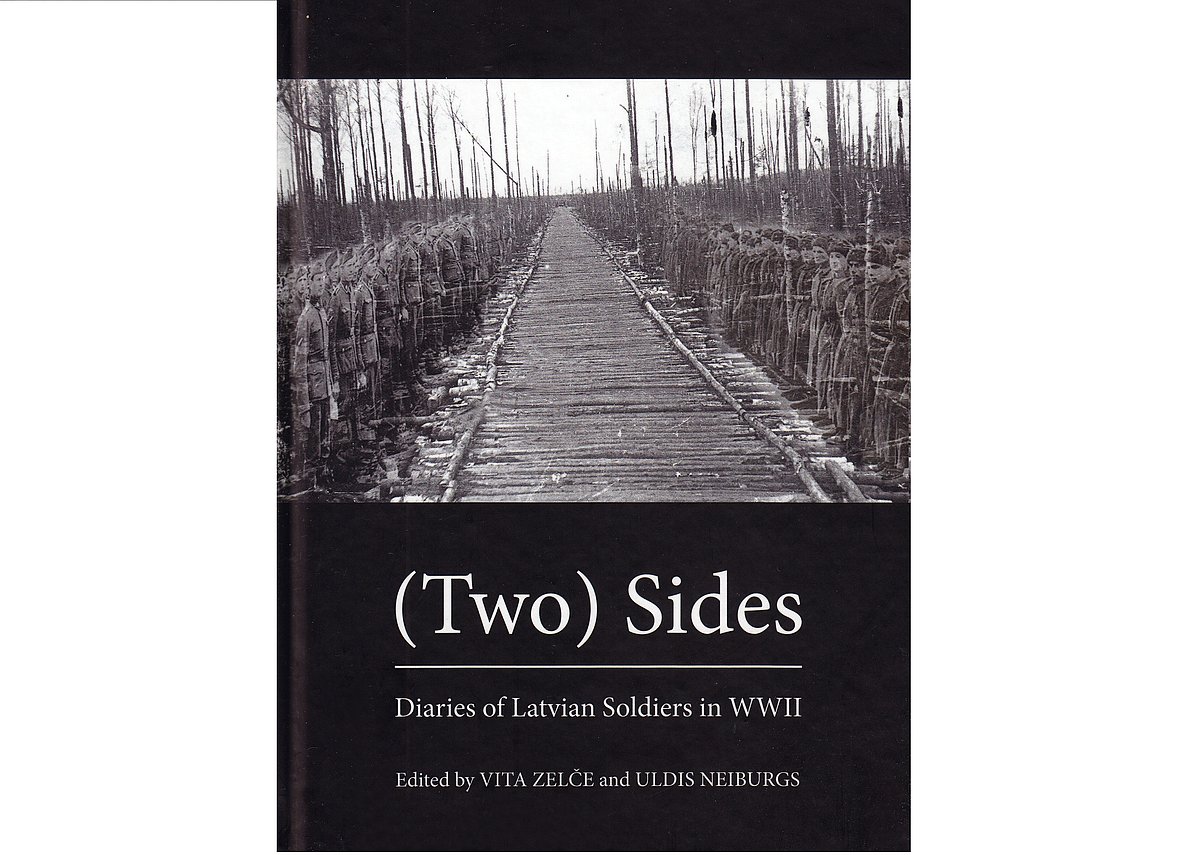 The book "(Two) Sides" gives a unique look at the lives of Latvian soldiers during World War II, through their personal contemporary diaries. Three of the men – Alberts Dāboliņš, Alfons Kaunass and Martins Strazdiņš – fought in the Soviet Army, and three – Nikolajs Šķute, Ēriks Jaunkalnietis and Juris Zīverts – were in the ranks of the German armed forces. Together they create a narrative of the everyday life of Latvian soldiers; showing their life's yearnings, attitudes towards their homes and loved ones, and their love of their homeland. The diaries of these soldiers are supplemented, with the story of their authors' and their relatives' fate after the War.
"(Two) Sides" was edited by Vita Zelče and Uldis Neiburgs. The text of the diaries was prepared for publication by Laura Ardava-Āboliņa, Gita Siliņa and Didzis Bērziņš. "(Two) Sides" was translated into English by Kārlis Streips and edited by Professor Andrejs Plakans, professor emeritus of Iowa State University. Additionally, doctoral student of the University of Latvia, Oskars Gruziņš has also participated in preparing the English version for publication.
The publication of "(Two) Sides" in English was supported by the Ministry of Culture of the Republic of Latvia and the Association of Latvian Book Publishers.
"(Two) Sides" was prepared within the framework of the national research program "National Identity," as a part of the project "Latvian Social Memory and Identity" (2010–2014). The Latvian language version of the book was published at the end of 2011 and quickly attained a wide audience. For several weeks, "(Two) Sides" was among the best sellers list of Latvian publications. In the category of literature, it won the annual Latvian Television award "1 kg of Culture." In 2012, an audio version of "(Two) Sides" was debuted and, in 2013, a Russian version was published.
"(Two) Sides: Diaries of Latvian Soldiers in WWII" is available at Latvian bookstores, as well as, at the online store www.apgadsmansards.lv.