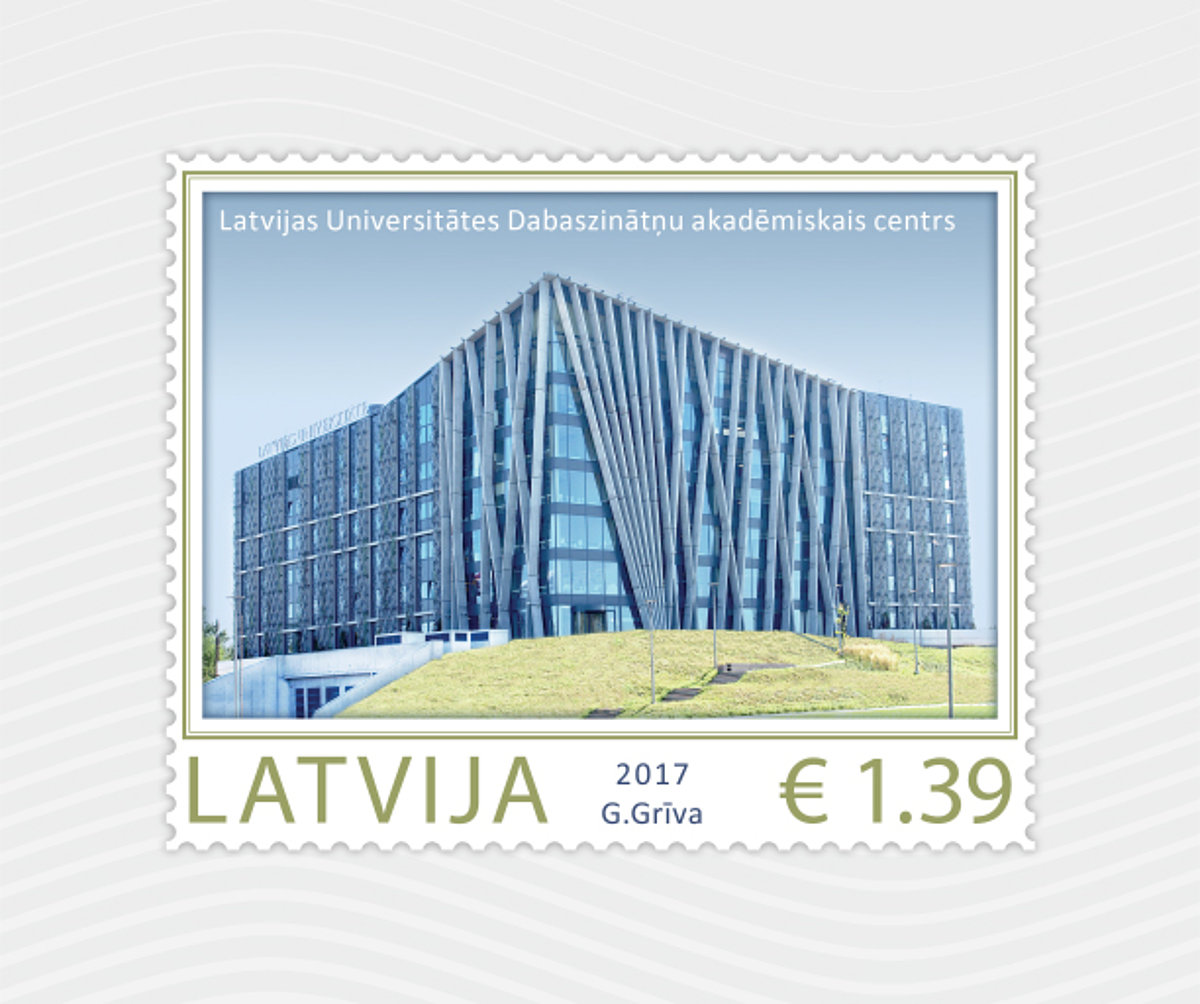 The postage stamp will become the messenger, carrying the image of UL Academic Centre across the borders. The Director of "Latvijas Pasts" Bond and Philately Department Edmunds Bebrišs notes: "This postage stamp will travel the world and tell about this marvellous building, inviting everyone interested in philately and architecture to view it in actuality."
The release of a postage stamp of special dedication must be celebrated. The Minister of Transportation Uldis Augulis in his celebratory speech said: "Every year among hundreds of opportunities and requests a postage stamp is dedicated only to the most intrinsic, significant and great events, which simultaneously is our pride and also can be presented to the world as Latvia's business card and, at the same time, a story of symbolic significance to us all."
The Academic Centre of Natural Sciences is the University's pride, states the Rector of the UL Indriķis Muižnieks, saying that the House of Nature is not only awarded with the title of the most sustainable building but also has received five leading architectural awards, organization's Apeirons award, commending the accessibility to people with special needs, and the UL Student Council's award "Year's Foremost Innovation".
Moreover, the Rector claims that the greatest treasure of the Academic Centre of Natural Sciences is the human resources. "The essential compliment of the building are the people who work there," emphasizes I. Muižnieks.
The stamp is the seventh in the series "Contemporary Architecture of Latvia". Its face value is € 1.39, and the print run of the stamp is 150 000 copies. Along with the stamp, a special cover has been released with a print run of 1 500 copies. The author of both designs is artist Ģirts Grīva.
Until now, 13 faculties of the UL were located in nine different addresses in Riga, but by 2021 most of the University's infrastructure will be transferred to the Academic Centre in Torņakalns. The complex will consist of the House of Science, which opened in 2015, House of Writing, Centre of Social Sciences, Centre of Tehnology, hostels and apartments, and also sports infrastructure. The whole territory of the UL Academic Centre is estimated at 45 448 square meters.