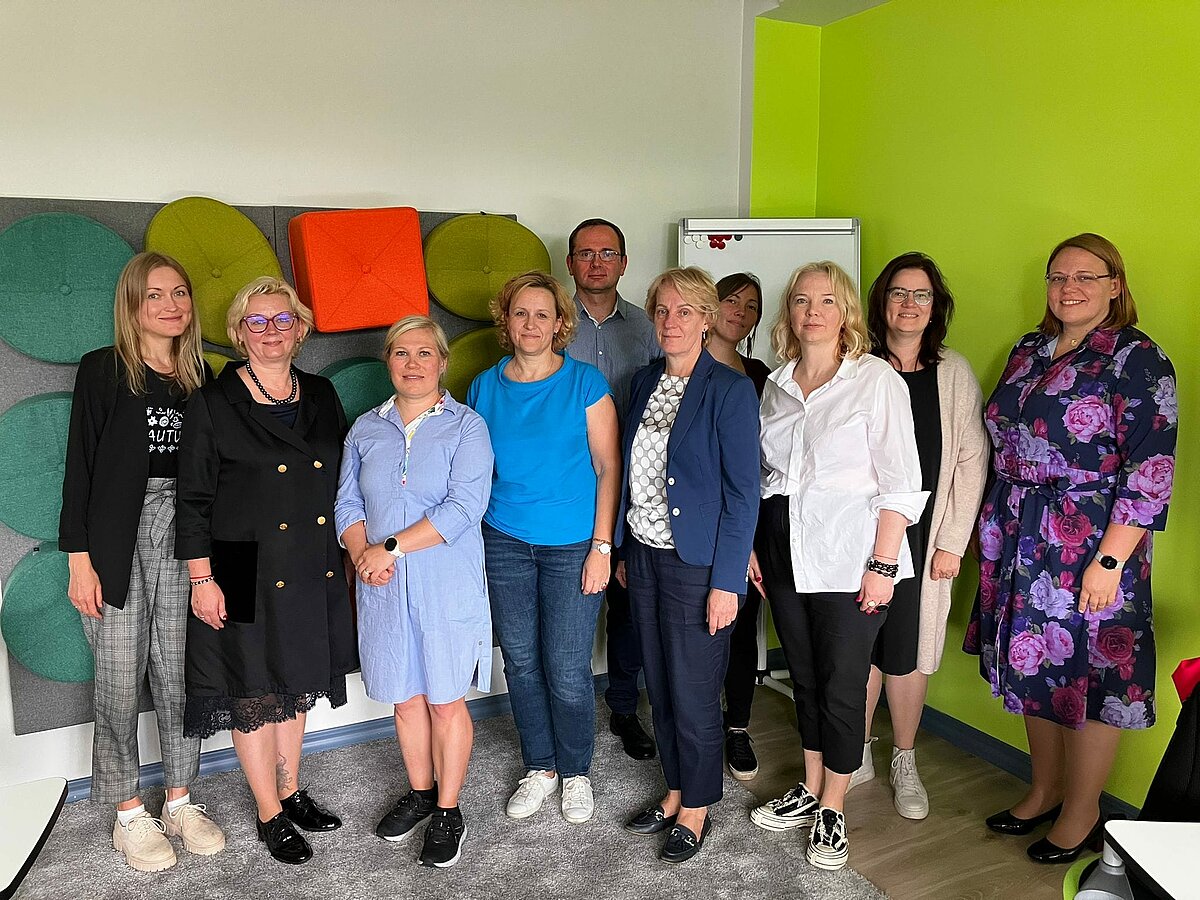 Kopš 2022. gada maija, uzsverot caurviju kompetenču pilnveidi par nozīmīgu studiju procesa rezultātu, Latvijas Universitātes īsteno projektu "Augstākā izglītībā studējošo kompetenču novērtējums un to attīstības dinamika studiju periodā". Pētījums ir iegājis otrajā kārtā, strādājot pie izglītības kvalitātes monitoringa sistēmas izveides un īstenošanas.
Pētniekiem un kolēģiem no Izglītības un zinātnes ministrijas (IZM) 2022. gada 2. septembrī bija iespēja piedalīties Helsinku universitātes asociētās profesores H. Hītinenas meistarklasē, kurā tika sniegts ieskats Somijas pieredzē par mērķtiecīgu studentu caurviju kompetenču attīstīšanu augstskolas studiju procesā. Helsinku kolēģi ir pārliecinājušies, ka jomai specifisko un caurviju kompetenču meistarīga kombinēšana ir nozīmīgs profesionālās autonomijas konstruēšanas priekšnosacījums.
Savukārt 9. septembrī projekta komanda tikās seminārā, lai apspriestu vasarā padarīto un plānotu turpmākās aktivitātes.
Pasākuma laikā tika prezentēti izpētes rezultāti par:
uzņēmējspēju un digitālo kompetenci caurviju un profesionālās kompetences ietvarā;
globālās un pilsoniskās kompetences dalījuma vai apvienojuma pamatojumu;
kompetenču saskaņošanu starp vispārējo, profesionālo un augstāko izglītību,
augstākās izglītības iestāžu personāla tālākizglītības programmas izveidi, kas palīdzētu novērtēt studentu caurviju kompetences un iekļaut tās studiju rezultātos.
Tika pārrunāti arī jautājumi par pedagogu profesionālās kompetences novērtēšanas metodoloģijas aprobāciju u.c. Jau šī gada beigās IZM gaida pētījuma starpziņojumu, lai iestrādātu pirmos rezultātus izglītības politikas plānošanas dokumentos.
Pētījumu ar Izglītības un zinātnes ministriju noslēgtā līguma ietvaros veic Latvijas Universitātes Pedagoģijas, psiholoģijas un mākslas fakultātes Pedagoģijas zinātniskais institūts, taču kopumā tajā iesaistīti vadošie pētnieki, pētnieki, eksperti un zinātniskie asistenti no Latvijas Universitātes, Rīgas Tehniskās universitātes, Rīgas Stradiņa universitātes, Jāzepa Vītola Latvijas Mūzikas akadēmija un Helsinku Universitāte (Somija). Pētījuma vadītāja – LU prof. Zanda Rubene.
Pētījums noslēdzas 2023. gada oktobrī.
Pētījuma "Augstākajā izglītībā studējošo kompetenču novērtējums un to attīstības dinamika studiju periodā" 2. kārta īstenota ar Eiropas Sociālā fonda atbalstu projektā Nr. 8.3.6.2/17/I/001 "Izglītības kvalitātes monitoringa sistēmas izveide un īstenošana".