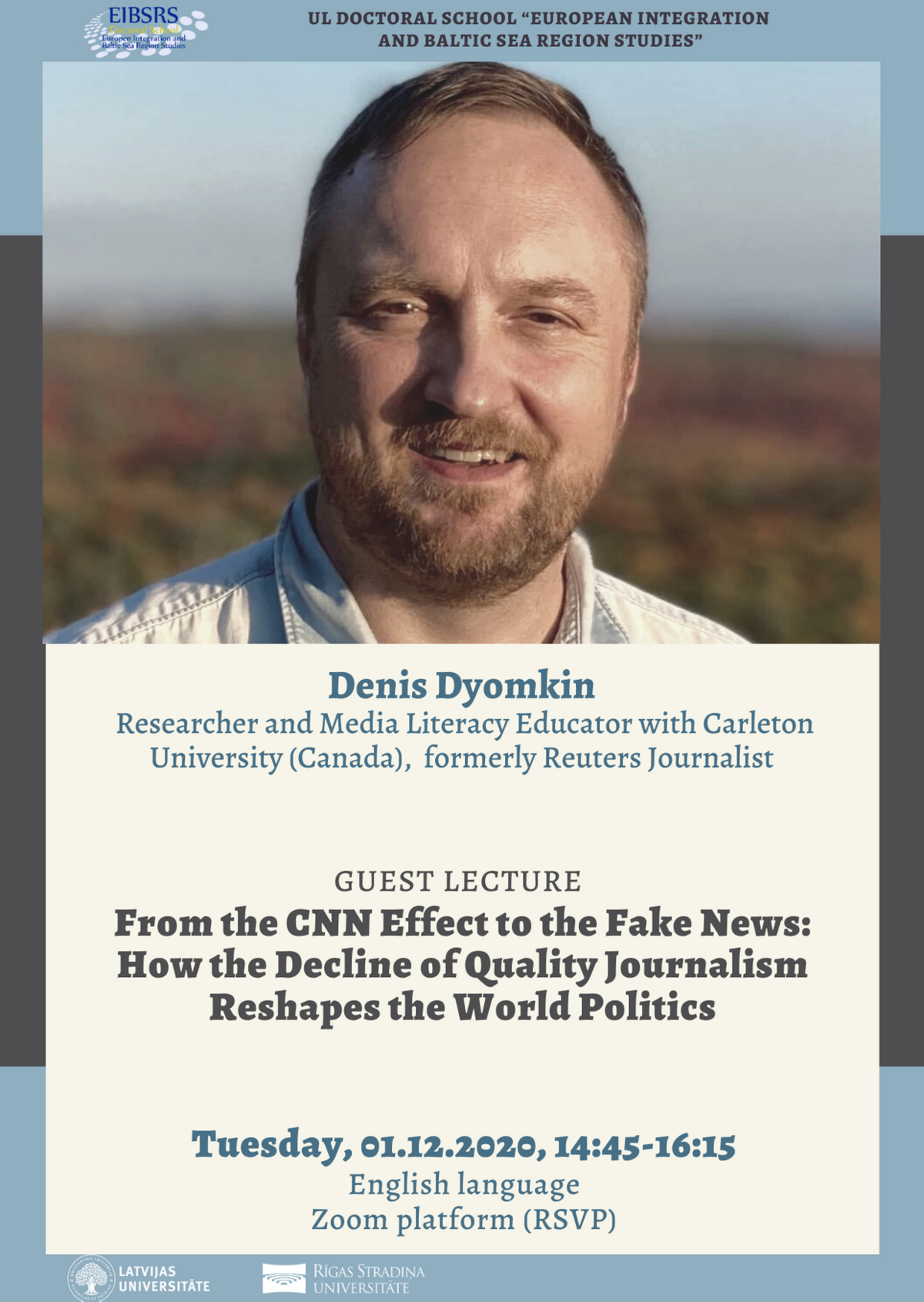 The online guest lecture will take place on Tuesday, 1st December 2020, 14:45-16:15 at the ZOOM platfom. To join the event, please register: https://forms.gle/ck234fZavfnVrMbD8
Denis Dyomkin - is an Ottawa-based news literacy educator with the Centre for European Studies at Carleton University, Canada, and a former journalist with the world's largest news agency, Reuters. Mr Dyomkin travelled the globe extensively, covering geopolitics, global affairs, domestic policies, energy, non-proliferation, and international security from dozens of countries, including the world's least-visited ones such as Syria, Turkmenistan, and North Korea.
About the lecture
Freedom of the press is a pillar of the European and, in the broad sense, the Western democracy. However, the arrival of the internet and the expansion of social networks has deprived old mass media of their traditional gatekeeping function. That led to the public opinion being shaped by appeals to emotions and personal beliefs, rather than objective facts. The world of post-truth politics is full of divisions, giving a boost to right-wing populists all over the Western bloc, posing a threat to democratic institutions. The interdependence between the crisis of legacy journalism and political change dynamics that influence public and foreign policies will be the central subject in this virtual lecture.
The event is organised by the Doctoral School "European Integration and Baltic Sea Region Studies" (EIBSRS) of the University of Latvia (UL) within the series of guest lectures in cooperation with the UL Centre for European and Transition Studies (CETS); Riga Stradiņš University (RSU); Latvian European Community Studies Association (LECSA) and Association of Latvian Statisticians (LSA).