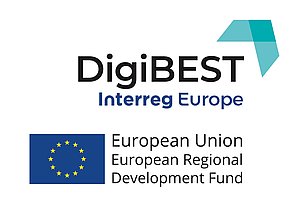 Project goal
DigiBEST will support European companies, in particular SMEs to increase their competitiveness by improving the quality of their performance through digital transformation.
Project summary
Digital transformation is a part of technological change that requires ongoing process of digitalisation. It has significant implications, particularly for improving business competitiveness and employment.
European businesses can build their strengths on advanced digital technologies and seize the range of opportunities that technologies such as the Internet of Things, Big Data, advanced manufacturing, robotics, 3D printing, blockchain technologies and artificial intelligence offer. Clearly, in a near future the digital transformation will foster economic growth and will become a key driver for employment.
One of the main problems is that many SMEs are not aware of the necessity to adapt to this huge ongoing process of digitatlisation and aren't aware of existing possibilities. There seems to be a gap between the willingness to use highly digitalized product in private versus professional life. It is therefore crucial to inform SMEs about possible benefits, which digitalization can bring and about the impact to almost all areas of a company that falling behind this process may bring.
The project's role is to help European companies, especially SMEs, to acknowledge existing opportunities and possibilities for exploiting them to achieve tangible results, as well as to increase their competitiveness, which will result in improved overall economic development and employment.
---
INTERREG EUROPE starpreģionu sadarbības programmas projekts
"Biznesa vides digitālā transformācija" DigiBEST
Par projektu
2019. gada 1. augustā Vides aizsardzības un reģionālās attīstības ministrija (VARAM) ir uzsākusi sadarbību projektā DigiBEST, lai nodrošinātu projekta uzdevumu izpildi, kas veicinātu mazo un vidēju uzņēmumu (MVU) konkurētspēju, izmantojot MVU digitālo transformāciju Eiropas reģionos, piedāvājot risinājumus, lai uzlabotu viņu kapacitāti izmantot progresīvas tehnoloģijas un jaunas inovatīvas uzņēmējdarbības metodes gudras, ilgtspējīgas un integrējošas izaugsmes veicināšanai Eiropā un tās reģionos. Latvijas Universitāte projekta īstenošanā piedalās kā padomdevējs.
Partneri
Projektā pavisam piedalās 7 partneri no 6 valstīm/reģioniem (Austrija, Itālija, Latvija, Norvēģija, Portugāle un Spānija) un tā vadošais partneris ir Vides aizsardzības un reģionālās attīstības ministrija.
Projekta īstenošanas periods:
Pirmā fāze – 01.08.2019. – 31.07.2022.
Otrā fāze – 01.08.2022. – 31.07.2023.
Finansējums
Projektu līdzfinansē Eiropas Reģionālās attīstības fonds un Norvēģijas nacionālais fonds INTERREG EUROPE programmas ietvaros.
Projekta kopējais finansējums - 1 579 342.00 EUR (ERAF – 1 138 347.20 EUR; Norvēģu finansējums – 120 055.00 EUR).
Projekta ideja
DigiBEST projekta būtība ir sniegt atbalstu Eiropas mazajiem un vidējiem uzņēmumiem (MVU) digitālās transformācijas procesu veiksmīgā ieviešanā, lai, uzlabojot šo uzņēmumu snieguma kvalitāti, tiktu veicināta to konkurētspēja.
Projekta mērķis
Palīdzēt Eiropas reģioniem veidot savu politiku uzņēmumu atbalstam, veicinot digitālo transformāciju, kā arī veicināt izmantot modernās tehnoloģijas un inovatīvus uzņēmējdarbības modeļus.
Projekta uzdevums
Atbalstīt Eiropas uzņēmumus, īpaši MVU, atzīt jau piedāvātās iespējas, lai panāktu redzamus rezultātus, kā arī, lai palielinātu to konkurētspēju, kas uzlabos vispārējo ekonomisko attīstību un nodarbinātību.

Projektā plānotas aktivitātes un sagaidāmie rezultāti
Tiks veikts katras partnera valsts esošās situācijas izvērtējums (biznesa vides intervijas, biznesa digitalizācijas barjeru un risinājumu izvērtējums, SVID analīze u.c.).
Projekta ietvaros tiek plānoti apmācību, pieredzes apmaiņas un ekspertu izvērtējuma braucieni, iesaistīto pušu darba grupas, diskusiju forumi, esošās situācijas un MVU digitālās transformācijas problēmu un vajadzību, kā arī politikas instrumentu uzlabojumu izpētei un izpratnes palielināšanai.
Plānots Izstrādāt biznesa vides digitalizācijas pašnovērtējuma rīku – novērtējuma anketu, kas ļaus noskaidrot uzņēmumu vājās vietas un iemeslus, kādēļ tie neizmanto IKT rīkus.
Plānots izstrādāt "Ceļa kartes" uzņēmumu digitalizācijas veicināšanai, kas kalpos par pamatu katras partneru valsts rīcības plāna izstrādei.
Katrai partnera valstij, balstoties uz rekomendācijām un iegūto informāciju, projekta noslēgumā ir jāgatavo rīcības plāns un video rullītis, kas atspoguļos rīcības plānos plānotās aktivitātes.
Papildus informācija:
Zane Zeibote, LU projekta vadītāja, e-pasts: zane.zeibote@lu.lv, tel. +(+371) 29417214
Denīze Ponomarjova, LU projekta koordinatore, e-pasts: denize.ponomarjova@lu.lv, tel. (+371) 28241115
Mājas lapa: https://www.interregeurope.eu/digibest/
Sekojiet DigiBEST Facebook: https://www.facebook.com/interregdigibest/
Projekta brošūra (lv)/ project brochure