Completed
Programme: Interreg IVC
Priority: Focus on innovative ways of enhancing labour market and define strategies to improve the situation of the disadvantaged social groups.
Direction Of Support: Migrants in general, Roma in particular
Duration: In force since January 2012 till December 2014
Website: www.labourplus.eu
Centre for European and Transition studies of the University of Latvia (UL) is also involved in an Interreg programme project "Innovative Strategies For Equal Employment – Labour Plus" that will improve the integration of migrants and minorities into society, in particular, labour market and education system in eleven European cities from 10 countries – the Netherlands where the leading partner comes from, Italy, France, Latvia, Spain (two municipalities), Belgium, Hungary, Germany, United Kingdom and Bulgaria.
The project brings together partners – mainly local authorities – with a shared vision of employment and equality. Due to economic crisis and financial distress, they lack opportunities to create more effective and inclusive employment strategies. In a meantime, many social groups in these local spaces - migrants in general, and Roma in particular - face substantial difficulties to integrate into the labour market. They become relocated on the margins of the local economy, being often stigmatized and socially excluded. Until relatively recently, the local authorities involved in the project have not been able to effectively address this issue. To bridge this gap, our project will create an exchange of policies and strategies to improve the partners' labour markets. As the frontline against labour exclusion, local authorities have a vital role to play in achieving more equal local employment agendas.
Analyses of different experiences, integration policies and methods, and experience sharing is planned during the project activities as well as researches about particularly vulnerable society groups with a focus on migrants and Roma to identify main problems of social exclusion.
UL as the project partner will be involved in all project activities, in particularly, supporting the performance of researches, analyses methods, as well as gaining experience of other countries regarding migrants` integration policies, that might become very topical in Latvia starting from 2016 when, according to prognoses of Ministry of Economics, there might arise labour shortage in Latvian labour market. Also reduction of Latvian youth unemployment is of high interest for Latvian partner that might benefit from this project.
8 seminars will be organized during the project identifying practices and policies and involving experts, public and civil servants, businesses, trade unions and associations representing disadvantaged groups, as well as 11 regional consultation meetings with regional stakeholders (supported by 77 preparatory interviews). Also the International Labour Organization policy tools will be tested in 10 different locations.
As a result of the project 10 improved policies and strategies will be tested to upgrade both local labour markets and make them more equal and accessible reaching a wide range of decision-makers, stakeholders, the general public, the media and other European networks through seminars, meetings, reports, articles and press releases as well as a sustainable network of exchange and information is planned to be created after the project.
Labour Plus Policy Recommendations and Guidelines for Inclusive and Sustainable Strategies and Employment Policies regarding Migrant and Roma Populations.
Lead Partner:
Nieuwegein, lead partner (Netherlands)
Other partners:
European New Towns and Pilotcities Platform (Belgium), The University of Latvia (Latvia), County Council of Alt Empordà (Spain), Antwerp Centre for Minorities (Belgium), Newry and Mourne District Council (UK), Mittelhessischer Bildungsverband e.V.(Germany), The Municipality of Nagykálló (Hungary), Sofia Region (Bulgaria), The Development Agency of Santa Cruz de Tenerife (Spain), The Province of Padua (Italy).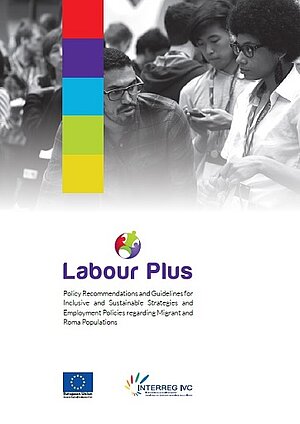 For more information, please contact:
Mr. Romans Putans, Project Coordinator
romans.putans@lu.lv
+371 29 442 854