Boosting adult career management and key competences for inclusion and employability through social media - AgeFactor
Programme: Erasmus+
Key Action: Cooperation for innovation and the exchange of good practices
Most impacted field: Strategic Partnerships for adult education
Duration: 11/2016-04/2019 (30 months)
Lead Partner: Tandem Plus
Project partners:
University of Latvia (Latvia)
FORCOOP C.O.R.A. VENEZIA SC (Italy)
Fundacija PRIZMA, ustanova (Slovenia)
Fédération des Centres d'Insertion (France)
Centre for Advancement of Research and Development in Educational Technology, Ltd CARDET (Cyprus)
VENETO LAVORO (Italy)
Institut pro zeny, o.s. (Czech Republic)
Newry, Mourne and Down District Council (United Kingdom)
Sociedad de Desarrollo de Santa Cruz de (Spain)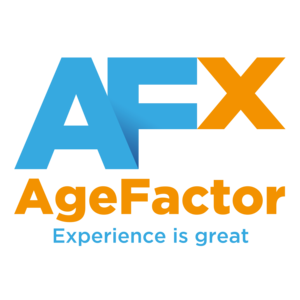 Project AgeFactor aims at increasing the competences of educators and professionals in the adult education field to promote personal and professional branding. It targets in particular 50+ age group, to provide digital and transversal skills to create social reputation, professional credibility and to be able to increase the opportunity for lifelong employability.
The project intends to create (adult education priority) an EU platform for adult educators, trainers and career guidance to make social media, - and their value for employability, professional and personal branding and reputation - available to mature workers.
The project will capitalize on existing experiences not only to provide access of powerful and recognizable media (such as Facebook, LinkedIn, Twitter, Google and Youtube to mention the most popular media) to increase digital skills of adults, but also to provide physical venues and methods to learn new skills ("job club" techniques) by kick starting innovative methods of education and guidance activities in informal and peer-to-peer settings.
In order to reach out more mature groups, AGEFACTOR will use the public employment services and the territorial networks that the partnership will mobilize.
The role of the University of Latvia within the project is to coordinate the development of project countries' reports and elaborate the transnational report (baseline analysis and comparative state of play).
DOWNLOAD AgeFactor leaflet here
Objectives
AgeFactor has the following specific objectives:
1) To develop and increase the competences of coaches, trainers and other educators in their effective use of social media and other new technologies media for adult guidance and professional development, concurrently improving outreach and coaching, training and learning outcomes.
2) To develop and provide career and education guidance & effective methods for enhancing basic digital & transversal skills by means of a new technology based strategy, namely social platforms and job clubs.
3) To enhance 50s capacity to promote themselves in the labour market in a more effective & autonomous way & increase their employability.
4) To support especially SMEs, in the improvement of age/diversity management processes and encourage employers to integrate fair employment practices when managing mature workers & the company's diverse workforce.
5) To streamline & promote the AGEFACTOR approach into provision of educational & guidance services for adults & to provide for its long-term sustainability by involving stakeholders & policy/decision-makers.
PLEASE visit also the "Age Factor" website
<iframe width="560" height="315" src="https://www.youtube.com/embed/liOo2knYpT4" frameborder="0" allow="accelerometer; autoplay; encrypted-media; gyroscope; picture-in-picture" allowfullscreen>/iframe>