Jean Monnet Centre of Excellence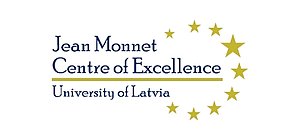 Jean Monnet Centre of Excellence od the University of Latvia is titled as "EASTERN PARTNERSHIP IN GLOBAL ENVIRONMENT: SHARING EUROPEAN EXCELLENCE IN INTER-DISCIPLINARY RESEARCH AND TEACHING".
The Jean Monnet Programme is a part of EU's Life Long Learning Programme. It promotes teaching, research and reflection on European integration in higher education institutions worldwide.
The Jean Monnet Programme "European Integration in University Studies" is an European Commission information project. It is undertaken at the request of the universities whose aim is to facilitate the introduction of European integration studies in universities by means of start-up subsidies. In 2009 the Jean Monnet Programme celebrated 20 years of Support for the Jean Monnet Action to the Jean Monnet Programme.
The Jean Monnet Chair is one of the Jean Monnet Programme components. The Jean Monnet Chair is a symbolic term corresponding to a full-time teaching entirely devoted to the teaching of European Studies.
Since 1990, the Jean Monnet project has enabled the Member States to establish university teaching projects in European integration issues on every continent. One of this project is also present at the University of Latvia.
Aims
The Jean Monnet Centre of Excellence aims at strengthening interdisciplinary research and teaching on European studies in Latvia, building a cooperative network of those involved in this process and sharing EU values and contents with Eastern Partnership counterparts in the context of the EU external dimension.
Overall The Jean Monnet Centre of Excellence aims to:
increase expertise in interdisciplinary research and teaching on European Integration;
develop expert knowledge in EU external relations;
conduct joint research with partners in the EU neighbouring countries;
establish a forum for debate and dialogue on EU and EaP;
involve academia, policy makers, business community and civil society.
Results
conferences;
publications;
policy briefs, impact reports and position papers for policy makers;
design and implementation of new study courses, master and doctoral thesis.
networking of researchers
Impact
enhanced and enlarged pool of experts in Latvia, EaP, and other Third counties;
engaged civil society, public officials and business communities;
increased awareness of EU and EaP common interests and shared values.
Jean Monnet Regional Forum will enable those interested in the Centre's activities and partners from EaP, in particular, to participate in discussions, and will be a platform where experts from academia, government and civil society will gather to debate European integration and neighbourhood policy This will promote the Centre's visibility beyond its headquarters in Riga and serve its outreach strategy.
For more information about the Programme, please, visit the home page of European Commission.