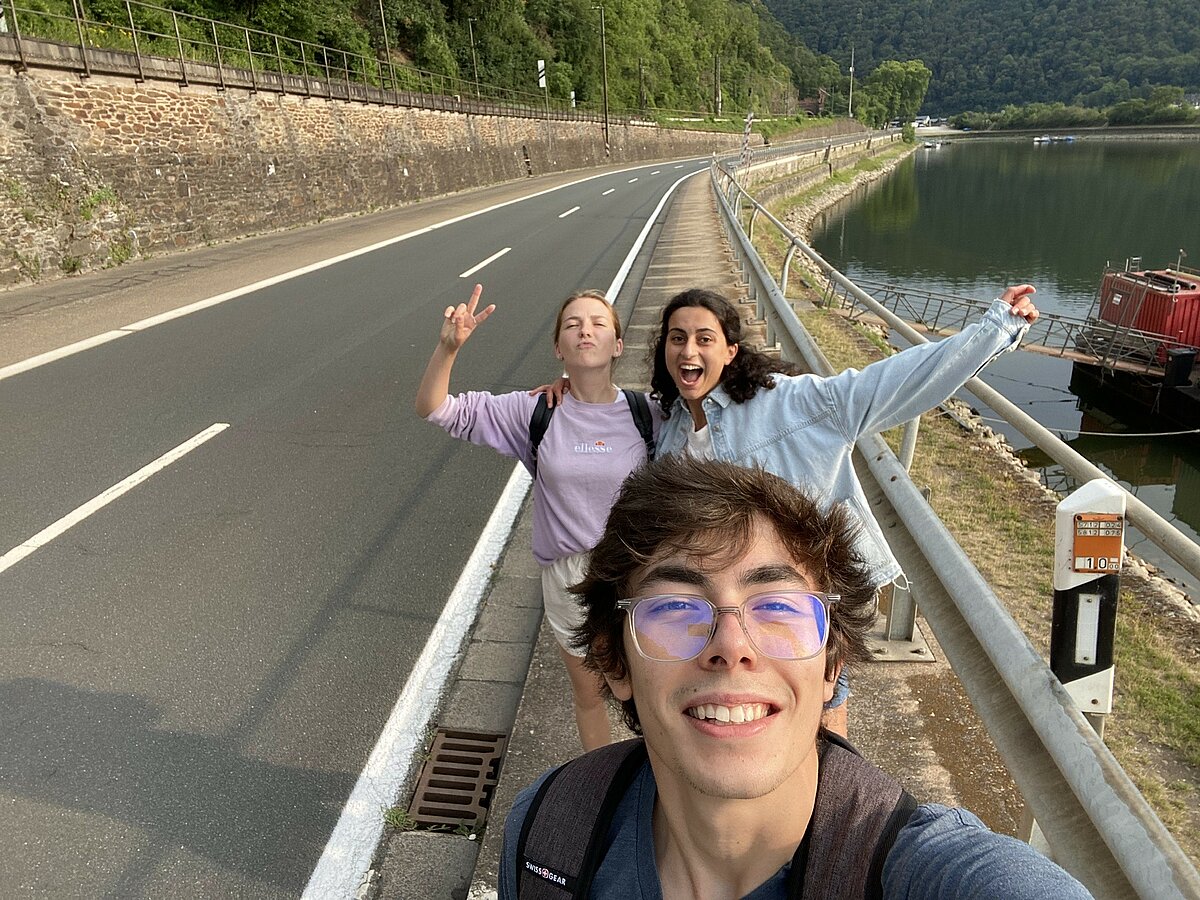 "Mans stāsts sākas ar to, ka es diezgan ilgi domāju par piedalīšanos mobilitātē. Vispirms pieteicās manas kursa biedrenes, un tad arī es aizdomājos par pieteikšanos. Diemžēl jau bija pārāk vēlu, lai pieteiktos, bet, kad tika pagarināts pieteikumu termiņš, es to uztvēru kā uzķerto pēdējo iespēju.
No Vācijas augstskolas ar mani kontaktējās Selsela Arya. Viņa bija ienākošo studentu konsultants/padomnieks. Visu nepieciešamo informāciju par dokumentiem, kojām, dzīvokļa atrašanu, apdrošināšanu, telefona numura iegādāšanos, bankas konta atvēršanu, plānotajiem pirmā mēneša izdevumiem viņa atsūtīja e-pastos. Tie bija ļoti precīzi, un visa informācija tika izskaidrota pa punktiem, tāpēc vispār nebija iespēju kaut ko palaist garām vai nesaprast. Kad man radās jautājumi, es rakstīju Selselai, un pāris darba dienu laikā viņa uz tiem atbildēja. Ja bija kādi jautājumi mobilitātes laikā saistīti ar mācībām, dzīvošanu utt., mēs uzreiz gājām pie Selselas, jo zinājām, ka viņa mums palīdzēs tos atrisināt. Es esmu viņai ļoti pateicīga par atdevi savam darbam un izpalīdzību. Viss International Department bija atsaucīgs un universitātē rīkoja daudz pasākumu. Pēc mobilitātes mēs vēl sazinājāmies, lai sagatavotu un iesniegtu visus dokumentus.
Pirmais, ko varu minēt par personiskiem ieguvumiem, ir tas, ka es attīstīju savas angļu valodas zināšanas, uzstāšanās prasmes un spēju iepazīties ar citiem. Sākumā man bija grūti uzstāties un prezentēt angļu valodā. Savukārt, runājot par studiju gaitu, kas bija labi un kas bija slikti, jāsaka, kad es pieradu, tad sāku justies pārliecinātāka. Ikdienas dzīvē es sāku būt brīvāka gan valodas ziņā, gan komunicēšanā ar cilvēkiem. Runājot par akadēmiskajiem ieguvumiem, man ļoti iepatikās, ka semināru laikā tiek radīta uztveramā vērtība, piemēram, kursā "Project management" iegūtās teorētiskās zināšanas mēs pielietojām pasākumu organizēšanā. Es sapratu, lai kārtīgi organizētu arī mazu projektu, tas prasa daudz laika, zināšanas un spēka.
Ir vērts pieminēt par kursu, kas norisinājās tikai tiešsaistē, tāpēc ka tas tika pasniegts uzreiz četru universitāšu studentiem. Studenti bija no Nīderlandes, Portugāles, Turcijas un mēs – no Vācijas augstskolas. Kursa ietvaros bija iespēja doties un Turciju, kur mēs strādājām vienā kompānijā, izveidojot mārketinga stratēģiju produkta ieviešanai dažādos tirgos. Tās zināšanas un prasmes skolā, sēžot tikai lekcijās un semināros, neviens nevarēs iemācīt. Tāpēc es iesaku dodies uz mūsu LU Mobilitātes nodaļu un pieteikties mobilitātei.
Visspilgtākais iespaids bija cilvēku iepazīšana no dažādām kultūrām. Mēs bijām aptuveni 20 cilvēki no tādām valstīm kā Kanāda, Gruzija, Albānija, Jordānija, Koreja, Indija, Brazīlija, ASV un Azerbaidžāna. Rīkojām internacionālās vakariņas, kur gatavojām tradicionālos ēdienus un klausījāmies populārāko to valstu mūziku. Tas iemācīja mani būt uzmanīgākai starpkultūru vidē. Cienīt un atcerēties to kultūru specifikas. Par to mēs daudz runājām un novērtējām, kas ir līdzīgs un kas atšķirīgs.
Es iesaku – nebaidieties piedalīties apmaiņas programmā! Uzdot cik vien iespējams vairāk jautājumu. Ja kaut kas ir nesaprotams, tad nekautrējoties iet un jautāt par to. Ja ir kāda problēma, tad ar cita cilvēka palīdzību jūs to ātrāk atrisināsiet. Atcerēties, ka visi Erasmus studenti jūtas tāpat kā tu. Jūs esat vienā "laivā". Visiem studentiem no paša sākuma šķiet, ka viņu angļu valodas prasmes ir nepietiekamas un ka tie nemāk to lietot (ticiet man, es visiem jautāju, izņēmums – ASV un Kanāda). Visi kautrējas un no sākuma nav droši, tas nekas. Izrādiet savu iniciatīvu. Pasauciet kādu aiziet izdzert kafiju vai pusdienot kopā. Tas ir 100% panākums, jo tad jūs iepazīsieties labāk un forši pavadīsiet laiku kopā.
Pirms semestra mums tika dots Student Buddy. Tas ir cilvēks, kurš ir atbildīgs par ienākošā studenta ierašanos Vācijā un ar to saistītiem jautājumiem. Pats cilvēks ir arī studējošais šajā universitātē un izstāsta visu nepieciešamo par dzīvi Vācijā, studijām, un tas ir tavs pirmais draugs Vācijā. Tam var paprasīt visdažādākos jautājumus, un viņš atbildēs uz tiem tieši no studenta puses. Tāpēc izmantojiet šo iespēju, jo viņš palīdzēs ar ierašanos – mantām, dzīvokli, utt., un pirmajā laikā nebūs tik vientuļi, jo varēs aiziet ar viņu pastaigā."