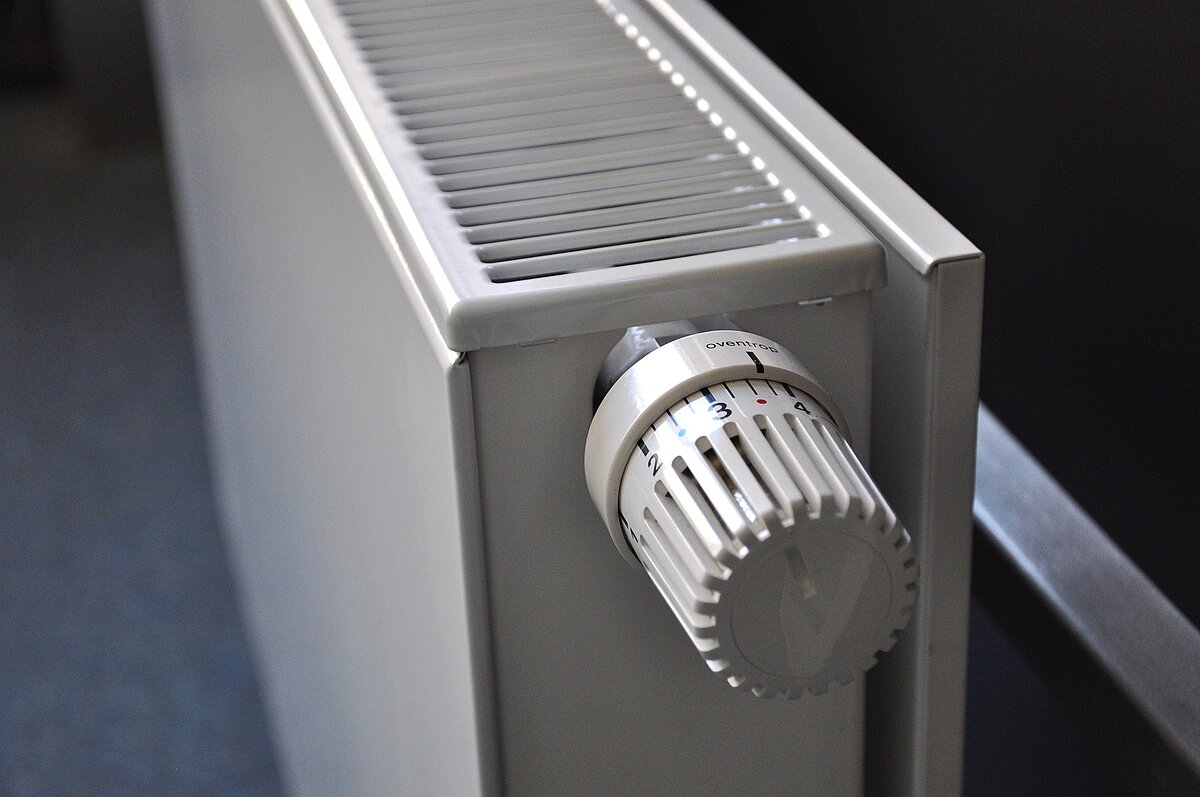 Problēma esošajos risinājumos – tērējam par daudz
Lai ziemā dzīvojamās telpās nodrošinātu optimālu temperatūru, radiatoru sistēmās ūdeni jāuzkarsē līdz pat aptuveni 55 grādiem – tā tiek patērēts ļoti liels enerģijas daudzums. "Alternatīva tam būtu siltumsūkņi, kas šī brīža Latvijas enerģētikas situācijā ir vienīgais cerīgais risinājums," skaidro A. Jakovičs, "Tās ir ierīces, kas līdzinās inversam ledusskapim. Atkarībā no izmantotā vides resursa, ar kuru darbinām siltumsūkni – zemes, gaisa vai ūdens – varam uz vienu izmantoto elektrības kilovatstundu, kuru paņemam no elektrotīkla, uzražot līdz pat septiņām kilovatstundām, kas ir septiņas reizes vairāk par patērēto enerģiju." Tāpēc LU SMI pētnieki izstrādā starojuma kapilāro siltummaiņas sistēmu risinājumus, kas efektīvi darbināmas tieši ar siltumsūkņiem un ļauj sasniegt maksimālu to efektivitāti, jo šajā risinājumā ūdens apkurei jāuzsilda tikai līdz 28 – 32 grādiem.
Siltummaiņi uzlabos energoefektivitāti
Sistēma darbojas tā – siltumsūknis paņem siltumu no zemes, gaisa vai ūdens, to mazliet atdzesējot, un siltumu atdod siltumnesējam – visbiežāk ūdenim, kas tālāk ar alternatīvu radiatoriem – kapilārajiem siltummaiņiem – sildīs telpas. "Siltumsūknis var izsūknēt siltumu pat no ziemas āra gaisa, kas ir, piemēram, -10 grādu auksts, to atdzesējot vēl vairāk. Paņemto siltumu tas izmanto ūdens sasildīšanai apkures sistēmā. Līdzīgi kā ledusskapis – tas atdzesē produktus, bet siltumu novada uz siltummaini, kas atrodas tā aizmugurē."
Savukārt starojuma kapilārie siltummaiņi uzlabo siltumsūkņu darbību. "Jo mazāka ir starpība starp ārējo vidi un vajadzīgo siltumnesēja (ūdens) temperatūru, jo siltumsūkņa lietderības koeficients ir lielāks. Siltumsūkņi apvienojumā ar kapilāriem siltummaiņiem, kurus mēs pētām un attīstām, dod īpaši labu efektu." stāsta A. Jakovičs.
Lai siltumsūkņa un siltummaiņa sistēma darbotos, nepieciešama elektrība. Projekta vadītājs bilst, ka, salīdzinot ar naftu, benzīnu vai gāzi, ko Latvijā neiegūstam, bet iepērkam, elektrību varam ražot paši, gan izmantojot ūdens spēku, gan sauli. Ar hidroelektrostaciju palīdzību vien iespējams iegūt pat 50% nepieciešamās elektroenerģijas. "Ja šo enerģiju izmantosim iespējami prātīgi, piemēram, darbinot siltumsūkņus, varēsim iegūt nozīmīgu enerģijas daudzumu," uzskata pētnieks.
Viena ierīce gan silda, gan dzesē
Starojuma kapilārais siltummainis ne tikai ir izdevīgs risinājums enerģijas taupīšanai, bet arī kā ierīce divi vienā, kas var gan sildīt, gan atdzesēt gaisu. Nepieciešams tikai izmainīt ūdens, kas cirkulē kapilāros, temperatūru. "Radiatori, kā zināms, to mazā virsmas laukuma dēļ nespēj efektīvi dzesēt gaisu, taču šajā sistēmā pietiek tikai ar vienu ierīci – griestos iebūvētu kapilāro siltummaini, un tas nodrošinās augstas efektivitātes apsildi ziemā, kā arī dzesēšanu vasarā."
Šobrīd pētnieki izstrādā desmit konkrētus konstruktīvos risinājumus, kā siltummaini varētu integrēt būvkonstrukcijās, un veic sistēmu skaitlisko modelēšanu un izpēti, lai pārbaudītu to īpašības un izmēģinātu tās praksē. Jau šobrīd izmēģinājumi notiek eksperimentālā stendā LU Botāniskajā dārzā, bet top arī eksperimentāls dzīvoklis Rāmavā, kur šīs dažādās sistēmas tiks instalētas, lai izmēģinātu ilgtermiņa eksperimentos. Nākamgad plānots izstrādāt jau pirmos sistēmas industriālos prototipus.
Pētījums tiek izstrādāts ERAF projekta "Kompleksu risinājumu izstrāde un aprobācija starojuma kapilāro siltummaiņu optimālai iekļaušanai gandrīz nulles enerģijas ēku sistēmās un primārās enerģijas patēriņa apkurei un dzesēšanai samazināšanai" ietvaros.