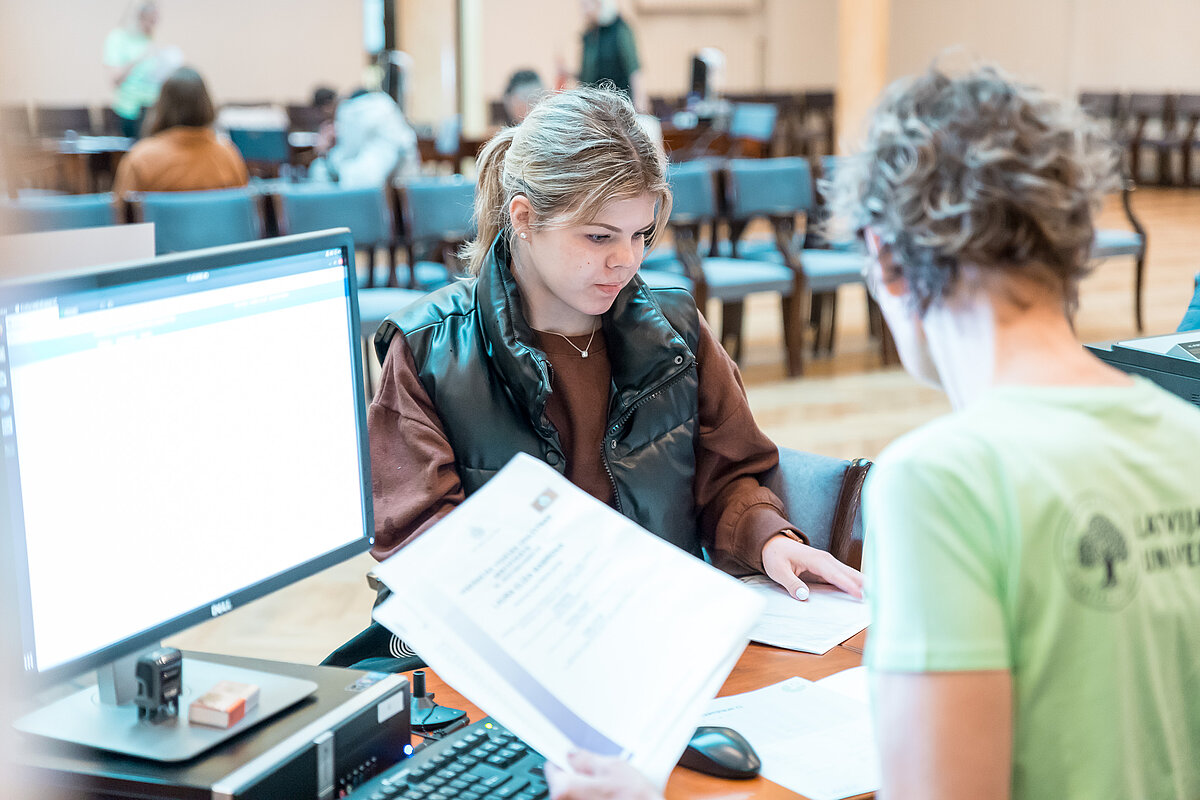 19. jūlijā apkopotā informācija portālā Latvija.lv rāda, ka LU ir pārliecinoša līdere ar pirmo prioritāti apstiprināto pieteikumu skaitā. No 9430 pieteikumu iesniedzējiem, gandrīz puse, 4445, pilnīgi noteikti zina, ka savu galveno izvēli, pirmo prioritāti, atraduši starp LU piedāvātajām studiju programmām.
Šogad visvairāk reflektantu vēlas studēt psiholoģiju – studijas šajā programmā kā pirmo prioritāti norādījuši 475 topošie studenti. Studiju programma "Psiholoģija" no pirmās vietas "izstūmusi" pagājušā gada līderi – studiju programmu "Ārstniecība", kuru kā savu pirmo studiju prioritāti norādījuši 434 reflektanti, ierindojot to šogad otrajā vietā populārāko LU studiju programmu topā. Trešajā vietā ir studiju programma "Datorzinātnes", kas kā prioritāra norādīta 375 pieteikumos.
No 10 populārākajām studiju programmām vienotajā uzņemšanas sistēmā, septiņas ir tieši LU studiju programmas. Jau minētajām trim pievienojas arī "Tiesību zinātne" (339 pieteikumi), "Komunikācijas zinātne" (232), "Biznesa vadība" (228) un "Anglistikas, Eiropas valodu un biznesa studijas" (168).
Konkursa pirmās kārtas rezultāti tiks paziņoti 22. jūlijā pēc plkst.17, bet otrās kārtas rezultāti – 26. jūlijā pēc plkst.17. Rezultāti tiks paziņoti e-pakalpojumā "Elektroniskā pieteikšanās studijām pamatstudiju programmās", kā arī īsziņu un elektroniskās vēstules veidā. Pēc konkursa 1. kārtas rezultātu uzzināšanas 22. jūlijā reflektantam jāizlemj, vai vēlas turpināt piedalīties konkursā uz pieteikumā norādītajām studiju programmām vai nevēlas pretendēt uz studijām nevienā no studiju programmām. Vairāk par konkursa norisi un kārtību var izlasīt šeit.
Reflektantiem, kuri būs ieguvuši studiju vietas LU, no nākamās nedēļas – 25. jūlija būs jāveic nākamais solis, proti – jāreģistrējas studijām un jāslēdz studiju līgums. To varēs izdarīt savā nākamajā fakultātē līdz 29. jūlijam. Visa informācija par uzņemšanas procesu Latvijas Universitātē lasāma www.gribustudet.lv.
Pieteikšanās studijām notiks pēc prioritāšu sistēmas un konkursa rezultātā katrs reflektants var iegūt vienu studiju vietu vienā studiju programmā. Uzņemšana pilna laika pamatstudiju programmās notiek konkursa kārtībā pēc centralizēto eksāmenu rezultātiem.