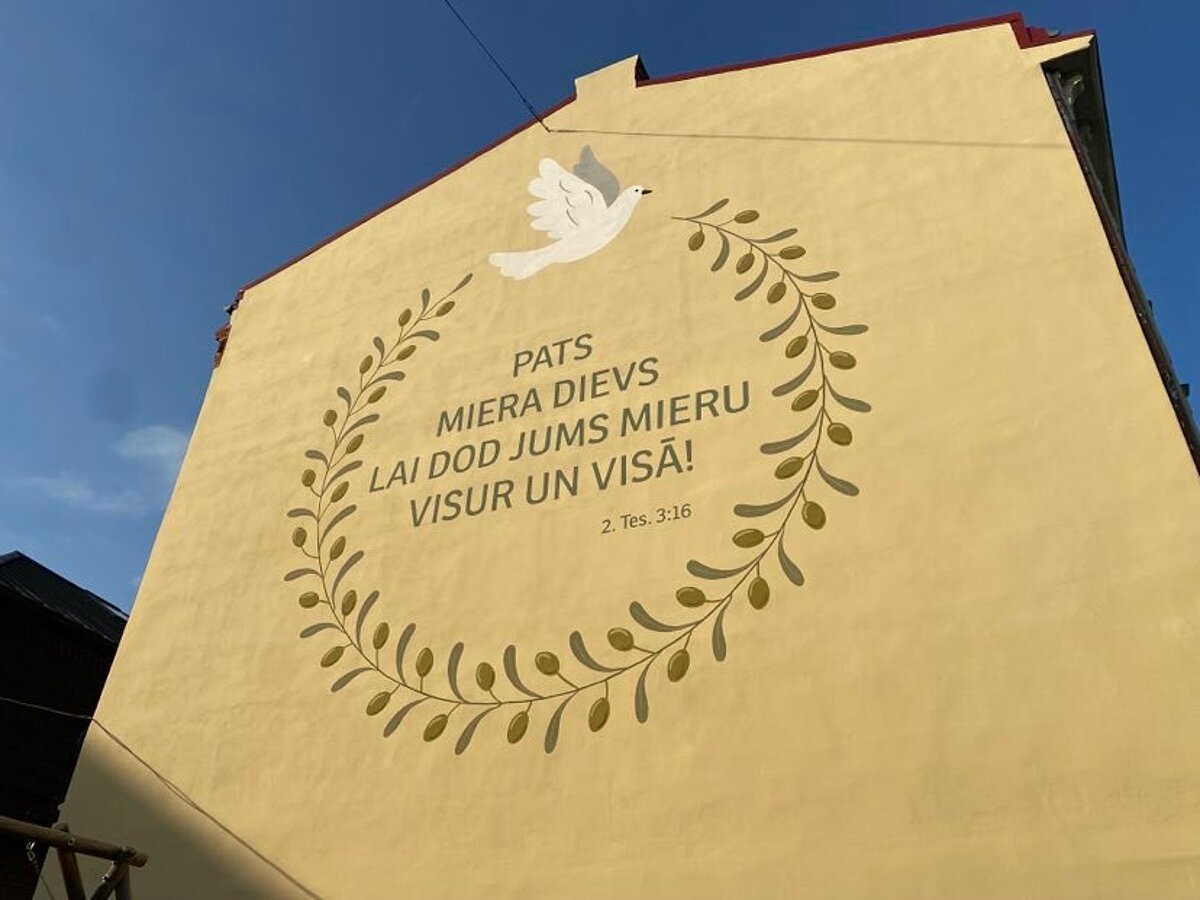 Mākslas objekta autore ir LU PPMF Mākslas programmas 3. kursa studente Elīza Siliņa, viņas darbs atspoguļo citātu no Pāvila 2. vēstules tesaloniķiešiem "Pats miera Dievs, lai dod jums mieru visur un visā". Uz 1890. gadā būvētās ēkas rietumu brandmūra sienas to uzgleznojusi daiļkrāsotāju komanda Ievas Martas vadībā, bet sienas pamatni sagatavojuši būvnieki Emīla Dāvida vadībā. Objekts tika svinīgi atklāts 11. jūnijā.
"Pie projekta idejas realizācijas sāku strādāt jau vairāk nekā pirms gada, pateicoties LU PPMF Mākslas un tehnoloģiju nodaļas vadītājas Austras Avotiņas uzaicinājumam un atbalstam. Šajā darbā teksta un zīmējuma mijiedarbībai izvēlējos attēlot balodi ar olīvzariem, kas ir kā miera simbols daudzās kultūrās, lai pēc iespējas vairāk cilvēku uztvertu šī vēstījuma galveno ideju. Un šobrīd šie vārdi no Pāvila vēstules uzrunā vēl dziļāk un spēcīgāk," LELB tīmekļvietnē stāsta E. Siliņa.
Vēl viens vides mākslas objekts – uzraksts, kuram tika izvēlēts citāts no 33. psalma: "Svētīta tauta, kam kungs ir Dievs!" – skatāms uz Alūksnes Evaņģēliski luteriskās baznīcas sienas. Uzraksta idejas un realizācijas autors ir LU PPMF Mākslas un tehnoloģiju nodaļas 4. kursa students Ritvars Puntūzis. Alūksnes baznīcas uzraksts ir izvietots aptuveni četru metru augstumā virs ieejas baznīcā.
"Svinot Reformācijas 500 gadu jubileju, būtiski atcerēties, ka Mārtiņš Luters ir teicis – ja vien viņš mācētu zīmēt, tad visas brīvās sienas apgleznotu ar Bībeles sižetiem, lai visi cilvēki tos redz un lai viņus sasniegtu evaņģēlija vēsts. Savukārt mūsdienās, kad visu pārņēmusi bilžu kultūra un mūsu skatiens ir diezgan paviršs, tieši askētisks uzraksts varētu izrādīties pamanāmāks par krāsainu attēlu. Lielais reformators Mārtiņš Luters augstu vērtēja vizuāla attēla iedarbības spēku un no sirds vēlējās, lai tie, kam teksti nav pieejami – gan to trūkuma dēļ, gan latīņu valodas nezināšanas dēļ – varētu Svēto Rakstu mācību iepazīt caur attēliem. Tagad, mūsdienu attēlu pasaulē, īpaši uzrunājoši varētu būt tieši lakoniski, īpaši teksti", stāsta LU PPMF Mākslas, un tehnoloģiju nodaļas vadītāja, asociētā profesore A. Avotiņa.
Projekts "Reliģisks teksts kā laikmetīgs vides objekts" uzsākts 2017. gadā, kad LELB sadarbībā ar LU PPMF Mākslas un tehnoloģiju nodaļu izsludināja konkursu studentiem – radīt projektu konceptuālam mākslas darbam pilsētvidē, ainavā vai interjerā – sakrālajā arhitektūrā un sabiedriskajās celtnēs, izglītības iestādēs vai privātmājās. Dizaina skices izstrādātas vairāk nekā 30 objektiem. Šobrīd realizēti projekti Talsos, Alūksnē, Rīgā, Cēsīs.