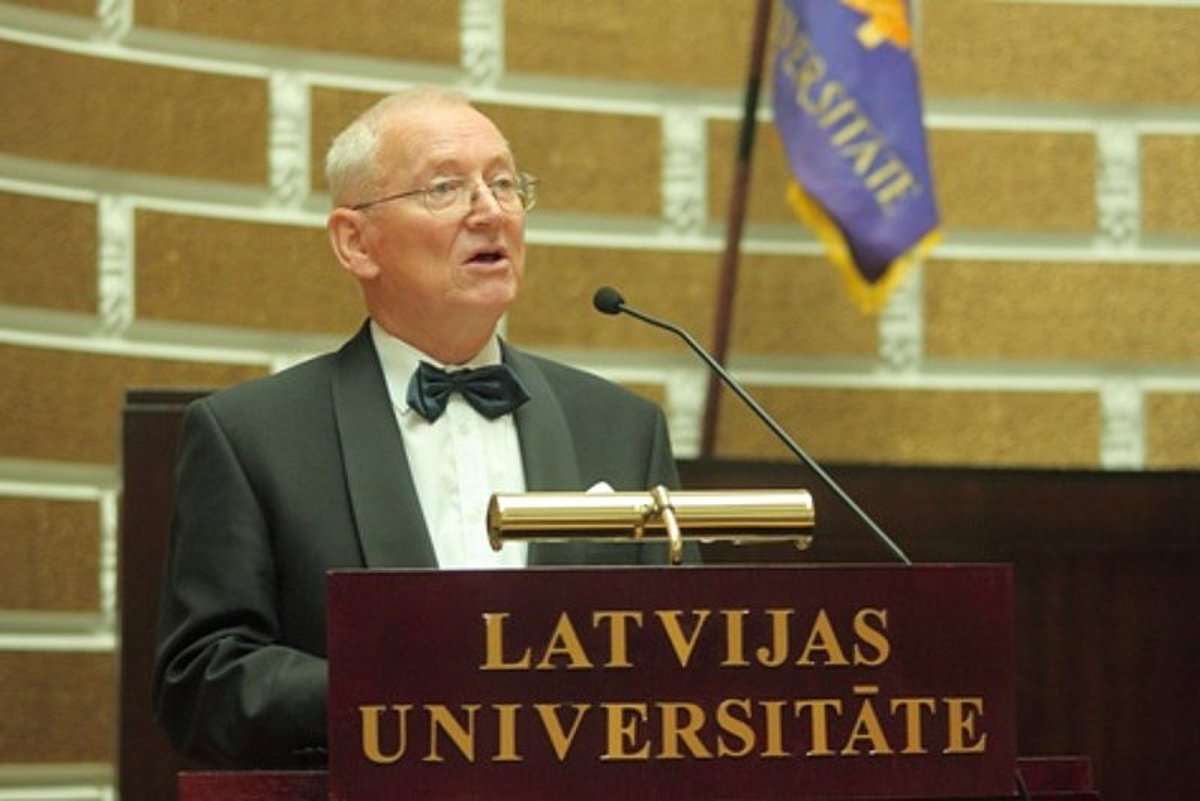 In 2010, academician Dr. Jānis Priedkalns (1934) allocated 200 000 Australian dollars to the UL to be further used as an endowment for Jānis Priedkalns Medical Science Research Foundation. The patron aims to promote development of medical education in Latvia by supporting students involved in neurological science. So far, six students at the UL Faculty of Medicine have received scholarships through the UL Foundation, and a further an ambitious project has also been supported. "Although there are many relevant activities in Latvia that I wished to support, I chose to favor the University of Latvia. When I left Latvia at the age of ten in 1944, I could not imagine that I will dedicate a great part of my life to academic and scientific matters abroad. Particularly for this purpose I have wished to establish this donation," explains the patron.
J. Kurlovičs, pharmacist, technician, lecturer at the UL Faculty of Medicine, and stipendiary of Dr. J. Priedkalns scholarship, admits that this financial support has precluded the concerns about the material provision and to devote himself fully to his academic interests.
What is your current occupation?
I am currently studying Industrial Pharmaceuticals at the University of Helsinki, the topic represents a pharmaceutical field dealing with the manufacture of medicines. At the same time, I am working in the Latvian company "Kalceks" as a research and development project manager. I am also teaching several courses at the UL Faculty of Medicine.
In 2017 you studied at the University of Helsinki. What are the highest benefits of this experience?
The study programme is designed specifically for young professionals who aim to gain more knowledge in industrial pharmacy, production of medicines, and related spheres. Studies contain a lot of information representing both chemistry and physics. The focus is, of course, on physiological processes and the mechanism of action by substances in the human body. Unfortunately, the studies of such specialization are practically impossible in Latvia at the moment. The main benefit brought by the studies is that I have met multiple professionals who also practice and implement research in this field. It is often forgotten that the path to detecting an active substance that is effective against a disease is endless. It is important to give the substance the appropriate form in order to produce the final product that is available in pharmacies and provides the greatest commercial benefit. During the studies I have learned the main actions and resources necessary to develop a medication form that reaches the patient directly.
What scientific research projects are you currently involved in?
With valuable involvement of the UL we are currently working on biological preparations. Until now, the cooperation with the UL has probably not been as active as I initially hoped, although it will definitely come to fruition when we focus more on practical research, since at present we have submitted several project proposals through the open funds at the University of Helsinki. Biopharmaceuticals are relatively innovative products that will become a relevant field of pharmaceutical care as they provide the opportunity to cure or relieve illnesses that could not be treated before. The development of these drugs is even more challenging, as these products are unstable and their long-term storage and their transportation is highly problematic. These studies could make medicines cheaper and more accessible to people. I believe that this could also help the Latvian population, because currently, due to the scarce funding in Latvia, many biological preparations are not available to patients whom they could help. I believe that the work at the University of Helsinki will promote development of more stable pharmaceutical forms at lower costs. I hope that Latvian companies will begin production of these biological preparations, and that my knowledge would be useful. I have also been talking about these biological preparations in several courses at the UL.
How has the support of Dr. Jānis Priedkalns Medical Research Foundation promoted your scientific activity?
It was a great honor for be selected as a recipient of this scholarship. This is an invaluable support because, although I do have paid employment, the costs of getting to work or the University of Helsinki... I cannot imagine how I could afford it financially without the scholarship. It would have been different, I would have probably had to find a job elsewhere abroad. I would definitely not be able to combine work with studies, which, in my opinion, is important in order to pass my knowledge on here, in Latvia. Although this knowledge currently has a relatively limited application in Latvia, the students are more likely to go and specialize in this direction after completing their basic studies, which, in turn, could lead to increase in the number of pharmaceutical companies in Latvia after some time. Pharmacy is one of the business types that have the greatest added value in financial terms.
What are your future plans?
In the future I will primarily focus on the research aspects, since I plan to complete the theoretical courses at the University of Helsinki this year. Over the next two years I intend to spend much more time in the laboratory performing experiments, although I also hope to continue working at the UL, to improve my teaching skills and understand the students' needs. Of course, I anticipate that we will succeed and Latvian companies are able to produce these biological preparations, so my knowledge could also be useful here. in Latvia.