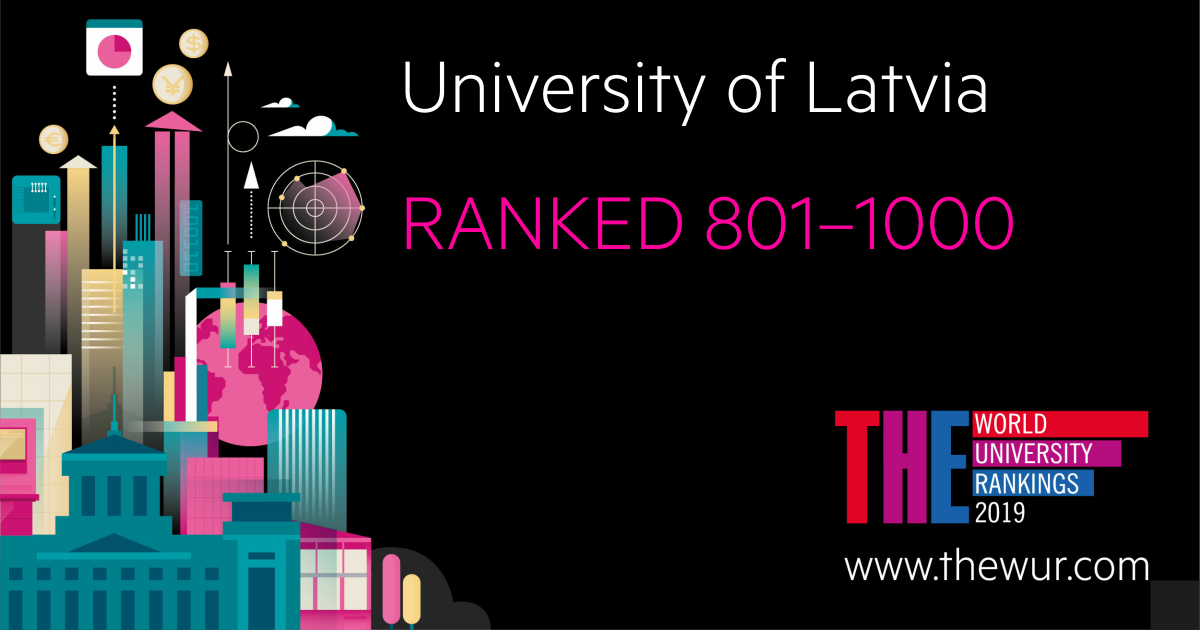 Times Higher Education World University Rankings range the best universities of the world according to five indicators – Teaching, Citations, Research, International Outlook and Industry Income.
"Being among the first thousand in Times Higher Education World University Rankings means that we belong to the 5% of the world's best universities. In order to enter the Rankings, the higher education institution must implement an intensive scientific activity, which forms a high quality study base. The Rankings reflect the diversity of universities' tasks only partly, but in certain aspects, they enable the comparison according to performance and development. The scientific performance indicators of the UL have increased significantly over the past two years, meanwhile, other higher education institutions also move forward. To retain the current position and to implement the slogan heard in this year's parliamentary pre-election debates that a university from Latvia should gain a place among the first hundred of the world's best universities, it is necessary to substantially increase the funding for science available to higher education institutions", emphasized Rector of the University of Latvia, Professor Indriķis Muižnieks.
He added that he is delighted to see higher education institutions of Latvia in the international rankings, as it strongly contributes to recognition of our country, at the same time, the rankings are not the sole indicator of university's quality and it would be incorrect to view them as such.
Compared to last year, the results of the UL have improved in four indicators. The best results the UL has achieved in the criterion "International Outlook", which includes the proportion of international co-authorship, as well as the percentage of international students and international staff. Jānis Stonis, Deputy Rector for Students and Social Matters, points out that THE Rankings are based on solid analytical work. "The place of the university in Rankings is well substantiated by data, thus showing the directions that must be particularly addressed further on, for example, support of internationally consequential publications," said J. Stonis.
The universities at the very top of THE World University Rankings this year are University of Oxford, University of Cambridge and Stanford University.
Now in their 15th year, THE World University Rankings are considered as one of the three globally most influential university rankings. This year, over 1200 leading institutions are ranked, drawing on the information provided by institutions themselves, as well as survey results, bibliometric data from Elsevier, based on almost 67.9 million citations to 14.1 million research publications over five years. THE Rankings provide extensive and well-balanced comparison of higher education institutions from the perspectives of students, academia, university leaders, industry and public administration.
Full publication of THE World University Rankings is available here.