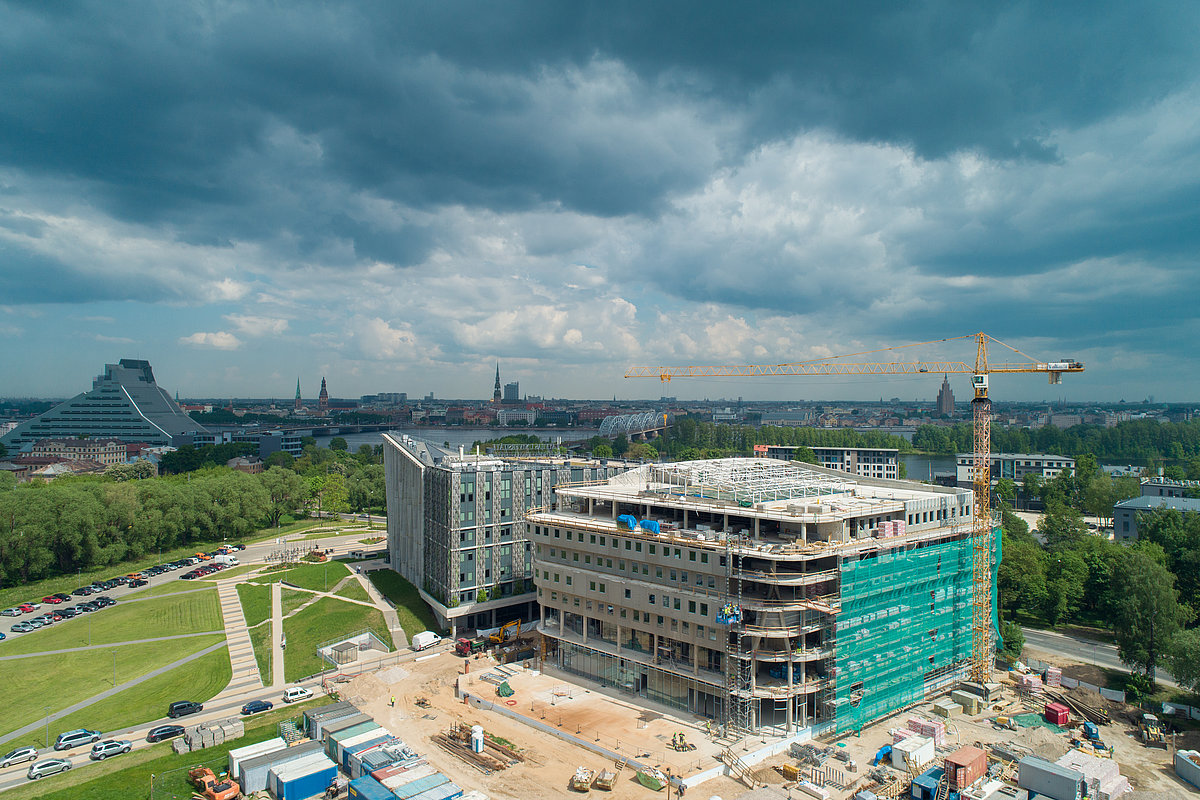 Honouring the completion of the most extensive building works, the roof of the UL House of Science is now adorned with rafters' wreath. This is a special moment for builders – this celebration marks the moment, when the major construction works have been accomplished and the building has already acquired its intended shape. In appreciation of efforts by all people involved in building process, and particularly the work of construction company "LNK Industries", UL Rector Indriķis Muižnieks reflects upon the quality of the finished works: "I believe that the cooperation with the builders will be just as successful until full completion of the project, and the House of Science will be inhabited by students and academicians in January of next year."
""LNK Industries" daily builds a large variety of constructions both in Latvia and abroad – we develop innovative port infrastructure objects, complex bridges, modern factories, residential houses and many other objects. However, at the moment, I am particularly pleased with the accomplishments, because today we celebrate raising the roof rafters – the highest point in the construction process – over a publicly significant building in Latvia. The high quality education is the foundation of our country's future and a modern learning environment is a wise contribution to development of the university. Therefore, I am grateful to all the workers for their efforts, as well as to the leadership of the UL, appreciating the trust given to us in their decision to assign the construction of the second building of the UL Academic Centre – the House of Science, just like the first one – the House of Nature, to us – "LNK Industries"", the member of the board of "LNK Industries" Jevgenijs Locovs expresses his satisfaction with the work completed to date.
The House of Science is located next door to the House of Nature, whose door opened in 2015. Both buildings will be connected with an insulated passage. The House of Science will be a home to the Faculty of Physics and Mathematics, the Faculty of Medicine, seven institutes (Institute of Cardiology and Regenerative Medicine, Institute for Mechanics of Materials, Institute of Atomic Physics and Spectroscopy, Institute of Geodesy and Geoinformatics, Institute of Physics, Institute of Astronomy and Institute of Biology), 78 modern scientific and teaching laboratories, as well as 23 auditoriums and seminar rooms. The building will have a capacity to host 2 000 students and provide 430 places of work for scientists and academic staff.
The UL Academic Centre is growing to become one of the most contemporary study and science infrastructure institution in Europe.