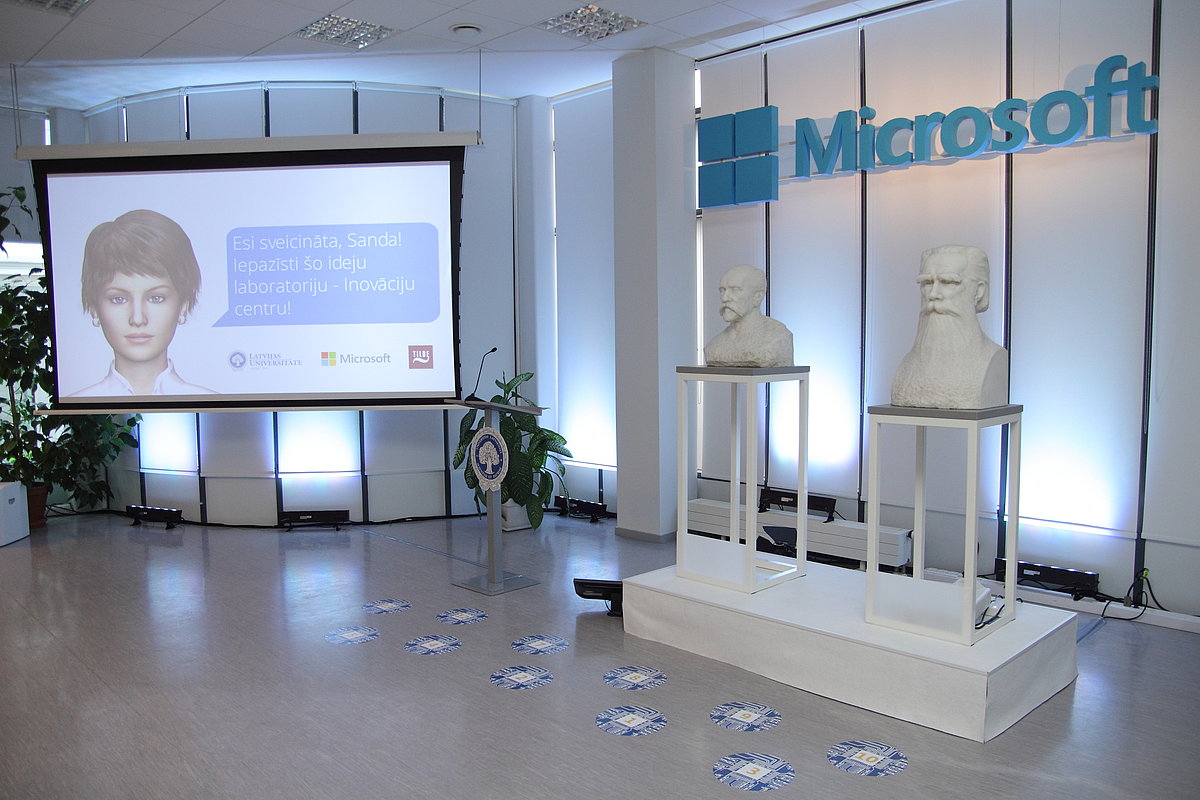 The Innovation Centre will undertake two main directions – the implementation of innovative interdisciplinary IT projects with the focus on cloud computing technologies, IoT (Internet of Things) and artificial intelligence solutions, and the popularization of IT education and support for preparing new specialists.
The opening ceremony of the University of Latvia and Microsoft Innovation Centre was attended by the President of Latvia Raimonds Vējonis, Prime Minister Māris Kučinskis, Minister of Environmental Protection and Regional Development Kaspars Gerhards, Rector of the University of Latvia Indriķis Muižnieks and Microsoft General Manager CEE Multicountry Europe Anke den Ouden.
Raimonds Vējonis, the President of Latvia, is certain that this centre is going to contribute to the development of the society and country: "I am confident that the Innovation Centre will become a platform of cooperation and innovation for the students, scientists and entrepreneurs of Latvia! It is going to be a place where science, qualitative education and professional skills will combine in order to create inspirational, successful stories. It is going to contribute to our country's journey of becoming a smart country and smart society. I wish you success transforming innovative ideas into commercial products and turn Latvia into an innovative leader among the Baltic countries and Northern Europe."
The Prime Minister, Māris Kučinskis, stressed the IT role in country's administrative effectiveness: "IT and traditional business collaboration needs to be based on three basic postulates – simplicity, safety and efficiency. I am talking about business but I keep in mind that this also directly refers to public administration, ministries, municipalities, to every institution that is under the wing of our country. The speed of information flow, unified databases, and bureaucratically undelayed data flow can make country's administration more effective. IT solutions democratize country's government because free access to information makes every civil servant, who has avoided any chance of taking the initiative up until this point, capable."
The Minister of Environmental Protection and Regional Development, Kaspars Gerhards, highlighted the importance of Innovation Centre in the making of the future economics: "The University of Latvia and Microsoft Innovation Centre is a great platform which will help us to realize our innovative ideas. I am glad that we could make an agreement upon this conceptual question in such a short time. It was possible only because both sides understand the importance of digital transformation in the country and private sector in the future economics. And both sides, Latvia and Microsoft, are interested and ready for the partnership."
Anke den Ouden, Microsoft General Manager CEE Multicountry Europe, added: "The Innovation Centre in Rīga is unique among others because it creates single innovation ecosystem – starting from educating the IT specialists until the realization of digital transformation projects. We were inspired by the strategic vision of Latvia's government about the data based country's and society's progress and IT industry's capacity which is why we are grateful for the chance becoming a Latvia's partner on this way. Data is the bloodstream of digital economy. Countries, such as Latvia, which understand and know how to use it will secure their international competitive capacity."
However, the rector of the University of Latvia, Indriķis Muižnieks, pointed out that this centre will be available to all who are interested and will be a base for the University's scientific development achieving broader viewpoint and capacity usage: "The opening of the University's of Latvia and Microsoft Innovation Centre is a significant event in the University's life. On the one hand, it shows that this internationally leading software company has recognized the accomplishments in computer science in the University of Latvia, but on the other hand, it provides the University of Latvia a possibility to use the newest software accomplishments on a larger scale, creating digital environment in every study programme and establishing digital society and economy."
In the opening of the centre IT companies Tilde and SQUALIO cloud consulting presented their pilot projects, created within the newly established partnership. Various virtual assistants of Tilde are already available for the users, for example, chat bot Laura, Lithuanian language teacher Teo and multiplication tables' assistant for children Little Snail. Bots are using artificial intelligence technologies and recognize voice and written text. In the nearest future virtual assistants will make Latvian companies' everyday life easier. Using the Internet of Transportation Things, SQUALIO cloud consulting developed a solution where meteorological radar's data are connected with dynamic road signs, adjusting the road speed limit to weather conditions, for example, reducing it during heavy rain.
Innovation Centre will be available to all, providing with an opportunity to participate in seminars, research and realizations of projects.
Conceptual agreement about the development of the Innovation Centre between the government of Latvia and Microsoft corporation took place in Seattle, USA, on June 2017, which was the beginning of a strong cooperation between Microsoft corporation, government of Latvia and leading IT industry's representatives.
The location of the University's of Latvia and Microsoft Innovation Centre is Rīga, Kalpaka Boulevard 4, http://www.mic.lu.lv/.