History of the Institute of Microbiology and Biotechnology
1946-1993 Institute of Microbiology at Latvia Academy of Sciences (located in Kleisti)
The history of the institute dates back to 1946 when the Institute of Microbiology of the Latvian Academy of Sciences was founded on the basis of the Serum Station of Latvia State University. Its organizer and first director (1946-1962) until 1962. Augusts Kirhenstein was an academician at the Latvian Academy of Sciences.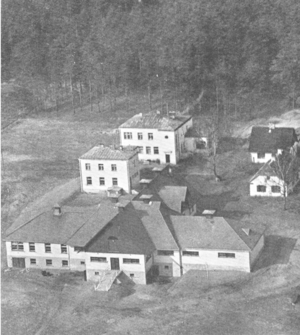 At that time, scientists at the Institute continued to develop soil microbiology in Latvia. Before that, already in 1936, the first microbiological preparation for clover cultures was developed in Latvia. An outstanding microbiologist and agronomist, Professor Kalnins, was one of the first to study the processes that occur in soil. The Institute developed technologies and isolated effective strains of microorganisms for the production of bacterial preparations. Nitragin, azotobacterine, trihodermin and other bacterial preparations were widely introduced in practice. Fundamental research has been carried out on the plant epiphytic microflora and its role in plant life. Morphology, physiology and metabolic application of Latvian soil actinomycetes in agriculture, microorganisms - protein producers and their application in animal nutrition are studied.
In 1970, a feed lysine plant was opened in Livani, Latvia, with a capacity of 3,000 tonnes in 1990 based on lysine monochloride. In the former USSR, 4 factories with a total capacity of about 30,000 tons per year, employing about 10,000 workers, were built using this technology. Licenses were sold to companies in Hungary, Yugoslavia and Finland. The cooperation agreements after 1990 have been concluded with research institutions of Denmark, the Netherlands and South Africa.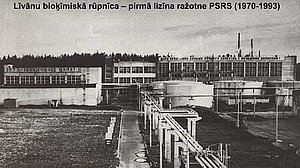 In 1975 the institute had 12 laboratories in the fields of microbiology and virology, incl. Laboratory of Technical Microbiology under Professor Martins Baker and Laboratory of Fermentation under Professor Uldis Viesturs.
In 1990, the Institute's research directions in microbiology and biotechnology were still preserved. These include the study of biotechnologically and ecologically relevant microorganisms, the physiology of various producers and their fermentation in automated pilot plants, optimization of waste recycling, incl. biogas production, yeast anabiosis studies and others.
1993-2015 Institute of Microbiligay and Biotechnology at University of Latvia (IMB UL) (located Kronvalda boulv. 4, Riga)
The Laboratory of Technical Microbiology was headed by Professor Martins Bekers. until 1997 was director of the Institute of Microbiology and Biotechnology (LUMBI), University of Latvia. The doctors of science Alexander Rapoport, Peteris Zikmanis, Vija Ramniece, Andrejs Grīnbergs, Anna Klincāra led six subdivisions of the laboratory. The fermentation process laboratory was led by Professor Uldis Viesturs. Doctoral students Juris Švinka, Māris Rikmanis, Juris Vanags, Aina Apsīte, Maija Rukliša and other biotechnologists invested their knowledge in further development of Latvian biotechnology. Professor Uldis Viesturs since 1997 until 2006 was Director of IMB UL since 1997 until 2006 Since 2006 until 2016 The director of IMB UL was Professor Uldis Kalnenieks.
Since 2015, the Institute of Microbiology and Biotechnology at the University of Latvia (IMB UL), (located Jelgavas iela 1, Riga)
In the late summer of 2015 the institute moved to the fifth floor of the new building of Academic Centre of Natural Sciences (ACNS) at Tornakalns district of Riga, about 500 meters from Daugava river and 700 meters from the new National library. Just as before we are neighbours of Faculty of Biology.
The construction of the UL ACNS was begun on February 28, 2014 when the construction permit was issued. Since then, the construction has proceeded at incredible speed – there was construction machinery operating in Tornakalns already in March, and a time capsule with a message to future generations was cemented into the foundation of the building in May 2014.
The construction of the UL ACNS was possible due to 5 million euro in Latvian state and UL financing, which managed to attract 30 million euro in co-financing from the sub-activities of the European Regional Development Fund (ERDF), managed by the State Education Development Agency (SEDA). The largest education infrastructure project to date has thus been realized.
Since 2016 the director of the institute is Egils Stalidzans.