The Great Hall

Last Update
21.12.2015
The Great Hall (then known as the New Hall) was opened and consecrated on September 28, 1935. As the University of Latvia gradually developed, the necessity for new facilities became an increasingly important issue. It was decided to rebuild the existing complex of buildings in accordance with the old architectural style to make it more useful. In 1929, a significant reconstruction of the main building was launched and, according to architect Ernests Štālbergs' project, a cloakroom and canteen for students as well as other auxiliary premises in the basement were built in the inner courtyard. Two years later a new project was approved, planning to build a new celebration hall – The Great Hall – above the cloakroom. It is a monument characteristic of the architecture of the 1930s, revealing the functionalist simplicity of form with the help of stylized elements of classical architecture. The materials of exterior design chosen for the Great Hall were adapted to those previously selected by G. Hilbig, demonstrating the scrupulous attention of E. Štālbergs to the initial idea of the building's construction. The interior was designed symmetrically, placing columns and a balcony along the edges. A number of models from ancient architectural forms are seen, namely capitals and various ornamental motifs.
Initially the central apse of the Great Hall was decorated with sculptor Kārlis Zemdega's (1894-1963) multi-figure composition Young Men Heading to the Source of Knowledge which reveals the themes based on the ancient art and Latvian folklore traditions. The composition was designed according to the Latin motto of the University of Latvia Scientiae et Patriae (For Science and Fatherland). These mouldings were removed after a couple of years due to criticism. In addition, the room was decorated with mouldings that symbolically represented the existing eleven Faculties of the University of Latvia – the Faculties of Architecture, Philology and Philosophy, Engineering, Chemistry, Agriculture, Mathematics and Natural Sciences, Mechanics, Medicine, Veterinary Science, Economics and Law and Theology. The twelfth moulding depicted the oak with eleven branches symbolizing all the Faculties.
After World War II with shifts in power taking place, the Great Hall as an important place for celebrations experienced repeated changes of decorations. The apse was decorated with portraits of J. Stalin, V. Lenin and P. Stučka which were later replaced by the coat of arms of the University of Latvia for some time at the beginning of the 1990s. Currently the Latin motto of the University of Latvia Scientiae et Patriae (For Science and Fatherland) is there in the centre of the apse. Upon establishment of the Soviet rule, the decorations representing the Faculties had been removed; creating mouldings with Soviet symbols – the hammer and sickle - instead. Following the restoration of independence, the original mouldings were renewed based on the sketches retained in the archives. Since its opening, the Great Hall has been an important place for celebrations not only to the University, but also to the whole country.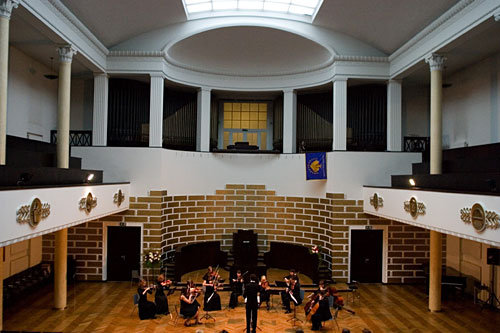 Seating Plan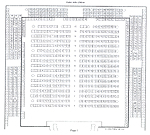 You can also take a virtual tour of the Hall by clicking here