Fraternity Choir "PKVK"

Last Update
11.02.2010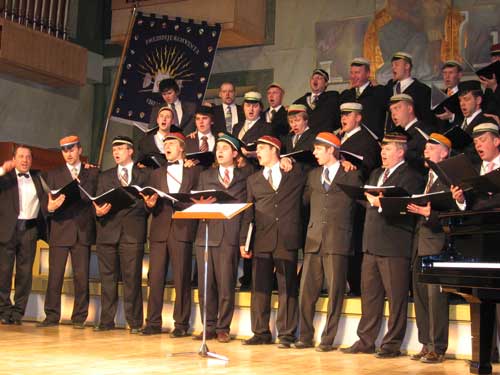 Only participants of student corporations (bursa) are singing in the Executive council's male choir. The idea of creating such a choir arose among corporations' male students soon after the foundation of the Executive council in 1925. In the 30ties of the 20th century the choir became the state representative choir both in Latvia and abroad. During the 18 years of the choir's existence 251 male choir songs, 80 of which were first performances, by 61 composers were staged.

In 1993 the choir activities were renewed under the guidance of Edgars Račevskis for a short term. In 1999 the choir resumed the activities completely, now under the guidance of Edgars Linde. In 2005 the art director of the choir became Arnis Paurs and the conductor- Ivo Kempels. Since the resumption the P!K!V!K! actively participates in the music life of choirs in Latvia, implements various musical projects, is one of the founders of the Association of the Male Choirs of Latvia. In the last years the choir development ensures the choir with a full fledged place among the leading Male choirs of Latvia.