Entrance Requirements

Last Update
21.02.2018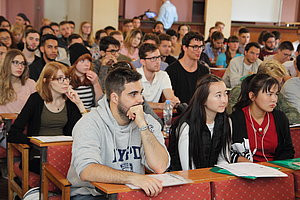 If you would like to study at the University of Latvia for one semester of full academic year and then transfer your credits to your home university, you can apply for exchange studies. You can be considered as an exchange student if there is a valid student exchange agreement between your home university and the University of Latvia or between your home country and the Republic of Latvia. University of Latvia accepts exchange students within ERASMUS+, CAMPUS EUROPAE, Utrech Network (MAUI (Mid-America University International), AEN (Australian-Europea Network) and ISEP (International Student Exchange Program) programmmes, bilateral cooperation agreements with other universities and cooperation agreements between countries.

The International Office at your home university can give you more information about the exchange programmes that your university has with the University of Latvia.

International exchange students who plan to study at the University of Latvia for up to one year are not required to take entrance examinations. The admission decision will be made by the respective Faculty of the University of Latvia.

Visiting Student - No Student Exchange Agreement

If no Student exchange program exists, you cannot apply as an exchange student.

You can apply as a visiting student/course attendee (non-exchange student, non-graduate student, tuition paying student). International applicants planning to attend separate courses (visiting students) are required to have completed their secondary education and must posses university eligibility in their own country.