The UL Botanical Museum

Last Update
05.02.2010
Adress: Kronvalda blvd. 4, Riga LV – 1010
Head: Irēna Berga
Phone: +371 67034877, +371 67033892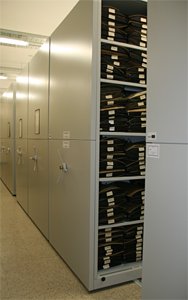 E-mail: berga@lanet.lv
Visiting groups or individual visitors are admitted on any working day arranging the visit beforehand by calling +371 67034877 (Chair of Botany and Ecology, Kronvalda Boulevard 4) and +371 67033882 (The Botanical Museum, Herbarium).
The UL Botanical Museum offers:
View the herbarium collections and ancient objects used in plant collection and preservation.

Obtain information about Latvian botanists and view materials associated with their life and work.

Obtain research data about plants growing in the territory of Latvia.

Get acquainted with historical books on botany.
The UL Herbarium as a museum collection was included in the UL Museum of History of Science and Technology in 1991. The creation of the collection in Herbarium began already in 1920s – 1930s. It contains herbarium collections gathered by both 19th century natural scientists and 20th century Chair of Botany teaching staff. They are meant for teaching and research purposes. The most important are the Baltic plant herbarium, the Latvian plant herbarium, the general herbarium of flowering plants, the herbarium of Pauls Lakševics, the herbarium of Jānis Ilsters, and the moss collection of Nikolajs Malts. The Botanical Museum also holds books, historical materials and objects related to the history of botany in Latvia.
The museum's main aim is to support research and academic work of botanists, taxonomists and students, inform visitors about the history of botany, preserve important old collections and supplement them with new material. The museum staff creates thematic exhibition panels about notable botanists in Latvia, gives thematic lectures, and guides tour groups.