Theology - master's study programme
Continuing bachelor program's focus towards research, the main goal of the master's study program in theology is to prepare students who can:
to conduct in-depth research in the sub-disciplines of theology and religion,
to present the results of their research,
to represent theology and science of science in interdisciplinary academic dialogues and research,
to promote tolerance and openness to denominational, religious, and cultural diversity through government, church, and other bodies.
The study process is organized in the form of lectures and seminars. In the seminars, students often analyze previously read scientific works (mostly in English), comparing them with the works of other theorists. A special place in the program is given to the students' presentations and research work. Within the framework of separate courses, students have the opportunity to participate in study tours. Later in the lectures, what you see and hear during the visit is analyzed together. The principle of interdisciplinarity has been observed in the development of the program, considering religion in a broader cultural and social context, thus the program is also open to students whose previous education is not in theology and religious studies.
The director of the programme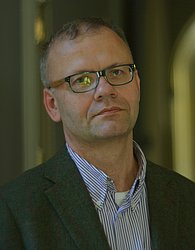 Dr. phil., professor Valdis Tēraudkalns
The development of theology and its sub-disciplines from 19th to 21st century, as well as various denominations (such as Orthodoxy) and religions (such as Buddhism and Islam). During the master's studies at the Faculty of Theology, it is possible to take such courses as interfaith dialogue, New Testament hermeneutics, philosophy of classical and modern religion, Latin, as well as others.
In fields related to religious research and analysis of current developments or processes (universities, institutes, media), administration (state and municipal institutions, religious organizations and non-governmental organizations) and practice (churches and other religious organizations - in the fields of spiritual care, support, and growth), as well as religious education and providing general services (for example, medical support for personal health care, mental health and social care providers, etc.).
2 years or 4 semesters (full time studies). Studies take place on working days, mainly from 16.30 to 21.30 depending on the study plan for the day.
EU/EEA/Switzerland and EU residents - 2200 €/year. Others - 2420 €/year.
Fall semester 2022 - 12 budget places.
Master of Humanities in Theology and Science of Religions
Previous education:
Bachelor's degree or second-level professional higher education or equivalent higher education.
Competition evaluation calculation formula: average mark (60 x 10 = 600) + total (or average) mark of ffinal examinations (40 x 10 =400);
Eligibility for non-competitive registration: For the graduates of UL bachelor's study programme "Theology and Science of Religions" in 2021./2022. academic year whose mark of bachelor thesis in no lower than 8 (very good) and whose average mark is no lower than 7.5.