Following the amendments to the Law on Higher Education Institutions, which came into force on 01.01.2019, the term accreditation of study programs has been extended. The new accreditation deadlines can be seen here.
The study program aims to prepare highly qualified scientific workers and teaching staff, as well as highly skilled professionals for applied research or public management work with internationally comparable competence and an internationally comparable doctoral degree in sciences.
The doctoral study program in environmental science provides opportunities to conduct qualitative research and gain new scientific knowledge in one of the sub-fields of environmental science. Studying in this program makes it possible to deepen theoretical understanding, gain experience in scientific work and conduct independent research in one of the sub-branches of environmental science. The study program ensures the publication of research results and the preparation of a doctoral thesis. General skills are necessary for employment in the Latvian national economy, higher education, scientific, environmental and health protection institutions and high qualifications and opportunities to compete in the international academic environment.
Fulfilling the requirements of the doctoral study program and defending the doctoral thesis, according to the sub-field, allows obtaining a doctoral degree in environmental science in geography, chemistry, biology or economics (in environmental management).
Study program director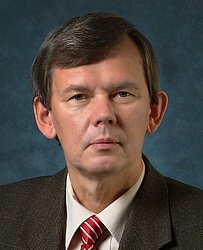 Environmental Science DSP offers studies in the following environmental science subfields:
environmental chemistry and ecotoxicology;
nature protection;
environmental engineering;
environmental management.
Graduates of the environmental science study program work in the Latvian environmental protection system: the Ministry of Environment and Regional Development of the Republic of Latvia, the State Environmental Service, and other state institutions. Several graduates continue their work in research, for example, at the Institute of Wood Chemistry at the Institute "Silava", as well as in teaching at the University of Latvia and the Latvian University of Agriculture. In some cases, the research work is continued abroad.
Full-time studies 6 semesters (3 years), part-time 8 semesters (4 years)
Annual tuition fee - 2134 €. The number of study places for admission in the fall semester 2019 for personal financing - 1
Doctor of Science Degree, Doctor of Science (PhD) in Earth Sciences, Physical Geography and Environmental Sciences; Scientific doctoral degree, Doctor of Science (PhD) in social and economic geography
Previous academic education: Master's degree in natural sciences or equivalent qualification diploma.
Additional requirements according to the form determined by the doctoral council of the branch: detailed justification of the topic of the doctoral thesis (5 pages).