Medicine and Pharmacy - doctoral study programme
Language of instruction: Latvian
The aim of the doctoral study program "Medicine and Pharmacy" is to prepare highly qualified scientists and performers of academic work in various fields of medicine and pharmacy. Graduates not only acquire skills for pedagogical and research work, but also for organization and management at the highest level.
Graduates of the program obtain an internationally comparable doctoral degree (Ph.D).

Program Director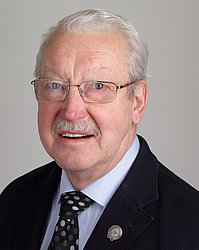 Medicine and Health Sciences:
Basic medical science, including pharmacy;
Clinical medicine;
Health and sports science;
Medical biotechnology;
Other medical and health sciences, including forensic science.
(In accordance with the Cabinet of Ministers Regulation of 23 January 2018 No. 49 "Regulation on Latvian Science Fields and Sub-Fields")
The demand for highly qualified specialists with doctoral degrees exceeds the supply. As performing scientific research raises the prestige of clinics or organizations, employers are interested in specialists with the highest qualifications. In accordance with their specialty graduates of the program work in hospitals, universities, scientific research institutes, or other institutions related to public health. Graduates are members of the teaching staff, heads, and members of hospital departments, associations, societies, and other organizations health care.
3 years or 6 semesters in full time studies
EU Latvian citizens/ non-citizens; EU/EEA/Swiss citizens and EU residents - 2500 EUR/year. Citizens of other countries - 8100 EUR/year.
For the Autumn intake 2021 - 8 state funded budget places
Doctor of Science (Ph.D.) in basic medical science, including pharmacy or clinical medicine, or health and sports science, or medical biotechnology, or forensic science.
Master's degree in Biology or Pharmacy, or Nutrition, or Nursing, or professional degree (2nd level professional higher eduation) of a Medical Doctor, Dentist or Pharmacist.
Applicants must participate in an entrance examination (interview). After the interview they are ranked according to the received amount of points. Ranking results are used for granting state-funded budget study places.