The aim of the biology master's study program is to provide modern theoretical and methodological knowledge in a specific sub-field of biology, while providing an overview of the development of the field as a whole, preparing graduates for practical activities in science, business or public administration, as well as for further studies in doctoral studies.
The tasks of the biology master's study program are to create and deepen the student's:
an idea of ​​the common development trends of modern biological science in the interaction of the development of natural, medical and social sciences;
modern theoretical knowledge in one of the sub-branches of biology;
basic research skills, skills in using modern natural science instrumental and information technology provision;
understanding of the ethical principles of biological research;
understanding of the importance of international cooperation in scientific activity;
communication skills of scientific achievements;
ability to work in a team, participating in research projects;
the possibility of conducting scientific research under the guidance of experienced academic personnel and summarizing its results in a master's thesis;
innovative operational skills in biology and related industries.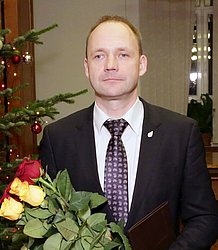 Programme director, Prof. Nils Rostoks
1st year – Current problems in biology, Bioethics, Practical biometrics, Science communication for biologists, courses according to the chosen sub-field.
2nd year – Current problems of biology, Basic skills of innovative activity, courses according to the chosen sub-sector.
Graduates of the program can work in universities, research institutes, various nature protection institutions, company laboratories related to biotechnology, microbiology and molecular biology, environmental companies, breeding and testing stations, medical-veterinary medical institutions, museums, non-governmental organizations.
Graduates can study at the doctoral level.
Tuition fee per year - 2600 EUR
For admission in the autumn semester of 2023 - 50 budget-funded places.
Master of Science in Biology
Previous education:
Bachelor's degree in natural sciences, second-level professional higher education (or equivalent higher education) in biology, agricultural sciences and medicine
Formula for calculating the tender rating: weighted average mark (35 x 10 = 350) + total (or average) mark of closing tests (30 x 10 = 300) + fixed bauxity (1 x 350 = 350); bachelor's degrees in biology can participate in the competition with the following formula for calculating the score: weighted average mark (60 x 10 = 600) + closing total (or average) check mark (40 x 10 = 400)
Assessment criteria in the entrance examination:
1) motivation for choosing the study program, intended research direction;
2) work experience in research - the methods used in the development of the bachelor thesis and the results obtained;
3) self-assessment of the applicant's biology knowledge;
4) presenting a report at scientific conferences;
5) internship at foreign universities and research institutions;
6) the actuality and relevance of the expected topic of the master's thesis to current directions of biological science research;
7) master's thesis.